Meet the UC Riverside School of Business MBA Class of 2024
An Interview with the UCR Business Leadership Team
The arrow is definitely pointed up for the AGSM MBA. Thanks to heavy investments in infrastructure, programming, and student services, MBA can access more resources and opportunities than ever. What can current and future MBAs expect from the program? This fall, P&Q reached out to four members of the URC AGSM leadership team. They included the following individuals:
Yunzeng Wang, Dean, School of Business
Rami Zwick, Associate Dean of Graduate programs and Professor of Marketing
Ashish Sood, Academic Director of MBA and PMBA Programs and Associate Professor of Marketing
Sabine Freij, Director of Student Affairs and Student Services
Here are the team's thoughts on areas ranging from how the MBA program leverages its Los Angeles ecosystem to how it is increasingly integrating diversity, equity, and inclusion into its programming.
P&Q: What are the two most exciting developments at your program in the past year and how will they enrich the MBA experience for current and future MBAs?
Dean Yunzeng Wang: "This fall, UC Riverside School of Business breaks ground on our new School of Business building that is part of the school's complex, encompassing three buildings. As our undergraduate and graduate student populations continue to grow, we have outgrown our current building – the iconic Anderson Hall. The ground-breaking on the new building is an exciting development for our school, equipping our future students and faculty with a central hub for group study projects, speaker events and networking, a fintech lab, seminar room, and state-of-the-art technology in the classroom."
Dr. Sabine Freij: "As our graduate student population expands, our students have had a direct hand in shaping the learning environment and community at our school. Last year's MBA cohort initiated the launch of five clubs and organizations including the Programming Club, the Entrepreneurship Club, and Women in Business. These student-led organizations provide opportunities to engage in career and intellectual aspirations. They are a safe and supportive environment for students to learn, explore, and grow together as a community while leaving a legacy for future students and the larger community of Riverside."
Dean Yunzeng Wang: "Additionally, our school has permanently moved to a test-optional admissions policy, which looks at candidates from a holistic perspective. We are excited about the opportunity this policy brings us to continue to provide access to students from diverse backgrounds, recognizing that you do not have to be a good test-taker to be highly qualified and competent in the business world."
P&Q: If you were giving a campus tour, what is the first place you'd take an MBA applicant? Why is that so important to the MBA experience?
"From The Barn, we'd take an easy walk to the center of campus to see our iconic Bell Tower – only one of five true carillons in California–where student organizations and clubs gather weekly. Also of note are the UCR Botanical Gardens, 40 acres of gardens and trails with more than 3,500 different plant species!"
Dean Yunzeng Wang: "The Anderson Hall is one of the oldest buildings on campus, formerly the California Citrus Experimentation Station. Built in 1917, the Citrus Experimentation Station was the groundbreaking research facility that laid the foundation for the University of California, Riverside, which was established in 1954 for admission to the general public. Today, we call this iconic building Anderson Hall, home to the School of Business and the A. Gary Anderson Graduate School of Management. When visiting the building, you'll want to take in the view and take a picturesque stroll to the south of the main building. There, in Anderson South, you'll find our Academic Advising & Student Services and Career Development Center offices, housing amazing staff that provide academic, student life, and career support to our students."
P&Q: What is the most innovative thing you have introduced into the MBA program in recent years? How has it been a game changer for your program?
Dr. Rami Zwick: "Our MBA program offers 7 concentrations in accounting, business analytics, finance, information systems, marketing, management, and operations and supply chain management. In Fall 2023, we are launching a new concentration in the growing field of business analytics. The concentration will require five elective classes related to statistics, business analytics, and big data, and can be paired with other functional disciplines to equip students in the areas of marketing analytics, supply chain analytics, and financial analytics. Courses include Business Analytics for Management, Marketing Research, and Applied Business Forecasting."
Dr. Rami Zwick: "Additionally, our STEM-designation (based on a scientific curriculum) within each concentration and across all graduate business programs is a significant advantage for candidates. It signals to employers that they have quantitative skills, and for international candidates it awards them the opportunity to work in the U.S. for up to three years on Optional Practical Training (OPT). Our curriculum is also currently under revision to better align with the cutting-edge skill-demands of today's workforce and to better prepare students for the job market.
Dr. Sabine Freij: "Beginning in 2021, our Academic Advising & Student Services and Career Development Center offices introduced a summer preparatory program and peer-mentorship program, getting students engaged, involved, and prepared before the formal start of their program. These programs prepare students for success by providing them with leg-up opportunities before courses begin. No student is left behind when entering the program."
Dr. Ashish Sood: "Not only do these programs prepare students for the academic environment of graduate school, it supports them in their career readiness. In the program, candidates are asked to practice interview skills and elevator pitches, forcing them to think critically about what makes them worthy of being hired. Further, this pushes them to consider what competencies they want to develop early in their program and gives them a better understanding of the courses they will need to build the skills and expertise that will drive their success."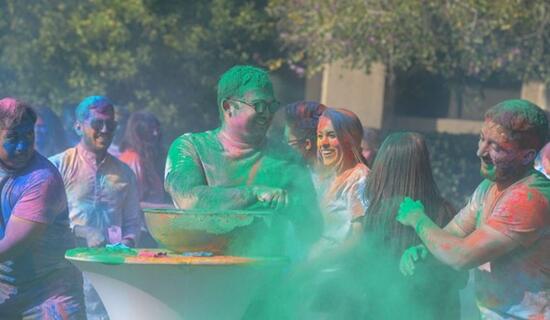 P&Q: What have MBAs told you is the most memorable, signature experience they've had in your program? Why did it resonate so much with them?
Dr. Sabine Freij: "Student Association Community Events and Banquets – From our welcome week activities to our quarterly banquets, AGSM is great at hosting parties. Our graduate Academic Advising and Student Services office together with the Student Association plan and execute these events to build a familial and inclusive community. These events are also often attended by faculty, staff, and alumni so students get the opportunity to connect right away in a fun and relaxed manner. The social activities enable incoming MBAs to ease into student life while still being connected to school and responsibilities. As a result, many students come to us during important turning points in their life, and we have the opportunity to speak into the lives of our students, an aspect we as faculty really value.
Networking Events and Career Fairs – Our MBA candidates appreciate the many opportunities to network and connect with companies in a 1:1 environment. Last spring, our Career Development Center (CDC) hosted a dinner and networking night. The event included a cocktail reception on an elegant outdoor patio followed by a 3-course dinner with career table topics and MBA alumnus and entrepreneur Ruben Hernandez as keynote speaker. Employers in attendance included Bank of America, Baker Tilly, Dunmore, Cintas Corporation, and Century Group. This fall, the CDC hosted an internship and job fair with more than 20 employers including Caltrans HQ, Aragon Construction, Bazic Products, County of Riverside, Eadie + Payne, MPK Advisors & CPAs, Hub International, and the U.S. Department of Health and Human Services.
Ambassador program – Our ambassador program is consistently named as one of the best opportunities available at the school and is reserved for our top candidates. If selected to be an ambassador, candidates get to be the face of the school to all external constituents including alumni, donors, our Executive Fellows, the community, prospective students, and other key stakeholders. As ambassadors, candidates receive exclusive professional development opportunities, get to give back to the community through service, attend special networking events like our Economic Forecast Conference, mentor undergraduate students, and connect with prospective graduate students– influencing one of the most important career decisions a person can make, where to get an MBA!"
Dean Yunzeng Wang: "Our new state-of-the-art building will be completed in fall of 2024. It will enable us to continue to grow and achieve our mission of creating knowledge through impactful research, unlocking potential through exceptional educational experiences, and fostering success in an innovative and collaborative environment, thereby contributing to the upward mobility of our diverse student population at scale. The new building is 63,400 square feet, nearly tripling the total space for the school. The building includes two 80-seat classrooms; a 350-seat auditorium; a computer/finance lab; a studio to record podcasts, lectures, videos, and other media; group study areas; a student lounge; administrative offices; an executive board room; and large indoor/outdoor event spaces. The expansion of the school's footprint allows us to bring in new faculty and additional staff, increase enrollment, and also enhance our engagement with the community, creating a central hub for connection between business leaders, our research faculty, and our students."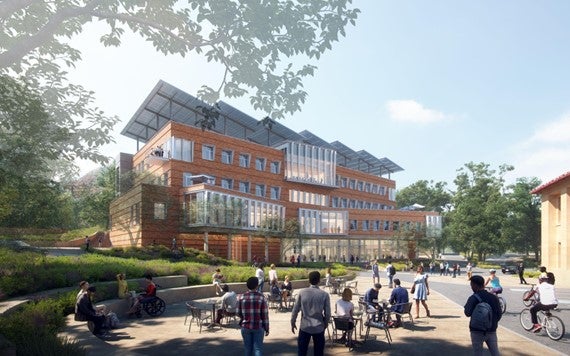 P&Q: UC Riverside is an hour away from the heart of Los Angeles. How does the MBA program tap into the LA ecosystem (and its alumni base) to provide school projects, employer partnerships, and job opportunities for students? What types of jobs are your students landing and which companies?
Dean Yunzeng Wang: "An internship is a major component of our MBA curriculum, and our Career Development Center (CDC) works closely with employers and students to create and facilitate the internship experience at companies in Los Angeles and across Southern California. Thanks to the rise of remote and hybrid working environments, students are able to commute much more easily while balancing their course loads. These internships and jobs include MBA rotational programs in leadership and finance; analyst positions in data, finance, business, and research; accounting positions including tax and audit; marketing positions including digital, social media, strategy, and product management; operations and supply chain position; plus project management, human resources, business consulting, DEI, learning and development, and business development at companies including The Walt Disney Company, The Fox Corporation, EY, Meta, Goldman Sachs, Northrop Grumman, Esri, Amazon, Niagara Bottling, Tesla, T-Mobile, Zendesk, Deloitte, HME, and more.
The CDC has also made it easy for our employers to engage with our UCR AGSM students through virtual or in-person employer relations services. These employer services include campus visits, information sessions (in-person or virtual), job board postings, promotional emails, and participation in our in-person and virtual career fairs. In addition, the CDC hosts virtual recruitment panels each quarter, engaging diverse employers to expose students to myriad new opportunities and industries.  Furthermore, UC Riverside partners with other UC business schools to host employer information sessions. Finally, we partner with major companies who host our students and share about their company business model and culture, and connect their recruiters with our top MBA candidates.
As a result, AGSM graduates are landing jobs across California from San Francisco to San Diego, as well as in major cities across the globe."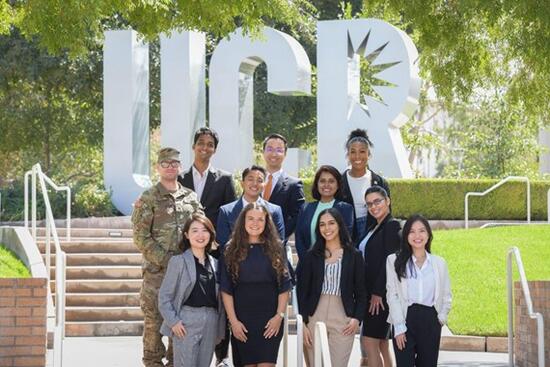 P&Q: How does the MBA program integrate DEI in its MBA programming? How does the program leverage the larger university's commitment to diversity in building its MBA program and what dividends does this commitment provide to its students?
Dean Yunzeng Wang: "Of all the UC schools, UC Riverside is known for being the most diverse and the most inclusive, and a home for many first-generation students. More than half of our domestic student population identify with an underrepresented group and students can find opportunities to connect with affinity groups across campus. This academic year, our MBA class is represented by 54% female-identifying candidates who are supported and empowered by our newly formed, student-led Women in Business organization which hosts female leaders to discuss topics including gender equity in the workplace and what is means to create an inclusive environment, all while providing networking and mentorship opportunities. Additionally, our international student populations are celebrated through events like our Lunar New Year and Color Festival celebrations."
Dr. Rami Zwick: "Our diverse student body is built through intentional efforts. Our graduate students offer mentorship services through gender and ethnic centers on campus and through groups like the Latino Student Business Association. We offer business leadership programming to engage students from historically underrepresented racial/ethnic backgrounds through the University of California's Summer Institute of Emerging Managers and Leaders (SIEML) program and our home-grown Accelerated Business Leaders Experience (ABLE) program. The school also supports its students by participating in the NBMBAA conference. Although an MBA price tag can be quite hefty, we offer generous scholarship funding at the time of admission. In fact, 96% of our admitted students receive some form of scholarship funding. Our student services and advising team is available to support students in online and in-person functions. This supports students who have tighter schedules balancing school and work commitments to still get the support they need."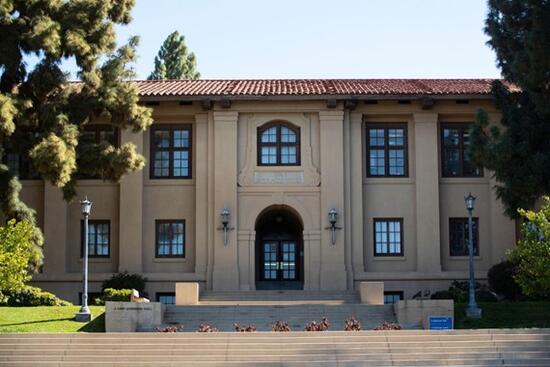 Dr. Rami Zwick: "From a curriculum and programming standpoint, we are preparing our MBA candidates to be advocates and inclusive leaders in the business world. Our faculty teach from a framework of shareholder AND stakeholder values and with consideration to incorporate decision-making impacts on people, planet, and profit. From this lens, DEI is easily incorporated into the classroom learning through case studies, TED Talks, news articles, and speakers – all of whom reinforce the importance and value of diversity in the workforce, the difference between equity and equality, and the push towards social justice. In marketing classes, representation for different demographic groups is discussed as well as access when considering a particular product or service's design, price point, and advertising. In management classes, discussions are created around managing a diverse workforce, team-building and inclusive leadership, accommodating diverse needs, creating inclusive corporate cultures and climates, emotional and cultural intelligence, decision-making biases in hiring and promotion practices, and the dangers of algorithms incorporating implicit human biases.
The DEI experience is particularly appropriate and relevant for our capstone course. As part of the course's requirements, our MBA student teams are expected to work directly with a local/regional client and help them develop short-term and long-term business strategies. It is often the case that teams work with small and medium-sized businesses from historically marginalized communities. These field experiences are highly educational, enriching, and fulfilling. Given that our students are incredibly diverse, and willing and able to draw on their own uniquely lived experiences, this type of project design is not only appropriate, but also quite easy to implement. It is highly effective both for our students' personal development and the impact they have on the businesses with which they work."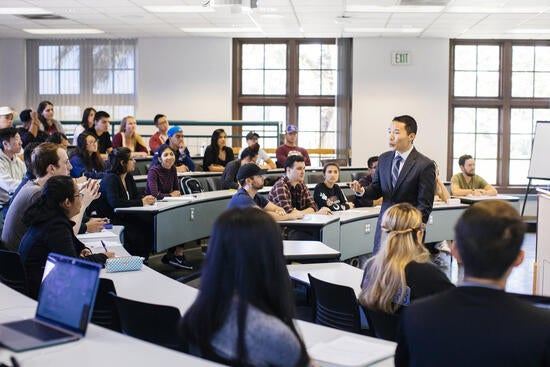 P&Q: The UC-Riverside MBA program is known for strong teaching and scholarship. Who is a standout in your faculty – the kind of person who graduates talk about a decade after they leave? How does he or she personify your school culture and the best of your MBA program?
Dean Yunzeng Wang: "In 2020,  two professors from UC Riverside School of Business were selected for the Poets & Quants 40 Under 40 Best MBA Professors, Drs. Ye Li and Marlo Raveendran, from among 2,000 nominations world-wide. That year, UCR was one of just five schools globally to boast two awardees. The 40 Under 40 list identifies 'educators who have demonstrated research acumen, teaching prowess, and impact students, former students, their colleagues and administration.'
Ye Li's instruction reflects true admiration for his students and their diverse experiences.
Let me share what we wrote about Dr. Li and Dr. Raveendran in a 2020 press release.
Receiving nearly 100 nominations, Associate Professor of Management Ye Li was lauded by the Poets & Quants evaluators: "Ye Li wowed us as much as he has students who have had the luck to see him in action in a classroom," they stated in their announcement of the professor of management's inclusion on the 40 Under 40 MBA Professors list. "What impressed us more than his mountains of research was the feedback current and former students gave, particularly about how much he genuinely and truly cares for those he teaches."
With an impressive body of research, Li studies 'the reasons people make various kinds of decisions, especially ones involving tradeoffs between sooner and later consequences, and the descriptive reality of how business decisions and mistakes are made." Some of his most influential work has looked at the role of emotions and cognitive ability at influencing these types of decisions. "For example," he says, "sadness makes people less patient, while gratitude – but not happiness – makes them more patient. (Dr. Li's decision-making research can be explored at this link).
True to the observation of the Poets & Quants judges, Li's passion in the classroom shows, and he's particularly interested in the diversity of the students he teaches. "UC Riverside leads all major U.S. universities in students with Pell Grants, and more than half of students are first-generation college-goers," he says. "So, I consider my efforts to make the class resonate with them, time well spent."
He admits to being lucky to teach a subject he's passionate about, but he adds, "My favorite moments are when students report using class concepts in their lives and jobs." In addition, in May 2022, graduate students awarded him a "Golden Apple" for excellence in teaching graduate elective courses.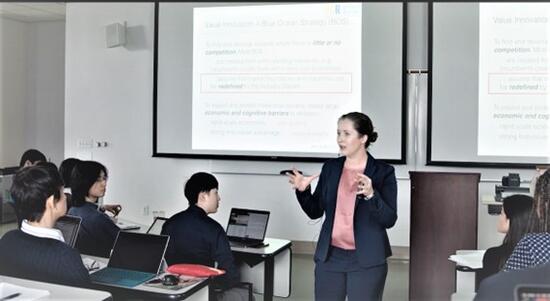 Perhaps one of the highest compliments a professor may receive is "I wish I could take her class again." This statement from a student was among many declarations of support that the Poets & Quants editors published as evidence of Marlo Raveendran's effectiveness in the classroom.
Raveendran's research explores the way in which organizational structure and design decisions are influenced by individuals inside a firm. "The most practical discovery I've made is just how much our human nature influences organizational decisions," she says. "When studying how groups of strangers approach division of labor … we were struck by how quickly they took newly formed group structures as given, even when the task allowed for more efficient choices."
With a pronounced interactive teaching style, Raveendran integrates the deep knowledge she's acquired through her research into her courses, including the core strategy class she teaches: "The concepts and frameworks are extremely simple. Instead of focusing on the content, I try to teach my students to think more analytically and to question what they read and what I say," she says. "I love seeing my students' minds grow. Over 10 weeks, our conversations deepen, and their responses and reasoning become more and more analytical and sophisticated."
That strategy's effectiveness is borne out in the student's further observation of Raveendran's teaching style: "[She] makes the topics she teaches interesting and shows she cares about students. It makes even the quiet students speak up and participate." In addition, graduate students awarded her a "Golden Apple" in spring 2020 for excellence in teaching graduate core courses. Find out more about how Dr. Raveendran shares her love for learning, diversity, and real-world applications at this link.
Both Dr. Li and Dr. Raveendran received promotions this year to Associate Professors."
To learn about the Class of 2024, click on the links below.
 
| MBA Student | Hometown | Undergrad Alma Mater | Last Employer |
| --- | --- | --- | --- |
| Harman Dhillon | Diamond Bar, CA | California State University, San Bernardino | Ayres Hotels |
| Jiabei (Bay) Hu | Huangshi City, China | Guangxi University of Nationalities | Johnson Controls |
| Stephanie Jimenez | Fontana, CA | University of California, Riverside | Charles Schwab |
| Pujith Sai Kumar Reddy Nooka | Andhra Pradesh, India | Aarupadai Veedu Institute of Technology | Amazon |
| Evelyn Lazo | Murrieta, CA | University of Redlands | Navy Federal Credit Union |
| Yiqun Li | Yiwu,  China | Beijing Foreign Studies University | Tianhua Enterprise Management Group |
| Khue Ngo | Ho Chi Minh City, Vietnam | California State University, Northridge | Allstate Insurance Company |
| Snigdha Ojha | Rewa, India | Institute of Excellence in Higher Education | SHEIN International |
| Sean Payan | San Clemente, CA | Excelsior College | U.S. Army |
| Grant Rueca | Foster City, CA | University of California, Riverside | University of California, Riverside |
| Joanna Alice Sippetts | London, United Kingdom | University of Nottingham | Lawn Tennis Association |
| Nadia Witt | Keizer, OR | University of California, Riverside | University of California, Riverside |
Read the original article on Poets & Quants: