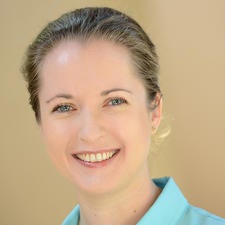 When Assistant Professor of Management Marlo Raveendran is not researching organization design and the division of labor, or engaging her students in discussing real-life examples of these topics, you might find her in another realm: playing World of Warcraft. 
The "massive multiplayer online" game is primarily a fun activity she shares with her husband—but one that has some parallels to her academic field of interest. 
"In the game, you need a lot of coordination between the group members. If players just focus on what's best for themselves, they will fail," she says. "What I find fascinating is, first of all, you have to be very good at what you do. But at the same time, you also have to balance that with what's good for the group." 
Her ability to relate the real world—or, in this case, a virtual world—to business theory is one of the qualities that earned Raveendran recognition among the 2020 "Best 40 Under 40 Professors" by Poets & Quants. One of two UCR School of Business professors to earn that distinction in 2020, Raveendran was praised in nominations for creating meaningful connections with students. 
One student quoted by Poets & Quants put it this way: "She encourages her students to think critically about strategic management issues, encouraging dialogue, and an exchange of ideas with a heavily Socratic methodology. Her assigned course materials focus on relevant, real-world scenarios happening on a global scale." 
 
'That's what I want to teach my students' 
Raveendran says there is a reason for the focus on real-world scenarios. 
"At least in management, the frameworks we are teaching are extremely simple," she says. "The learning comes by applying those to situations of imperfect information that all managers face. … That translation from the frameworks into the real world is what fascinates me the most. And that's what I want to teach my students." 
To accomplish this, she encourages students to develop their critical thinking skills, to challenge her ideas and, most importantly, to engage in classroom discussions. 
"The way I usually introduce it is that if you don't talk in class, you will not learn anything in the course. You just won't," she says, acknowledging some students will have to overcome fear of saying the wrong thing or expressing ideas if English is their second language. 
She understands these concerns. She describes herself as very shy and, although all of her higher-education was in English, she grew up in Germany. 
"I understand how frightening it can be to try to express yourself in a language that is not your main language, your first language," Raveendran says. "So, I tell them that I will not tell them they're wrong, ever—because on strategy, you're never wrong. It always depends. 
"I also tell them that if they just can't speak in class to please let me know, so I can give them alternative assignments if they really don't want to talk." 
 
The value of diversity 
Raveendran has always loved learning—accumulating new knowledge and connecting it to the real world. It's one of the things she appreciates about the perspectives students bring to her classroom. 
"Without diversity, this would be such a boring class," she says. "The best way to learn in strategy and management is to learn from each other. And I try to have a very open and accepting conversation with them from the beginning." 
That openness and curiosity are two of the characteristics that drew her to UCR after completing her Ph.D. in strategy and entrepreneurship from the London Business School. 
"I came to this school, and I loved the interview. My now-colleagues were just so open and curious and research-focused," she says. "And Dean Yunzeng Wang was very much pushing for research and pushing toward becoming a tier one research university. … I feel our department is really growing in that research productivity. And I love the feel of the place." 
 
Balancing research and teaching 
Raveendran's lifelong quest for learning has taken on a new outlet: the polo arena. She took up the hobby during the pandemic and describes it as "a constantly evolving strategy game." Such a description is not surprising coming from an expert on organizational design. 
Over the course of nearly a decade at the School of Business, Raveendran has continued to pursue her love of research. She recently co-authored a research paper on the "Division of Labor through Self-Selection," published in Organization Science, with a summary appearing on the World Economic Forum. 
Raveendran says she has learned to balance the workload of research and the extensive preparation she does for each course she teaches—but it is all worth it. 
"I love my job," she says. "Honestly, UCR provides a community and a kind of an environment that feels inclusive, that celebrates diversity. And that just fosters—I think I sound like our mission—it fosters excellence in us, not by forcing us to do it, but by enabling us to do it."