In recognition of Women's History Month, we take a look at some of the women who are making their own history with the UCR School of Business.

If Susan Atherton thinks about it, her connection with UC Riverside has really come full circle in the time since she enrolled as a 17-year-old, first-generation college student.
After earning degrees in Business Administrative Studies and Economics in 1977, she forged a successful career in the male-dominated high-tech industry by working hard and focusing on her objectives. Today, that focus has turned to her philanthropic causes – including helping students like her 17-year-old self.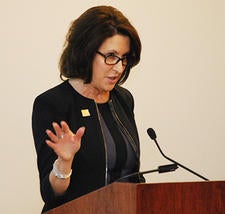 "I am so proud of UCR as a leading university for social mobility," Atherton said. "I'm an example of that, and it's emotional for me when I consider the opportunity that UCR provided."
She has served on the UCR Foundation Board of Trustees since July 2014 and currently serves as the immediate past chair of the board and as the co-chair of the Student Success Initiative. She has served as an Executive Fellow for the School of Business, and in 2015 established the Susan Atherton Endowed Graduate Award Fund to support students in the Anderson Graduate School of Management.
"If you had asked me when I graduated, 'What would you think if I said you would be chair of the foundation board?' I would have laughed," Atherton said.
Today, however, she takes such roles very seriously as an independent philanthropist. The long-time advocate for animals also serves as chair of the Board of Directors for Humane Society International and co-chair of the Board of Directors for the Humane Society of the United States.
Pursuing a passion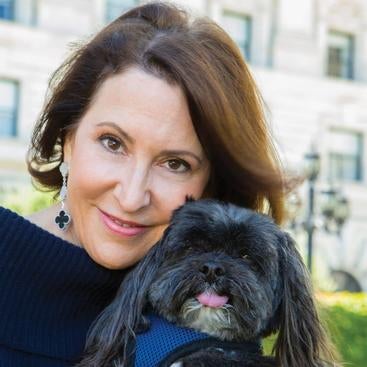 These wide-ranging philanthropic efforts have something in common: They are reflections of Atherton's determination to pursue causes that are important to her.
It is the same approach she took in her business career, which included executive management positions in the enterprise software and cloud computing industries, working at NCR Corporation, GE Information Systems, Oracle Corporation, Rightpoint and DoubleClick.
At the time she began her career, the tech industry was "very much a male-dominated field," she said, with "deals cut on the golf course and cigars after dinner." But she succeeded by focusing on her objectives – advice she has shared with students as an Executive Fellow.
"Do good work, stay focused, continue to politely and firmly fight on behalf of yourself," she said. "It's important to follow your passions. You'll be more successful that way. That doesn't mean you don't need a good job. Just choose something you enjoy and continue to strive toward roles that provide satisfaction in your work."
Atherton grew up in Ventura County and moved to San Francisco in 1992, where she lives with her husband and fellow alum Dr. David K. Shuh ('83 BS chemistry) and their beloved rescue dog, Simba.
She remains a passionate advocate for UCR, its growth and the opportunities it provides to students.
"I have such great admiration for what UC Riverside has become," she said, pointing to its enrollment of more students with Pell Grants than the entire Ivy League combined.
"To me, providing that kind of opportunity represents the best of California," she said. "It represents who we are as a state, and who we are as a nation. This is really about making a difference in people's lives."