Jim Merino has been a math whiz since he learned to count. His father and grandfather, both engineers, taught him algorithms in grade school. "They were always tossing brain teasers at me," he recalls. And he still craves complex puzzles.  
Today, Merino, a math and data science expert – and graduate of Caltech (BS, 1984), Stanford (Ph.D., 1991) and UC Riverside (MBA, 1998) – uses numbers to answer questions, untangle problems, and push the boundaries of innovation.  
His resume calls him "an entrepreneurial applied mathematician and data scientist with a record of applying quantitative methods to real world problems."  Put simply, he crunches numbers to build better (digital) mousetraps.  
His work history includes stints at Facebook, where he quantified ad performance and analyzed data to support small-business ads, and Yahoo, where his data models cut customer churn.   
But Merino said he's proudest of his trailblazing work on social targeting: "Our tests at Yahoo were very likely the first in the world."  Social targeting, which leverages digital connections between people, unites a simple concept with elaborate math.  For example: The friends of a fantasy football user probably like fantasy football, too.  
"The mere fact that connections exist is a powerful indicator of things you might be interested in or want to do," Merino said.  "The ads worked frighteningly well."  
Indeed, thanks to tech innovation and the volume of data online today, "techniques purely theoretical 30 years ago now make (tech companies) a lot of money," he said.  
It's that link between theoretical and practical that intrigues Merino.  He lauded the School of Business A. Gary Anderson Graduate School of Management (AGSM) as a bridge for the practical adaptation of UCR's academic breakthroughs: "The school is a point of contact to get innovative work in engineering and science out into the world as opposed to (the material) just living on in academic journals."  
Rewind to the 1990's: Merino left university teaching for business school – a move he called "unheard of" at the time – to learn how to manage.  He also learned, initially through a course in entrepreneurial management at AGSM, that "business could be a lot more fun and creative than I realized. … I kind of got the bug."  
The bug burrowed deeper during his first job after business school, at Deloitte.
"I was in on the ground floor" of the internet, Merino said.  "Seeing companies come to terms with a weird new thing and making it work for them was really eye-opening.  It was interesting how radical, off the wall ideas could take off and have a lot of impact.  I've tried to follow that path throughout my career."  
In a few years he was innovating for Yahoo, and later, Facebook.  Along the way, Merino co-founded two tech-based start-ups.  By the numbers, he has held eight jobs in the past 20 years – excluding consulting gigs – in internet technology, statistical modeling, science, and data science.  
In 2016, he endowed a scholarship at AGSM to ensure that talented low-income students can afford to attend business school at UCR.  The award, the Jaime J. Merino Endowed Business Scholarship, is named for the father who lobbed brain teasers.  
The donation went to AGSM because many UCR students are the first in their families to attend college – just as Jaime Merino was.  "Opening the gates of opportunity is a path to give back in a meaningful way," said Jim Merino.  
During (rare) recreational time, Merino added he has enjoyed camping, backpacking and exploring nature.  Don't expect any wildlife photos, though: A man who spent more than two decades in internet technology has almost no personal digital footprint – a dearth Merino ascribed to "quality control."  
A few more of his tech-related insights: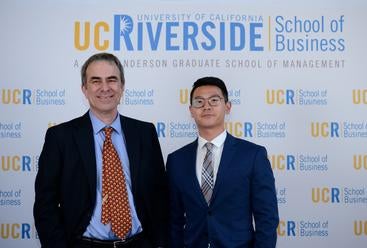 On the evolution of Silicon Valley: "In the old days, tech was about changing the world," he said.  "Today, there's so much money" that some players in the field "will do anything, including break the law."  (As of this writing, Merino was reading "Bad Blood," on the extraordinary deception at Theranos.) 
 On the specter of Silicon Valley building a social credit system that tracks digital users and rewards or penalizes them based on their choices: It's a "nightmare vision," Merino said.  "Once it's there, it will absolutely be abused."  On the positive side: Merino expects pushback as the system develops.  
 On legislation regulating tech, such as California's AB 5 that restricts gig workers: "It's a backlash to innovation," Merino said – "a reaction to so much change in a short period of time, similar to what happened in the 1970s."
Looking forward, Merino, who lives in San Carlos, has joined the Board of Trustees of the nonprofit UCR Foundation, which manages philanthropic gifts to the university.  In addition, he said, "I'm looking at pivoting my career in constructive ways" – perhaps applying math to puzzles of medicine, pollution, land use, or agriculture.   
After years of working on digital ads, he said he's done, for now, with the mousetraps. 
The brain teasers are another story.