Riverside, Ca –
School of Business Names 2019-2020 Executive Fellows
Darin Anderson '89, MBA '91, and Dr. David Hadley '71, M.S. '73. will serve as Executive Fellows for the 2019 -20 academic year.
Founded in 1992, the Executive Fellows Program aims to connect distinguished business leaders with students and faculty to enrich the learning experience. Fellows serve a one-year term, during which they give guest lectures, act as mentors and consult with students and faculty.
UCR School of Business held a ceremony on April 11th, in honor of the 2018 -19 outgoing Executive Fellows Matt D. Lyons '87, Byron Pollitt '73, and William E. Thomas, and welcomed the incoming Executive Fellows Darin Anderson '89, MBA '91, and Dr. David Hadley '71, M.S. '73 for the 2019-2020 academic year..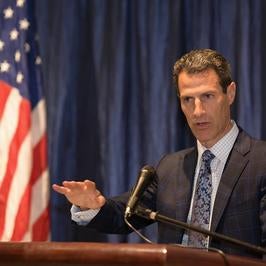 "This program reflects our commitment to professional excellence and our inter-dependent relationship with distinguished alumni, senior business leaders and the business community," said School of Business Dean Yunzeng Wang. "It is our mission and promise to deliver an excellent and relevant business education. These Fellows are successful leaders and extraordinary professionals in their respective fields and we are honored to have their commitment and contributions to this program."
Darin Anderson is the Chairman and CEO at Salas O'Brien, a leading national facilities engineering design and commissioning firm which has been on the Inc. 500 fastest growing companies in the US for the last six years. They have achieved 2800% growth over the last 10 years without the use of outside capital. The company is designing projects exceeding $3 billion in construction value annually. Anderson currently is an Alumni Regent for the University of California, the recent past Chair of the UC Riverside Foundation Board of Trustees, served for 10 years on the Alumni Association board in various roles, and served as Chair of the UC Riverside School of Business Advisory Board for many years.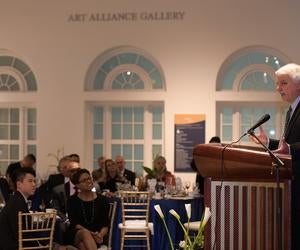 Dr. David M. Hadley is the senior vice president of product development for Cardiac Insight, Inc. and has over 30 years of hand-on experience blending customer needs with information technology through research and development. He spent nine years as Vice President of Research and Development for Quinton Cardiology. In this role, Dr. Hadley was responsible for rebuilding the engineering team, establishing robust new product architectures and developing the next generation of Quinton and Burdick diagnostic ECG products. Prior to his role at Quinton Cardiology, Dr. Hadley was with Primus Knowledge Solutions and Sierra Geophysics.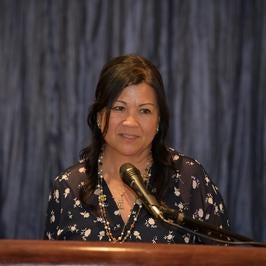 Special recognition was given to former Executive Fellow Beverly Bailey who extablished the Executive Fellows Endowed Scholarship Fund. The new fund will help to identify, recruit, and retain the best and brightest students to the A. Gary Anderson School of Management. Bailey served as an Executive Fellow for the 2017-2018 academic year. The scholarship was first awarded this past year, and is a testament to the value and relationships fostered by the Executive Fellows, students, and faculty.