Inspired by a capstone course during her undergraduate studies, Ndeye Thiaw '99, '04 MBA decided to earn an MBA with an emphasis in finance and entrepreneurship. "I wanted to know more about organizational strategy, how American companies and brands were able to dominate global finance," says Thiaw. "And, how one day, I could be part of that crowd that would move the needle in finance in their home countries."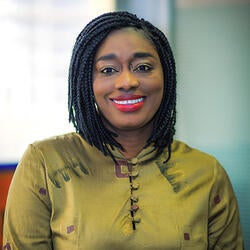 Thiaw has done exactly that. In her hometown of Dakar in Senegal, she is the co-founder and managing partner of Brightmore Capital, an investment management and advisory firm focused on promoting economic and social development in Francophone West Africa.
Based in Dakar and Abidjan, Côte d'Ivoire, and covering businesses in Benin and Togo, the firm "invests in high-growth small- and medium-sized enterprises in the ticket size of $500,000 to $2.5 million," she says. This includes the sectors of agribusiness, financial inclusion, and essential services—such as education, renewable energy, B2B, and recycling—"to generate attractive investment returns while creating meaningful and measurable impact."
Thiaw learned early in her career that relationships are foundational. "My network has been the backbone of all my ventures in terms of mentoring, coaching, advice, change in strategic professional decisions, and partnerships," she says. "Entrepreneurship can be a lonely road. You can be misunderstood for your choices. Having a network to discuss anything—from the challenges of entrepreneurship to wardrobe choices—kept me sane."
When asked about how to ensure professional success along with a robust and productive professional network, she says: "Get out there. Show up and don't be afraid to make mistakes. And, learn about world events and how they impact your work."
Within Brightmore Capital, Thiaw's commitment to contributing to the socio-economic development across West Africa shines a bright light on the good that on-the-ground access to investment capital can do for so many.
"What drives me on a daily basis," says Thiaw, "is the desire to inspire women and young people to know that they can create wealth for themselves despite all the hurdles that they face in their professional or entrepreneurial journeys."