In the spring 2022 issue of UCR Magazine, the university announced its inaugural "40 Under 40 List" celebrating "young alumni making a splash across industries and around the world."
Among this accomplished group of UCR grads was A. Gary Anderson Graduate School of Management alumna Rosie Zhang '11 MBA, co-founder and senior vice president at Cloudpick Smart Technology Co. Ltd., founded in 2017 and located in Shanghai, China. Among the company's projects is technology allowing retail stores to be "clerk-less": Shoppers choose merchandise, and payment is automatically made as they leave the store. The innovation also provides retailers with full-service digital tools to manage inventory, promotions, and sales trends. To see Cloudpick in action, watch this YouTube Video.
Currently living in Shanghai, her hometown, Zhang answers questions from UCR's School of Business about Cloudpick and her role, providing an insightful view of starting a company:
 
What is Cloudpick?
Cloudpick provides customers with a checkout-free shopping journey: We use computer vision, machine learning, and sensor fusion technologies to develop proprietary customer shopping behavior identification and product recognition systems. These innovative systems allow us to accurately detect customer-product interactions within the store, enabling us to automatically charge customers when they walk out of the store. It provides a seamless, frictionless, shopping experience.
By digitizing the entire store—digital capabilities for traditional retailers that were once only available on e-commerce platforms—we help retailers improve their operational efficiency and enhance their customers' experience. This includes in-time assortment optimization, digital membership and personalized promotions, real-time shelf availability notification, and much more. This means store owners can spend less time in the store and more time with their families, while still earning more income.
We are currently working on autonomous convenience store projects in office buildings and school cafeterias in schools. Our technology will help reduce the effort it takes for office workers and students to gain access to goods relevant to their needs, such as a snack or drink. This creates a convenient ecosystem that helps the merchant capture spontaneous purchases.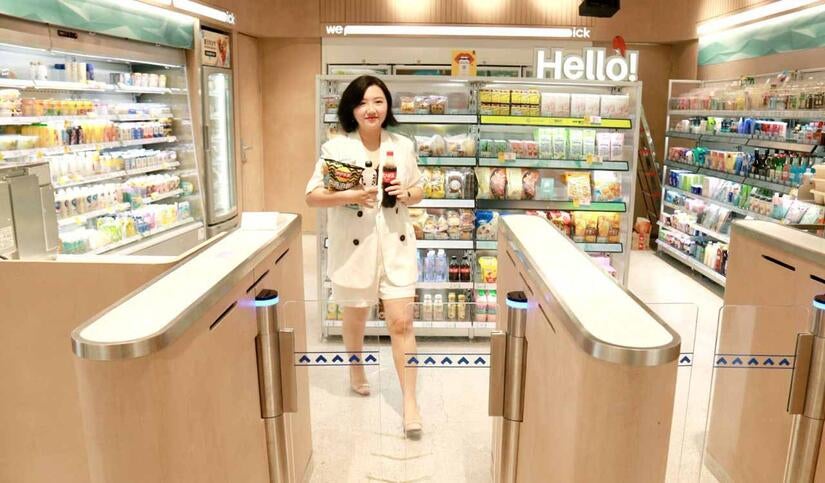 What are some of your performance statistics, and what makes these numbers possible?
I am proud to say that our retail stores can now process up to 800 customer requests per hour, with the capacity to handle 15,000 orders per day. Additionally, we have reduced theft and damage by $1,000 per month.
With our team's extensive engineering experience, we were able to deploy our technology solution in less than a week. We build AI-powered stores that can process transactions at speeds three to five times faster than traditional human cashiers, while also reducing store labor costs by up to 80%. Our intelligent restocking tools have also helped to increase sales by 11% and reduce waste by 50%.
Through our efforts, we have established ourselves as a global leader in AI-powered retail solutions having served hundreds of well-known companies across 19 countries. Our platform has more than 7 million registered users and has processed more than 100 million orders with total transaction volume exceeding $500 million.
 
What is your satellite store program?
During my time at UC Riverside, I learned the importance of giving back to the community. One way that we are doing this at Cloudpick is through our smart stores initiative using our satellite store solution. We provide recent college graduates with support and resources, including location opportunities and franchising policies, as well as training for managing and operating digital stores. This enables them to become successful entrepreneurs and run their own digital stores with the latest in AI technology. Our goal is to empower these graduates to achieve financial success and independence, with most of them achieving profitability within six to 12 months of opening their satellite stores.
 
What type of support did you have in founding Cloudpick?
Almost all of our founding partners were experts that came from large, renowned organizations, such as Google, Intel, Microsoft, Alibaba, and others. Our team is truly global, with members hailing from Singapore, Germany, Japan, the UK, Australia, and beyond. This diversity has enabled us to bring unique perspectives and approaches to our work, making us a dynamic and innovative force in the industry. Despite our varied backgrounds, we all share a common belief: that the digital transformation of traditional retail is one of the greatest opportunities of our time.
As a team, we believe that by leveraging our collective expertise and working together toward a common goal, we are poised to shape the future of retail and lead the industry into a new era.
 
What are your duties as co-founder and senior vice president?
Overall, my role involves working closely with our executive team to ensure our operations and financial performance are optimized for success. I also keep up with the latest trends and
technologies in the retail industry to identify new opportunities for innovation and growth. It is both fulfilling and challenging to work in an industry that is constantly evolving and requires creative and strategic thinking to develop solutions that meet the changing needs of our customers.
 
While studying at UCR, what were some of the activities, people, and lessons learned that made an impact on you?
One course that particularly stood out to me was the capstone course, which challenged me to think critically about starting and running a business. I learned the importance of perseverance and taking calculated risks, and that gave me the confidence to pursue my own entrepreneurial ambitions.
I was fortunate to learn from some incredible professors who were both knowledgeable and passionate about their fields. They challenged me to think outside the box and to approach problems with a creative, innovative mindset.
I also had the privilege to work with a diverse group of fellow students, each with their own unique experiences and perspectives. This helped me broaden my own worldview and to develop a greater appreciation for the value of collaboration and teamwork.
 
Why did you choose UCR's A. Gary Anderson Graduate School of Management (AGSM) to earn your MBA?
I chose AGSM because of its excellent reputation and commitment to fostering a diverse and inclusive learning environment. I was attracted to the school's rigorous academic program, which emphasized practical, real-world business skills that I could apply to my career. And, the school's emphasis on sustainability and social responsibility aligned with my personal values and career goals.
The decision to earn an MBA was driven by my desire to further develop my business acumen and leadership skills. I wanted to gain a deeper understanding of the various functional areas of business, such as finance, marketing, and operations, and learn how to integrate them into a cohesive business strategy.
I also recognized the value of building a robust professional network and developing relationships with other talented individuals in the business community.
 
What does the future hold for you?
In this VUCA [volatility, uncertainty, complexity, and ambiguity] era, the future holds endless possibilities and opportunities for growth and innovation. As an entrepreneur, it is crucial to embrace change and approach the world with curiosity and a willingness to learn. Our company is constantly evolving and improving our products to meet the ever-changing needs of the market, such as integrating AI-generated content into our store marketing tools and improving quality while reducing costs. As we continue to adapt to new market environments and business models, we must remain curious, explore new business opportunities, and learn from both successes and failures. By doing so, we can continue to grow and thrive as entrepreneurs in this exciting and dynamic era.
_______________
UCR business alumni joining Zhang on the university's "40 Under 40 List" are Anthony Bonales '18, senior analyst and mentor at The Wonderful Company; actress Shannon Dang '15; Dominique Drakeford '10, founder of the Melanin and Sustainable Style fashion and beauty platform; Sheba Roy '13, global marketing leader at Meta; and Media.Monks Account Manager Kubrat Salaam '20, who launched the Young Creators and Visionaries Collaborative to help millennial entrepreneurs of color.