Sandy Reyes '23 is unabashed in expressing her joy as a business student. "I sit in the front, and I participate in every single class that I am in," says Reyes. "I'm a big extrovert, so being the first to participate comes easy for me."
Her infectious enthusiasm is reflected in her deep involvement in various organizations and the generous support she provides fellow undergraduate students. But, when she was young, she didn't realize that college was an option.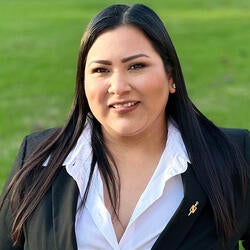 "Growing up, I always had the misconception that higher education was a privilege. I thought it would never be a possibility for me," say Reyes who was raised in Santa Ana and has lived in Rialto for the last seven years. "Once I understood what a great opportunity higher education was, I began to ask questions of my counselors, and one of them suggested UCR. I thought, 'There is no way someone like me could ever be accepted to such a great institution.' UCR was my dream school, and it seemed impossible."
As soon as she received her acceptance letter from UCR (one among many from various universities), she knew it was meant to be. "What really drew me in were the opportunities UCR promised, including research, diversity, and social mobility," says Reyes, whose bachelor's concentration is in management. "I made the right choice. I have found all that and more."
 
Excelling at Leadership
Among the many service positions Reyes holds is her ambassadorship for CollegeCorps, a new California state program providing work and a monetary grant for college students in exchange for 450 hours of community service. Reyes was selected for the program last year and works in the areas of climate action, food insecurity, and education within CollegeCorps. "I also worked with the office of Gov. Gavin Newson to enhance the program and reach more students," she says. Recently, Reyes also gave a TED Talk at UC San Diego centered on her personal story and her involvement in CollegeCorps. "This role is important to me because I'm really trying to bring hope, guidance, and inspiration to students to give back to our communities that are hurting right now," she adds.
Reyes also serves as an undergraduate honors student ambassador, a select group of students who represent the School of Business as they interact with prospective students, donors, campus guests, and other business school activities and events. "I get to help students who may second-guess themselves, who second-guess their worth, and remind them how much they deserve their distinctions," says Reyes. "As honors students, we are involved in undergrad research, work with faculty members in all majors, and collectively have a team of people standing beside us, ready to help with our success."
 
Education Reform
Working on her honors capstone project, Reyes is exploring the effects of the pandemic on California education, kindergarten through sixth grade. "I'm working on a systemic literature review with the best faculty mentor I could ask for, Dr. Wesley Sims, from the School of Education," says Reyes, and her passion lies in education reform.
"The pandemic changed all of us. As a scholar, I was faced with so many challenges, and there were days when I thought I would never be able to prosper again academically. I wanted to give up," says Reyes. "There was a point when I realized that if a person like me was struggling, I could only imagine what children, educators, and parents must have been going through. It was so much bigger than me, and I couldn't just sit there and do nothing."
This time and reflection ignited her interest in education reform, and she is now working at Riverside's Highgrove Elementary School as part of her capstone research. "Now that I am inside the classroom, I am able to see how serious the situation is. Our children are struggling, and not much is being done about it," she says. "It breaks my heart to see an 11-year-old have a mental breakdown because she cannot solve a math equation, or to hear a young student say he isn't 'smart enough.' So, I will step in to help."
 
Being a Dreamer
"Being an AB 540 Dreamer is one of the biggest challenges I have, yet it's a blessing in disguise," says Reyes of her immigration status. "This status fuels the fire within me to excel in everything I do. I have to differentiate myself as a scholar, and I have to push myself hard in order to get opportunities. I know I am extremely limited in the kind of financial help I can receive or the internships I can secure. I constantly have to prove that I belong or deserve opportunities."
Her hard work and persistence have earned Reyes a series of prestigious awards, including the Making Hope Happen scholarship, the Regents Scholarship, and in 2022, she was inducted into the Beta Gamma Sigma Honor Society, which welcomes students in the top 10% academically within the School of Business. She also served in a focus group for the California Higher Education Recovery with Equity Taskforce through Gov. Newsom's office.
"Some of my peers often let me know how lucky I am that I get all these incredible opportunities," she says. "Deep inside, I know how hard I have to work, and this has shaped me into a person that does not give up regardless of what life throws at me."
As Reyes finishes her undergraduate degree, she looks toward earning an MBA at UCR and one day starting a nonprofit organization that will help children prosper. "I want to bring light to more students such as myself who are nervous or scared to reach out for opportunities," she says.
"If I can do it, so can anyone. The secret is to believe in yourself and to not settle for a 'no.' Try and try again, and say: 'I am. I can. I will."