Despite the recession drumbeat getting louder in many quarters across the nation, the Inland Empire's economy is not only showing strength, but is outstripping California's other major metros and the state as a whole along some very key measures, according to an analysis released today by the UC Riverside School of Business Center for Economic Forecasting and Development. 
From employment to the labor force to consumer spending to wages to commercial and residential real estate, the Inland Empire has been a relative standout as the COVID-19 crisis fades further into the past. In particular, the pandemic-driven surge in e-commerce has pushed the region's transportation and warehousing sector to new heights, boosting payrolls by more than 41% since February 2020, which outpaces growth in the state by a wide margin. 
"This sector has long been one of the Inland Empire's core industries and, ultimately, has been a driving force behind the region's better and faster recovery," said Taner Osman, research manager at the Center for Economic Forecasting and one of the report's authors. "Moreover, the enduring shift towards online purchasing has intensified ongoing demand for the industry's services, which bodes well for the Inland Empire as there is such a strong base and existing infrastructure already on the ground." 
 
Key Findings:
•    Labor Market Fully Recovered … And Growing: The Inland Empire has more than recovered the 228,700 jobs it lost due to the pandemic's shutdowns. Since April of 2020, the region's economy has added more than 316,000 jobs, outpacing both the state and the nation. Regionally, total non-farm employment has grown 5.5% since February 2020 compared to just 0.2% in California and 0.5% in the United States.
•    IE Labor Force Growth A Standout: Unlike other areas of California, the Inland Empires' labor force (individuals willing and able to work) has grown steadily. From February 2020 to October 2022, the region's labor force rose by 75,800 workers, a 3.6% increase. California's labor force, on the other hand, declined by -1.3%, or -256,900 workers.  
•    IE Wage Growth Besting Other Areas … Then There's Inflation: From 1st quarter 2021 to 1st quarter 2022 (the latest data available), wage growth in the Inland Empire (4.6%) has significantly outpaced California overall (1%). Local wage growth was stronger in San Bernardino County (5.2%) compared to Riverside County (3.9%). However, importantly, real wages fell -2.9% over the last year due to high inflation. 
•    Consumers: Spend, Spend, Spend!: From 2nd quarter 2021 to 2nd quarter 2022 (the latest data available), taxable sales receipts in the Inland Empire jumped a hefty 9.5%. With fuel prices near record highs earlier in the year, and more people traveling for work and leisure, spending at fuel and service stations was the region's fastest growing taxable sales category, surging 39.2%. 
•    IE Warehouse Space Now More Expensive Than OC and San Diego: The trends occurring in e-commerce have caused the demand for warehouse and distribution space to surge in the Inland Empire. The vacancy rate among these properties fell to 1.1% in the 3rd quarter of 2022 as asking rents ballooned 92.4%. While warehouse space in the region is still more affordable than it is in Los Angeles County, it is now more expensive than in Orange and San Diego Counties.
•    Housing Market Blues Not So Blue: Although today's elevated mortgage rates are constraining demand, home prices in the Inland Empire continue to rise. From November 2021 to November 2022, the region's median home price rose 3.5%, stronger growth relative to Los Angeles (-0.5%) yet slower compared to Orange (10.8%) and San Diego (6.3%) Counties.
•    Rental Market Surges: Demand for apartments in the Inland Empire is also booming. The apartment vacancy rate fell to 2.9% in the 3rd quarter of 2022 as asking rents jumped 7.9% to $1,854 per unit, per month. But even with that increase, the Inland Empire remains a more affordable rental market than Los Angeles ($2,358), Orange ($2,499), and San Diego ($2,247) Counties.

The new Inland Empire Regional Intelligence Report (PDF) was authored by Osman and Senior Research Associate Brian Vanderplas. The analysis examines how the Inland Empire's labor market, real estate markets, and other areas of the economy have recovered from the COVID-19 pandemic and their outlook for the remainder of the year.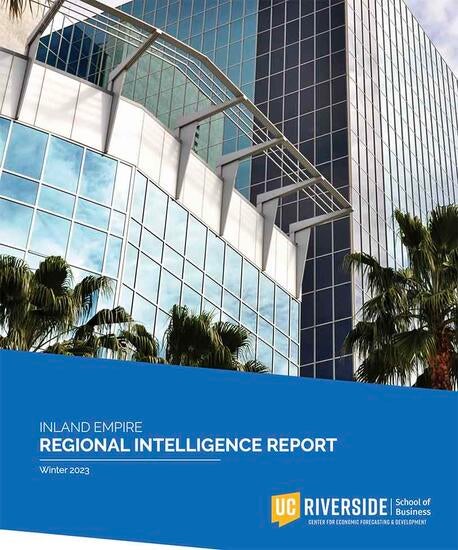 View the Winter 2023 report (PDF)