Whether he is mentoring younger business professionals or participating in a nonprofit program that uses golf to empower kids and teens, Anthony Bonales '18 said his advice is the same: "You really get out what you put into relationships."
Bonales speaks from experience. He is part of the inaugural class of UC Riverside's "40 Under 40," and was recently promoted to manager for accounting special projects just two years after joining The Wonderful Company. He attributes his own success to asking questions, making connections and building trusting relationships.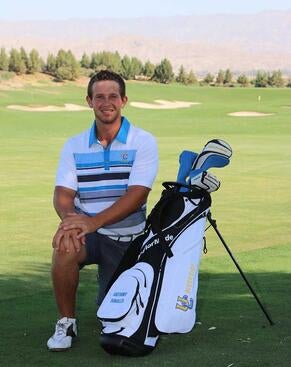 "I grew up in Modesto and came down to Riverside to golf and get a business degree," said Bonales, who was a member of the UCR men's golf team. "I didn't really know anyone. I decided the only way to be successful was to make some key friendships. Those are some of the closest friendships I have today, and UCR became like a second home to me."
The attitude of "being the person who puts his hand in the air" has served him well in his career, and he remains grateful to those who have served as mentors to him. That includes when he moved from a 25-person office to the multibillion-dollar operation of The Wonderful Company in an 11-story building in downtown Los Angeles.
"At first, I thought, 'maybe I bit off more than I can chew,'" Bonales said. "But then I kept asking the right questions and making relationships with the right people who could take me under their wing."
He was able to repay that experience when he helped oversee the company's Finance and Accounting Rotation Mentorship, which gives associate analysts the chance to rotate through different business units, build their skills and prepare for analyst-level opportunities.
"This can really make an impact on a young professional's career," he said.
 
Life lessons on the course
In a similar way, Bonales said, the national nonprofit organization First Tee can make a significant difference in the lives of its young participants. That's why he is a strong supporter of the organization. As a former participant in the Central Valley chapter of First Tee, he has served as a board member since 2018 and is the current board treasurer.
With chapters across the United States, First Tee provides golf instruction for youngsters ages 5 to 18 – but it provides much more than that, Bonales said.
"It teaches life values, how to be a good person, to have perseverance, to act with integrity," he said. "A lot of those core values go hand-in-hand with golf."
Bonales sees his involvement as a way to repay the support he has received throughout his career.
"I believe that's the second question you should ask yourself once you figure out your career and what you want to do. Take a look in the mirror and figure out how you're going to give back and what that means to you," he said. "It's nice to get the promotions, nice to get the money. But how you give back – these are the things you are going to remember most."