Thomas Walker '08 recalls convincing his mom to take him to Blockbuster to buy a copy of "Titanic" at midnight, the moment it was released on VHS. When he studied business at UCR, he was a regular at the Multimedia Library, where he watched old movies, including every winner of the Academy Award for best picture from 1927 onward.
Today, Blockbuster has gone the way of VHS tapes. UCR's Multimedia Library collection has relocated to the Tomás Rivera Library. And the 2022 best picture winner was the first to be produced and released by a streaming service.
But some things have not changed: Walker continues to feed his passion for the movies. As residuals manager at Netflix, he's working at the leading edge of the industry: He manages a team that handles the complex finances of residuals in the streaming era.
Walker retains his ties to the Riverside campus, sharing his business experience with a new generation of students. He met recently with a group of graduate student ambassadors to talk about how he used his education and expertise in business and finance to find a role in the industry he loves.
"I think it's valuable to know that these positions exist," Walker said. "As a minority, I like sharing the perception that these things are possible. People from UCR are at these companies, and we're making an impact."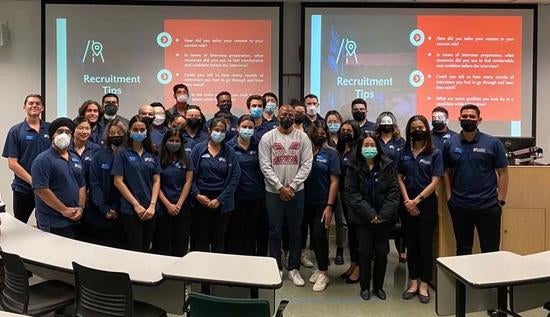 Following His Path
Walker's own journey to the entertainment industry started at Morehouse College in Atlanta, where he studied business until family matters drew him home to Southern California. He transferred to UCR, landed an accounting internship, completed his bachelor's degree in business administration, and got a job offer from the food and beverage company where he interned.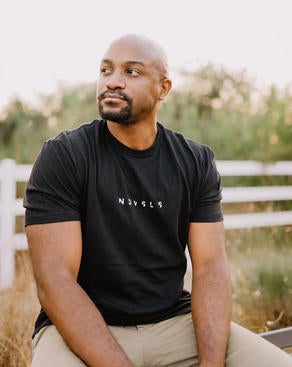 "I literally graduated on a Friday and started working full-time on Monday," he said. "So, I was very fortunate there."
The rest of his journey took some persistence. Retaining his goal of working on the money side of the entertainment industry, Walker enrolled in the master's program at the S.I. Newhouse School of Public Communications at Syracuse University.
"It was kind of a crash course in everything entertainment," he said. "I left there knowing I wanted to be back in L.A."
He and some friends moved into an apartment in Koreatown, where they learned the idea of "fake it 'til you make it," living off spaghetti and taking the occasional job as extras. To pay the bills, Walker sought placements from a temp agency, which eventually led to an accounting role at Creative Artists Agency.
From there, he became a financial analyst at Gaumont Television USA, where he assessed the profitability of shows and gained progressively larger responsibilities. In 2018, Walker was hired as senior financial analyst for residuals at Netflix, and in 2021, he was promoted to manager. He sees that journey as a lesson for students who are uncertain about their career paths.
"You may not know the role you're looking for. I didn't know what a residual was when I was at UCR," he said, explaining that residuals are the negotiated payments to actors, writers, and directors whenever a show or film changes hands. "But I have found work that I love at a company that I love."
 
Gratitude for Mentors, Giving Back
Walker considers every step of his career a valuable experience and maintains close connections to former colleagues and bosses.
"I think I was just fortunate in chasing that management style," he said. "I'd go into each interview and interview them as much as they were interviewing me. It was all about finding someone who was willing to teach me the business. If there's nothing left to learn, then one of us should be looking to do something else—and be comfortable doing that."
Now as a manager of a team, and in sharing his experience with students, Walker finds the roles reversed.
"They're always on your mind, you're always thinking about what you can do for them," he said. "How can I best nurture them? Are they bored? Are they challenged? I just want to make sure I'm giving the necessary bits of wisdom that I have in the industry and that I find myself being what others have been for me."
 
A Transforming Industry
Walker's role at Netflix puts him at the forefront of a changing industry, where streaming services continue to grow in prominence. The latest example was an impressive presence at the 2022 Academy Awards, where Netflix led the way with 27 nominations. Although best picture was claimed by streaming rival Apple TV+ for "Coda," Walker views that accomplishment as good for an industry that he finds so rewarding.
"I think that does mean a lot for streaming services in general," he said. "And it's always wonderful to be nominated. I like to think that because Netflix got in that space, it's opened the door a bit for other streamers."
Walker encourages School of Business students to explore the many opportunities ahead of them. This includes reaching out to established alumni—but students should be sure to do their research and ask the right questions, he said.
"You'd be surprised at how many people don't take the opportunity to just write what it is that interests them, to frame the questions they have," he said. "Be willing to pivot, be willing to take roles that seem unknown and figure out the business from the inside out."
That persistence is important to finding the right fit.
"I've always had the firm belief that the worst anybody can say is 'no,' and that that's not a bad thing," Walker added. "Nobody is going to die if they tell you 'no.' There's another job around the corner. You just have to find the right one."