When Brandy Taylor '13, '20 (MBA) headed back to college to earn a master's degree, she was ready for a career change. 
"I was presented with the opportunity to return to school to pursue my MBA, and that opportunity was the determining factor in my decision to switch careers and find my passion," says Taylor. "I worked five years in insurance, and that real-world work experience and understanding how things work outside of the classroom and textbook helped me be successful in the MBA program." 
Making a change and taking on challenges is familiar territory for Taylor. She began her college career at UCR with the support of the university's Guardian Scholars Program for foster youth. While her childhood was unstable, she excelled during her years as an undergraduate and earned both a Bachelor of Science in business administration and a Bachelor of Arts in psychology in 2013. At UCR, she was regularly listed on the dean's honor roll, became a member of the Psi Chi Honor Society, was a finalist and served as team lead for the MBA Net Impact Case Competition, and is a lifetime member of Beta Gamma Sigma, which recognizes the top 20% of graduate business students globally. Taylor is also involved in the community, and she is a board member of the California chapter of the League of Minority Voters. 
"Since childhood, I have loved finding ways to overcome obstacles and improve existing conditions—from figuring out how to finish chores more efficiently to joining organizations to build new skills," says Taylor. "I want to keep improving, and that's what pushed me to attend UC Riverside, not only as an undergraduate but to come back a few years later to get my MBA." 
The Guardian Scholars Program again aided Taylor in her pursuit of a master's, and that connection created an opportunity with Wetzel's Pretzels. Among the program's donors are alumni Mary and Terry Schuler, who also provide in-person support. 
"During my first year in the MBA program, I was having lunch with Terry Schuler, and there was an opportunity to meet his daughter, Jennifer Schuler, the CEO of Wetzel's Pretzels, and tour the corporate office," says Taylor. That visit resulted in a summer internship with the company. "I enjoyed the Wetzel's Pretzels experience so much, and I was able to stay on as a permanent, full-time employee. I absolutely love it."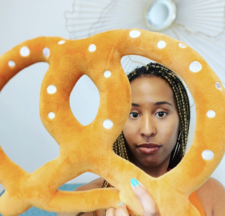 Today, she is the process improvements and contracts administration manager. "I work primarily under the chief development officer, and my role is to help with franchise development, specifically helping ensure a smooth store-opening process. I assist with strategic planning, evaluate current operational procedures, and identify opportunities for growth in new store openings." 
She particularly appreciates the freedom and creativity within her role. "I get to work on various projects that touch every aspect of the organization, and there is a level of spontaneity that each day brings," says Taylor. 
"I also use my UCR education almost every day. The professors taught me to think critically, to strategically solve problems, and most importantly, to find a way to present a deliverable. I apply Professor Marlo Raveendran's instruction on corporate strategies working across departments to achieve organizational goals and the lessons Professor Elaine Wong taught me about relationships, groups, and teams. The ideas Professor Sean Jasso explored on strategic management are the same as those regularly discussed during leadership meetings at work. One of the largest components of my job is information systems, and I can't thank Professor Rich Yueh enough for his lessons." 
Within her role at Wetzel's Pretzels, Taylor is encouraged to present and work on ideas and projects that she's passionate about in addition to her usual responsibilities. "Not everyone gets to do that at a company," she says. "Plus, the food is delicious, and I have access to warm, fresh, soft-baked pretzels—the Pepperoni Pretzel Twist with cheddar cheese sauce is my favorite."