When the U.S. Army launched a career field in enterprise marketing and behavioral economics, it was designed to attract top-performing officers. Competition was high: Almost 500 applied for the first cohort, which had only 30 openings.
In announcing the opportunity, the Army said soldiers applying needed to "exhibit a history of excellence" and have "either private-sector experience in marketing or an MBA or marketing-related graduate degree from a top-tier program that demonstrates a similar academic foundation."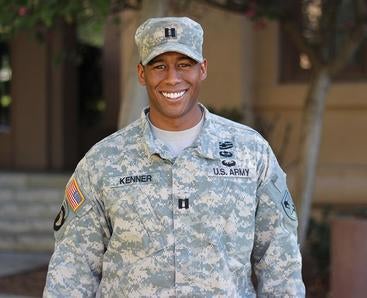 It turns out that was right on the money for Maurice Kenner '16.
Since earning an MBA at the UCR's A. Gary Anderson Graduate School of Management, Kenner had been serving as regional commander of admissions for his undergraduate alma mater, the United States Military Academy at West Point. He was well-prepared for the competitive selection process.
Jenner has now attained the rank of major, and within the Army's enterprise marketing and behavioral economics career field, he teaches psychology to the next generation of the nation's military leaders at West Point while analyzing marketing through an academic lens.
Although the connection between business and military concepts might not be obvious to everyone, Kenner sees multiple advantages, and the role of his education at UCR is important to his work today.
"Bringing the skills of the business world to the Army makes us more efficient and better stewards of the taxpayers' money," he says.
Kenner pursued his MBA after several years of active duty, including 13 months in Afghanistan. UCR was an ideal choice, not just because it has earned Military Friendly designation, but because of the attention it provides to all students, he says.
"It had been several years since I graduated from West Point, and I had to get back in the swing of being a student," Kenner says. "It helped that UCR School of Business is not a giant institution, so I didn't feel like just a number. I had personal contact with staff and faculty."
 
The UCR School of Business is proud to support the best and brightest of the military with programs that complement the skills and discipline shared by service members and veterans. Students with military backgrounds—active duty and veterans alike—tend to excel in the MBA program.
The military MBA program is part of a culture exemplified by UCR's recognition as one of the best universities in the United States for student veterans. The university is a partner in the Yellow Ribbon Program, which means that the university and the U.S. Department of Veterans Affairs provide funds to cover all nonresident supplemental tuition and fees for eligible students in all majors, with no limit. Additionally, the university has a strong community of student veterans who support one another and access a wide range of campus and community resources.