The Hylander Financial Group (HFG), a club founded in 2014 by UCR finance students, has been evaluating stocks for potential purchases to create investment portfolios. Last year they participated in the annual CFA Society of Orange County competition, and regularly bring financial experts to speak and mentor its members.  
Inspired by HFG's success and depth of knowledge of trading securities, a UCR alumnus has established the Hylander Student Investment Fund (HSIF), with a founding gift of $200,000. 
Until now, HFG students were managing mock portfolios. The resources from the Fund will give HFG members the chance to delve into the real world of finance, with the aim of growing the fund through profitable investments. 
The Hylander Student Investment Fund will be supervised by a faculty advisor and an advisory board comprised of financial professionals and officers of the UCR Foundation. 
Jean Helwege, Full Professor in Finance, mentors the students as they implement knowledge learned through finance courses in the UCR School of Business and A. Gary Anderson School of Management (AGSM) programs. AGSM offers finance courses to students pursuing its Master of Finance degree as well as through its full time and professional MBA programs.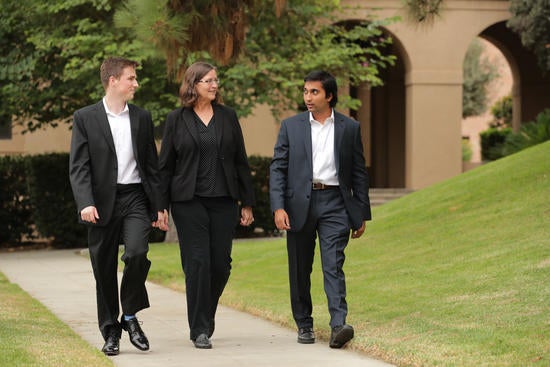 Professor Helwege meets regularly with the HFG members to advise on executing trades. On Monday evenings the HSIF members present to the group and pitch stocks they have analyzed as best investments. 
The work that students in HFG have done thus far has already proven profitable on paper, reaching returns as high as 40 percent from investments in the stocks of Square, Lululemon, and Dunkin Brands. 
Zachary Enes, a student in the Master of Finance program and a long-time member of the club, said that in the past 11 months the club's paper portfolio has seen its value go up about 20 percent, beating their benchmark of 20 percent fixed income and 80 percent equities.
"We work really well together," he said, describing the club as a collaborative effort.
Bolstering students' career prospects in finance upon graduation is another advantage of membership in HFG.  Ryan Whyte, a senior business major with a concentration in finance, is the club president this year, along with Arjun Oza, the vice-president.
Ryan says his experience in HFG helped him to land an internship in Orange County this summer. "I definitely built a very strong foundation of skills like valuation and being able to talk at a high level on the public market and trends in equities, which is pretty important for any career in finance."
Over 200 students are concentrating in Finance or are in the Masters of Finance at the School of Business. "The requirements to qualify for membership are steep, but students with a passion for finance and its real world application now have a second to none opportunity being part of the Hylander Financial Group," says Helwege. 
The UCR School of Business and Hylander Financial Group extends its gratitude for the generous support of the Hylander Student Investment Fund's founding donor, and look forward to working with the HSIF advisory group in the coming year.