David Gutierrez '04 says UC Riverside graduates have a superpower. And he knows what it is.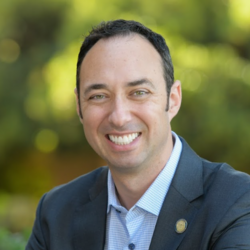 "They've worked hard to get where they are. Many are the first to graduate college in their family," he says. "It leads to what I call the fire in the belly."
Gutierrez speaks from experience: He was a first-generation college student at UCR. Today, he is vice president of finance and accounting strategic initiatives for Radiology Partners, a practice with more than 7,500 employees.
Now, as a School of Business Executive Fellow for 2023-2024, he is spending the year meeting with students both in groups and individually to support them on their professional journeys and providing mentorship and guidance. One of his goals is to help UCR students recognize their ability to outwork and outperform the competition in the job market.
"I want to share the perspective that you're not competing against your peers here at UCR—you're competing against the schools across the country if you really want to go for those premier jobs right out of college," he says. "If I share some of my experiences and be a little bit vulnerable with them, maybe they can relate."
 
Making the Most of Connections
One tactic he learned from his undergraduate days was staying in touch with those who may be helpful in the long run: As a first-year student, Gutierrez met and talked to a recruiter from one of the Big Four accounting firms, Ernst and Young, and discussed what he was studying and what he might like to do within his career. The recruiter said: "Make sure you come back and talk to me in three years—I'll get you a job."
"I took that literally," says Gutierrez. "I kept the relationship going throughout undergrad." A few years later, he reached out to the recruiter, landed an interview, got an internship—and went on to a nearly eight-year career at the firm. "I kind of showed them what UCR graduates are like," he says. "And after that, they started recruiting heavily on campus."
He also maintains close relationships with UCR alumni, including School of Business graduates and previous Executive Fellows Tim Greenleaf '78, a venture capital investor, and Darin Anderson '89, '91 MBA, chairman and CEO of Salas O'Brien. While a student, Gutierrez reached out to Anderson for advice about graduate school, and they maintained a relationship ever since.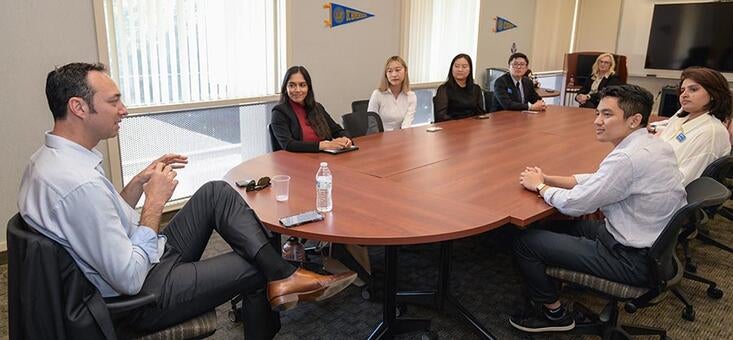 A History of Involvement
As an Executive Fellow, Guiterrez will build on the extensive involvement he's had with his alma mater over the years, including as a donor, student mentor, guest lecturer, member the Dean's Advisory Council for the A. Gary Anderson School of Management, and serving as an Alumni Association board member. In 2016 he received the Outstanding Young Alumnus Award.
Gutierrez values the time he's spending on campus this academic year. "I appreciate being more engaged," he says. "It's a way to pay it forward, but it's also enjoyable when you can see the results. Over the years, I've seen a number of people from UCR who have been very successful in their careers."
Gutierrez, who lives in Palos Verdes, California, also serves as a mentor to high school students and emphasizes the power of education in his service with the Bresee Foundation, a nonprofit battling poverty by empowering youth and families.
That's the same philosophy he plans to bring to his role as an Executive Fellow.
"Education is where my focus is," he says. "Because education coupled with a little bit of advice and perspective, can really launch their careers."