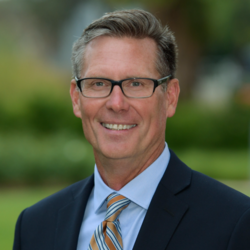 Tim Wiseman '83 will be the first to tell you he arrived at UC Riverside to play baseball, not to launch a business career.
As a starting pitcher on the 1982 NCAA Championship baseball team, he formed lifelong friendships with his teammates. But Wiseman also is grateful for the relationships he built away from the diamond while at UCR.
"I was very lucky to connect with a group of people in the dorms whose primary purpose there was to get their degree, and they were smart and ambitious and talented people. And they helped keep me on track," said Wiseman, who went on to a business career that took him to 40 countries and saw him rise to the office of CEO. "I learned early on that half the battle is showing up at class every day."
If that sounds humble, that's because humility is part of the message he has been sharing with UCR students in speaking engagements over the past several years – a connection that has grown into his selection as a School of Business Executive Fellow for 2023-24.
After graduation and a brief career in professional baseball, Wiseman embarked on a business path that began as a customer service representative and led to senior leadership and global experience at major corporations including Barnes-Hind, Gillette, Adidas and Nike. His latest role was as president and CEO at athletic training product maker SKLZ, where he led the corporate turnaround and sale to Impulse.
A consistent philosophy
Throughout his career, Wiseman has relied on a leadership philosophy of "constant humility, self-correction, and perseverance of purpose" – a message he believes has resonated with UCR students in his previous talks with them.
"I think the kids have kind of looked at me and said, 'Yeah, this isn't some wonder child who came out of the blue – he's just a hardworking B student who believed in himself and had confidence and worked hard to get where he is,'" Wiseman said.
"You are always going to have the chosen ones and people who are just on a path. But for the rest of us, we just are who we are. And yet, you can still start to separate yourself and achieve what you want to achieve. And that was kind of me."
One of the lessons from his growth as an executive, Wiseman said, was that success of leaders depended on the success of the whole team.
"I never dreamed of getting to the level of leadership that I was able to get to. I just didn't," he said. "Leaders have to have a vision. But at the end of the day, you've got to inspire your people – and your people will see right through you if you are inauthentic. So, to me, the real characteristic of authenticity is humility."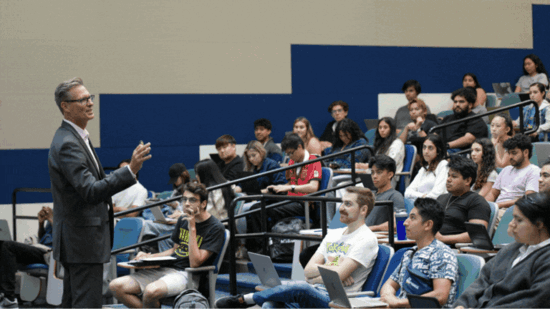 Today the Southern California native lives in Huntington Beach, where he enjoys surfing, cycling and golf. He also volunteers at least once a week building houses for Habitat for Humanity. He and his wife have three sons in college.
"We have tried to prepare them to work hard, get that degree. And the other part is to grow up as a human being," he said, noting the college years go by quickly.
In a similar way, he looks forward to making the most of his time as an executive fellow, sharing what he can with a new generation of UCR students.
"I just want to inspire them in some way to never stop believing in themselves and elevating their dreams to get to where they want to be," he said. "I hope I can give every one of them something that accelerates and catapults them into continuing to be a great leader."