When Dorothy Doronila '22, '24 MBA spoke at the April 13 installation dinner honoring past and present executives who have served as UCR School of Business executive fellows, she shared what she learned from 2022-2023 Executive Fellow Anita Alamshaw '91:
"Anita Alamshaw taught me and other women in our master's programs the importance of building a presence, and in the face of adversity in the workplace, find your people and continue to be present and authentic," said Doronila. "Through this conversation I found direction. … Anita made room for me on the path while continuing to blaze her own. With Anita's light ahead of me, I can picture my future a little clearer."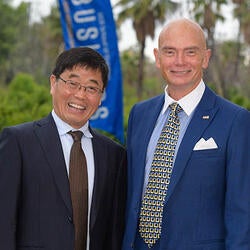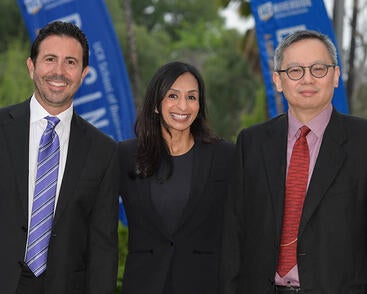 The evening was hosted by 2014-2015 Executive Fellow Timothy Greenleaf '78, who served as master of ceremonies, and Dean Yunzeng Wang honored the outgoing executive fellows: Anita
Alamshaw '91, executive director of global value access and policy at Amgen; Armen Karamardian '93, CEO of Zov's Restaurant Group; and Kenneth Leung '89, director of marketing at Oracle. Wang also introduced the 2023-2024 executive fellows: David Gutierrez '04, Bansree Parikh, and Timothy Wiseman '83.
Alamshaw spoke about her executive fellow experience working with students. "When I was originally approached to be an executive fellow, I committed to this opportunity with the mindset of giving back and serving the students," she said. "What I failed to realize at that time was how much this opportunity would impact my own personal and professional journey. Each time I was on campus, I felt energized and inspired to continue my own professional development.
"Some of the highlights that resonated for me were during my one-on-one engagements with students to discuss their résumés, talk about interview skills, and post-graduate plans."
Executive Fellows are selected for their outstanding leadership, professional experience, and business expertise. Founded in 1992, the program has allowed School of Business faculty and students to connect with successful business leaders from a wide range of industries, perspectives, and experiences.
 
Looking Ahead to Mentorship in 2023-2024
The new executive fellows include a former first-generation student at UCR who built a successful career in finance and accounting; a banking executive who arrived in the United States at age 5; and a professional baseball player and alumnus whose international business career saw him rise through the ranks and become CEO: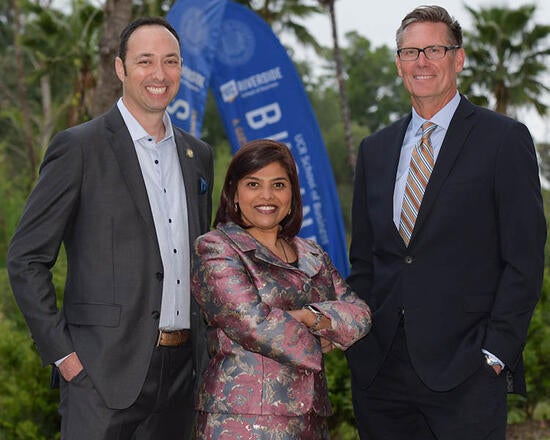 David Gutierrez '04
One of the things David Gutierrez admires about students and graduates of his alma mater is "the fire in the belly" that drives them to put in extra effort in pursuit of their dreams.
"They've worked hard to get where they are. Many are the first to graduate college in their families," says Gutierrez, who speaks from experience as a former first-generation student. Today, he is vice president of finance and accounting strategic initiatives for Radiology Partners, a practice with more than 7,500 employees.

One of his goals as an Executive Fellow is to help UCR students recognize that they have the ability to outwork and outperform the competition, and he adds: "I want to share the perspective that you're not competing against your peers here at UCR—you're competing against the schools across the country if you really want to go for those premier jobs right out of college."
Bansree Parikh
The importance of bravery was instilled in Bansree Parikh from a very young age, including during her family's arrival in the United States from India when she was 5.
"How blessed am I that my parents chose to do the bravest thing?" says Parikh, who took the example to heart as she built a career at Bank of America for the Inland Empire.
Her résumé includes being named market president in 2021 and serving as senior vice president and market executive for the Inland Empire for business banking, which serves companies with annual revenues of $5 million to $50 million.
Along the way, she has learned that to find success and satisfaction, "you don't have to be perfect, but you do have to be brave," she says.
"If you're working hard, if you're willing to constantly learn, and you're putting in that effort and energy, you can do anything you want."
Timothy Wiseman '83
As a starting pitcher on the UCR 1982 NCAA Championship baseball team, Timothy Wiseman formed lifelong friendships with teammates. But he also is grateful for relationships he built away from the diamond.
And he credits the lessons learned on and off the field with helping him understand the necessities of leadership: "constant humility, self-correction, and perseverance of purpose."
After a brief career in professional baseball, Wiseman embarked on a business path that led to senior leadership and global experience at major corporations, including Barnes-Hind, Gillette, Adidas, and Nike. As president and CEO at athletic training product maker SKLZ, he led a corporate turnaround and the sale to Implus before retiring.

Wiseman looks forward to sharing the lessons learned along the way with a new generation of students, he says. "I just want to inspire them in some way to never stop believing in themselves and elevating their dreams to get to where they want to be."
At the April dinner, Alamshaw also underscored the importance of executives interacting with students: "The Executive Fellows Program reinforces to our students that in addition to the top- tier professors at UCR, they also have a network and community of executive fellows to share our practical learnings and provide guidance … as they enter the workforce."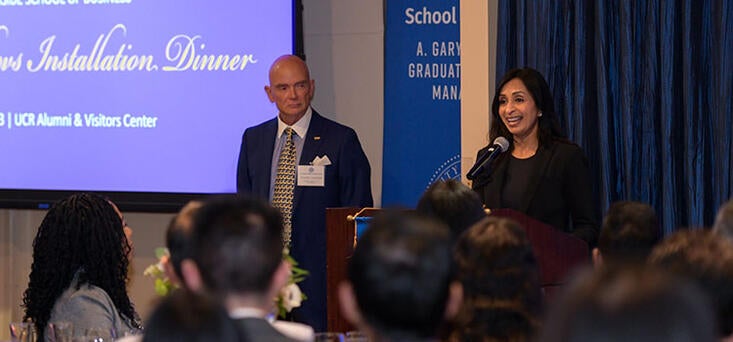 _____________
Header Image (left to right): Undergraduate Student Speaker Roma Ghanekar, Outgoing Executive Fellow Armen Karamardian, Dean Yunzeng Wang, MC Timothy Greenleaf, Graduate Student Speaker Dorothy Leigh Doronila, Incoming Executive Fellow David Gutierrez, Incoming Executive Fellow Bansree Parikh, Incoming Executive Fellow Timothy Wiseman, Outgoing Executive Fellow Anita Alamshaw, Past Executive Fellow Darin Anderson, Outgoing Executive Fellow Kenneth Leung