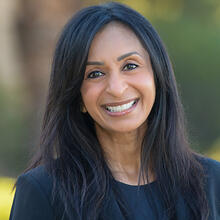 A roundtable discussion with students in the A. Gary Anderson Graduate School of Management inspired Anita Alamshaw '91 to give each of the students a copy of Executive Presence by Sylvia Ann Hewlett. Alamshaw followed up by inviting the students to her home for a book club discussion.
This considerable investment with students—both inside and outside the classroom—reflects the purpose and mission of each of the three business leaders selected annually to serve in the UCR School of Business Executive Fellow program. In 2022-2023 the three fellows included Alamshaw, executive director, Global Value Access & Policy of U.S. Value and Access at Amgen, one of the world's leading biotechnology companies.
"The Executive Fellows program reinforces to our students that, in addition to the top-tier professors and classes at UCR, they also have a network and community of UCR alumni who are here to share our practical learnings and provide guidance to students as they enter the workforce," says Alamshaw.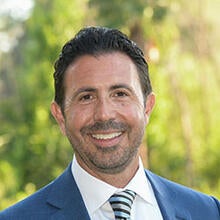 During his time in the classroom, 2022-2023 Executive Fellow Armen Karamardian '93 made it a point to reassure students. "I found that students are craving real-life practical applications for the topics and theories they are learning in class," he says. "This information, when presented by an alumnus of the very institution they are enrolled in, provides an especially strong connection because we have walked in the very same shoes."
Karamardian, chief executive officer of Zov's Restaurant Group, encouraged students to take some of the pressure off, enjoy this time, get as much experience as they can, and know it's OK to make mistakes. The alumnus was intentionally generous with his time when students lined up to speak with him after presentations.
"It is an honor to serve my alma mater," say Karamardian. "The questions that I was asked in class and one-on-one with graduate students reinforced the value of the UCR Executive Fellow program."
"They are all very busy executives, but every time they were on campus, they were completely present for the day," says Gwendolyn Thibeaux, associate director of development for the School of Business, who works with the fellows to coordinate their campus visits. "They didn't come with work on their mind. They came committed to the experience, committed to the students, committed to the faculty."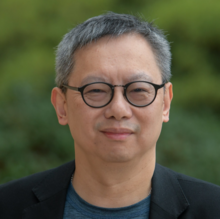 That enthusiasm was evident when Executive Fellow Kenneth Leung '89, director of marketing for Oracle, returned to campus for the first time in 30 years to work with students. For his part, Leung invites today's students to do the same—give back after they graduate.
"It was a great experience meeting the next generation of business practitioners at UCR," he says. "I hope the students found the lessons useful, that they are inspired to move forward in their chosen career path. I also hope they will volunteer their time in the future to speak to students when they are alumni."
Leung's dedication to the Executive Fellows program and its student-centered approach is echoed by Alamshaw.
"When I was originally approached to be an executive fellow, I committed to this opportunity with the mindset of giving back and serving the students. What I failed to realize at that time was how much this opportunity would impact my own personal and professional journey. Each time I was on campus, I felt energized and inspired to continue in my own professional development."
"As I told the students, my commitment to serve doesn't end here. I will continue to support our students in the future as a part of the UCR School of Business network to reinforce our values, mission, and purpose."
The 2022-2023 Executive Fellows will be honored at the April 13, 2023 installation dinner for incoming 2023-2024 Executive Fellows, David Gutierrez '04, Bansree Parikh, and Tim Wiseman '92.
View photos of the 2022-2023 Executive Fellows visits:
Learn more about the Executive Fellows program: