When Wayne Gretzky was asked why he was successful, the hockey great made a timeless observation: "I skate to where the puck is going to be, not where it has been." By that, Gretzky meant that top performers gravitate to where the action – innovation and opportunity – will happen. In the process, they position themselves to make an impact.
You could say MBAs descend on the UC Riverside A. Gary Anderson Graduate School of Management (AGSM) for the same reason. They want to be a step ahead, anticipating how the world will pivot to their advantage. At the UCR AGSM, that translates to a cross-disciplinary, tech-laden, globally-conscious curriculum that prepares graduates for where business is heading.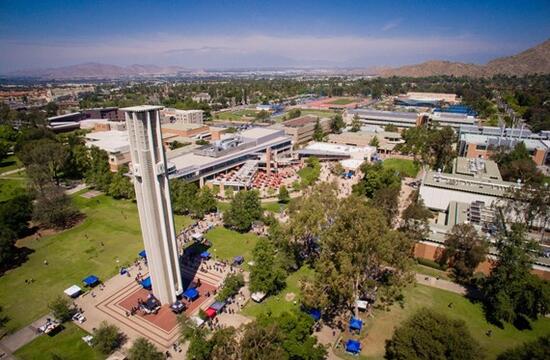 A Place For Social Mobility
Here, the students' multicultural perspectives and underdog roots serve as major advantages. In the Class of 2024, 54% of first-years are women and 54% hail from outside the United States – populations swelling in c-suites and specialized ranks alike. Beyond class composition, the UCR AGSM reflects the diverse educational and professional backgrounds of global business professionals. In this year's class, you'll find manufacturing managers, computer engineers, and financial analysts who've worked in decorated firms like Amazon, General Electric, and Allstate. In other words, AGSM MBAs are exposed to the best business ideas and practices from their classmates as much as their professors.
In business, the puck is also gliding towards equity. Across the larger university, equity is more than an aspiration. For the past four years, U.S. News has ranked UC Riverside #1 for Social Mobility – a combination of Pell Grants and graduation rates. At AGSM, social mobility enjoys a different meaning. The MBA program is a place, says first-year Nadia Witt, that welcomes "people like me" – students who don't always fit the mainstream ideal or check all the boxes. More than that, adds classmate Yiqun Li, AGSM provides support: the kind MBAs need to anticipate where business will shift and identify how they can bring value.
"The resources for career development and the down-to-earth vibe is what led me to choose UCR's MBA program," Li writes. "The university has made great achievements in social mobility, which means students here are truly able to change their lives. From faculty to students, AGSM's focus is not just on academic results; they also care about our employment opportunities. Many job fairs, employment workshops, and other events are offered, and resources, such as the Career Development Center and Handshake, are always available for students seeking opportunities."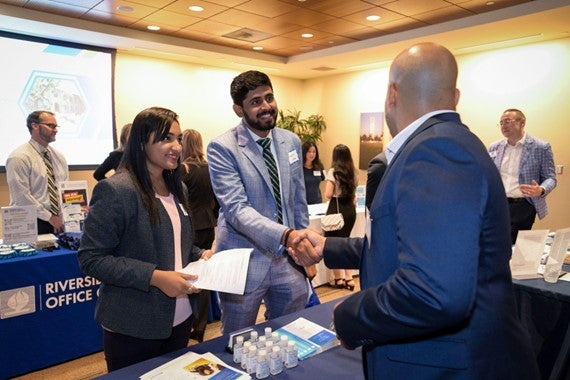 Skills Employers Seek
How does the UCR AGSM stay ahead of change? For one, the school listens to employers. That starts with a STEM designation, which enables international students to work in the United States for three years after graduation without a special visa. In reality, the STEM designation is an outgrowth of the UCR AGSM's long-time commitment to technology and innovation. Such programming is one reason why recent AGSM MBA grads have landed coveted roles in companies like Disney, Amazon, Deloitte, and Ernst & Young.
"Graduates from the STEM-focused program are in high demand for all businesses," explains Dr. Rami Zwick, Associate Dean of Graduate Programs, In a 2021 interview with P&Q. "Many businesses are shifting to using technology and big data to reduce costs and predict future events/trends, improving forecasting and project planning. The STEM designation has a strong foundation and extensive training in data analytics, data visualization, scientific research, programming languages, and so forth. This is very attractive to prospective students because it offers employment flexibility across business disciplines."
UCR AGSM's advantages extend far beyond its future-focused programming. Hoping to gain work experience to ease the transition to a new industry or function? The school requires an internship through its Field in Management course. Looking for state-of-the-art facilities? This year, the AGSM is breaking ground on a spacious complex, replete with tech-infused classrooms, private study rooms, open collaboration space, and exterior terraces to enjoy the California sun. Seeking a strong network that'll open doors? UCR boasts the largest undergraduate business program in the state with 20,000 UCR AGSM alumni alone (not counting 136,000 total university alumni). Through its Executive Mentor Program, the school can also pair MBAs with industry leaders and practitioners – giving them insider access to trade secrets and networks that ultimately produce advancement opportunities. Of course, UCR AGSM is situated just an hour away from Los Angeles, with its deep foothold in the entertainment, technology, supply chain, and aeronautics industries.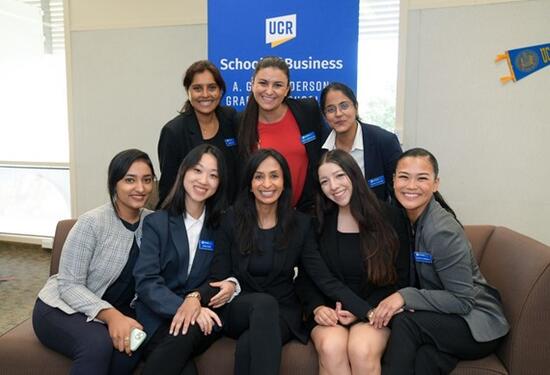 A Supportive Culture … And Beaches!
Such offerings open up possibilities. In the end, the AGSM MBA isn't just about snagging the puck to gain validation, renown, and security. In the brave new world, future success is predicated on balance and community as much as skill and insight. For the Class of 2024, there is no better place to recharge than hanging out at the beach. Joanna Alice Sippetts, looks forward to taking car rides to the shores so she can catch up with classmates and find new food venues. The best beach? Yiqun Li points to Huntington Beach – the famed "Surf City" whose breezes and boards have inspired many Beach Boys refrains on fun and freedom.
"As one of our MBA professors said, pursuing an MBA is about business and that mindset, but it is also about enjoying life," Li explains. "AGSM held a series of amazing orientations, welcome events, and a bonfire party at Huntington Beach, which certainly taught us how to enjoy life while studying. After that, we have hung out a lot at this beautiful beach. Walking around the beach, listening to the sound of waves, and feeling the power of nature really gives us inspiration. It's also a good place to release pressure after a week of classes and assignments."
The AGSM has all the ingredients: Innovative programming, surging momentum, and a job-rich location with sunny weather and every imaginable recreation within driving distance. Add to that a supportive environment. The MBA program is small and intimate; the Class of 2024 alone is just 68 students. That makes MBAs a center of attention, with the student-to-faculty ratio of 4:1. In other words, MBAs get time and resources in a "high-touch" environment where every class member brings unique value and no student is ever left behind. At the AGSM, MBAs are stretched and encouraged, and faculty and students alike act as safety nets. This is what Stephanie Jimenez experienced at UCR as an undergrad majoring in finance. Now – paying the ultimate compliment to her alma mater – she has returned to prepare her for the next step in her career.
"I was exposed to and made aware of all the amazing resources and opportunities the school offers along with the welcoming, supportive environment," Jimenez tells P&Q. "I knew I wanted to have resources, such as the Career Development Center for résumé and cover letter reviews and mock interviews to ensure I am prepared for my job search. The support I have received from the faculty has always been phenomenal, especially during the application process. Everyone I reached out to was always so welcoming and encouraged me to ask all the questions I had."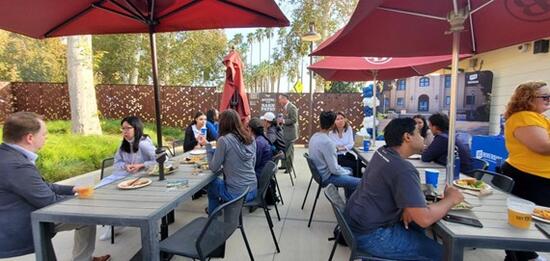 From Wimbledon To Amazon
Who makes up the AGSM Class of 2024? Start with Pujith Sai Kumar Reddy Nooka, who speaks six languages (and is currently mastering a seventh – Japanese). He previously worked in Amazon's Development Center, where he tested Alexa and Fire software and devices. He chose UCR AGSM over eight other programs, earning a scholarship and teaching assistant position along the way. Ironically, he found the path to graduate school far easier than the one he took as an undergrad.
"I had to transfer universities for my engineering studies due to my budget constraints. Because of syllabus mismatch, I had to retake 35 subjects from the previous years and cleared them all. Earning, my undergraduate degree has been the greatest huddle I've cleared so far."
As an undergrad, Nadia Witt played softball – a sport that has enabled her to compete in 21 countries. Her classmate, Joanna Alice Sippetts, has also been involved in sports. This year, she worked Wimbledon for the Lawn Tennis Association after previously handling player and staff accreditation at the Nottingham Open. Sometimes, you won't find the best competitors on the field. Case in point: Stephanie Jimenez. She ranked as Charles Schwab's top performer in her department.
"I challenged myself to meet each metric on a daily basis so that I would be on track to meet all quarterly goals," Jimenez explains. "Taking on this challenge and meeting it was important to me because I wanted to stand out and make myself known, especially since I was working in such a large company. I wanted to make sure that I was considered for any position openings that would allow me to learn more about the firm and/or move up within the company."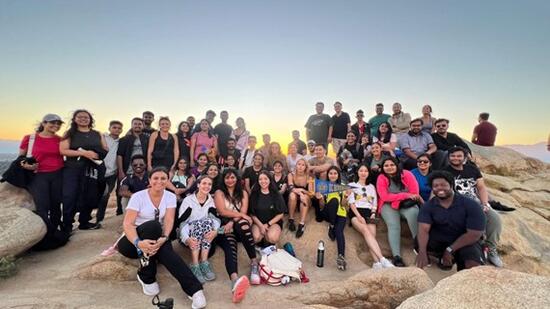 Quants With A Poetic Side
Before business school, Snigdha Ojha worked in television and fashion. In her most recent role, Ojha served as a senior marketing analyst at SHEIN, a women's clothing online retailer. Here, Ojha developed a love for storytelling, particularly the role of characters – consumers – in driving the brand narrative.
"My work included research and consumer insights for the India market. One of the most interesting things within my job was to see how the brand grew in two years in India and internationally. Interacting with consumers, understanding their needs from the brand, and then developing solutions incorporating these needs and demands was one of my most interesting experiences. The immense love from customers for the brand gave me a chance to understand the consumer's voice using traditional research methods as well as the thriving social media channels. I had the opportunity to understand fashion trends, how e-commerce functions, and how all the likes and reactions are interpreted to develop strategy for brand growth."
Yiqun Li also possesses a poetic side. A voice actor, Li has dubbed his character interpretations to over 1,000 clips on his channel. Like Snigdha Ojha, he also brings a serious quant side to the UCR AGSM. In China, he was promoted to being the vice president of a private equity firm that invests in movies. In this role, he developed a model that crunched various indicators and market statistics that enabled him to project which releases would turn into blockbusters.
"The company and the funds I managed had successfully invested in every year's top-three movies in China over four consecutive years and grossed more than 30 billion RMB ($5 billion) at the box office. I managed two private equity companies within the group and oversaw more than 100 funds and more than 14 billion RMB ($2 billion) in assets. I also invested and incubated the largest filming equipment rental company in China, which is also the largest in Asia, with a total of more than 1 billion RMB ($138 million) in equipment assets, such as cameras, lenses, cranes, trollies, etc."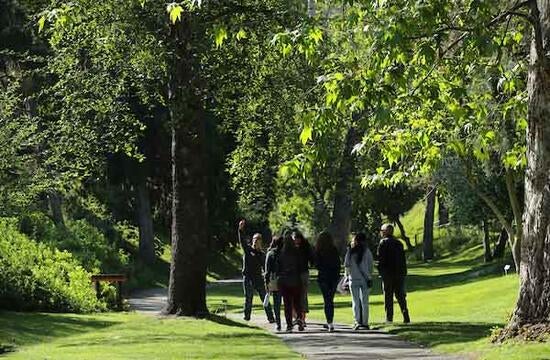 Flexing Their Entrepreneurial Muscles
As an MBA, Li is now flexing his entrepreneurial muscles. During his Information Systems course, he devised a business plan for a new product. He describes it as a "rental service for high-end technological products—such as computers, drones, and entertainment equipment—exclusively to college students at a competitively low price." The kicker: students could either return the item after the rental period expired or purchase it at a "fair price."
"Leading a group of my excellent classmates to work on the business plan and achieve our goal was a great experience because we are future managers and CEOs," Li says.
Outside work and school, Evelyn Lazo is a rock climber, even reaching the 1,500-foot summit of Angel's Landing in Utah's Zion National Park. At AGSM, Lazo notched a different achievement. She was named the school's vice chief ambassador, where she helps her classmates better "showcase" themselves on LinkedIn. In contrast, Grant Rueca has been busy plying his marketing skills, both in working as a marketing assistant for the university and promoting his student organizations. Like Yiqun Li, Pujith Sai Kumar Reddy Nooka has turned a project in his Information Systems course into something much bigger.
"I secured an internship in my first quarter as a startup business consultant working on a fintech project at the National Science Foundation, which is funded by the federal government and under the guidance of Dr. Jay Gilberg. Here, I am mentored by one of the best entrepreneurs, Gioia Messinger. I am also working on campus currently in Information Technology Solutions as a multimedia operator."
Watch Ashley Sanchez's Slice of Life video for a sneak peek into her internship at The Walt Disney Company, which led to a full-time job offer. (Video)
 
'Everyone Would Make A Fine Military Officer'
Sean Payan was selected by the U.S. Army to pursue his MBA full-time at UCR – all while fulfilling his military obligations and training. Looking at the Class of 2024, the words "intelligent" and "diverse" come to mind for Payan. In the process, he pays his classmates the ultimate compliment.
"The U.S. military is quite the melting pot of personnel; however, AGSM offers even more diversity and inclusiveness due to the international student population. The camaraderie among alumni and current students is remarkable as everyone is collaborative and eager to learn from one another. Every person I have met would make a fine military officer; they are extremely disciplined and durable with exemplary character."
Payan may also be among the students that Grant Rueca was thinking about when he described his classmates as "inspirational." By that, he means they possess the grit to fulfill their promise. "Many students I've met within the UCR MBA program are pursuing their dreams with baggage: They have families, outside commitments, full-time jobs, and much more that add to the load as they earn an MBA degree. Yet, even if these things get in the way, they continue to pursue their dreams. UCR MBA students are strong-willed and take on this challenge to benefit their careers … they are my role models."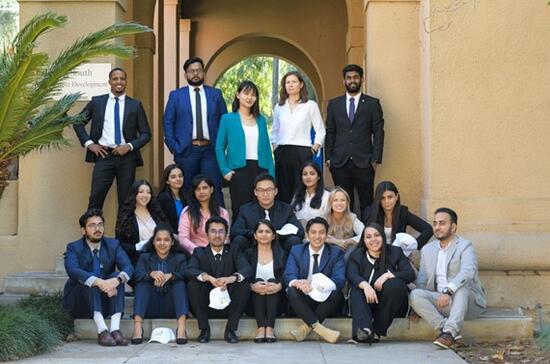 Class Hangouts
In their downtime, you'll find the Class of 2024 at many of Riverside's hotspots: The Getaway Café, The Barn, and Duke's Bar and Grill. The Barn, in particular, is a place where MBAs and staff can kick back and get to know each other, says Snigdha Ojha.
"This is also a good way to learn the formal culture in an informal setting," Ojha adds. "Tuesday has become my new Friday, as I can take a break at the start of the week by just sitting and chatting with everyone. A fun fact about the Bar: The beverages offered are brewed at UCR. Sometimes, there are also concerts or performances with affordable ticket prices for students, which also gives me a glimpse of the L.A. lifestyle I had heard about. And that's all on campus."
Off campus, the class often descends upon downtown Riverside and the Riverside Food Lab, a food hall featuring over a dozen spots for cuisine ranging from Creole specialties to Lebanese recipes. "It's such a fun atmosphere, and there are so many great cuisines to try—there's something for everyone," observes Harman Dhillon, who is using her MBA to transition from hospitality to international project management. "More importantly, this time away from campus helps form closer friendships and learn more about each other as individuals."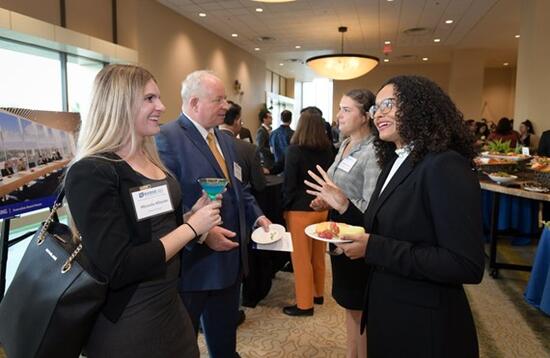 Class Goals
What does the Class of 2024 discuss at places like Mixies Ice Cream and Cookies or Mi Cafecito Coffee? Like all MBAs, the future is bound to come up. Looking ahead, Grant Rueca aspires to work in a Fortune 500 company as a marketer, with the long-term goal of creating a family-like atmosphere.
"As the oldest son in my family, I have the role as leader for my 10 siblings. This means during difficult times it was often up to me to step up and lead my family to success. Therefore, when I think of being a leader and manager, I think of developing my team as a family and creating great results with that family. I've always aspired to be a leader and manager at work, and earning an MBA will get me much closer to that goal."
Evelyn Lazo isn't taking anything for granted. Remembering the hurdles and delays she faced in getting into business school, Lazo pays it forward by devoting her time to volunteering in her community. For her, a career is less about a role, but more about finding a community that shares her values and provides a platform to make a difference.
"My definition of success is not only achieving a personal or professional goal, but it is being happy with oneself and one's unique accomplishments. After graduation, I hope to pursue a career in project management with a company that values its employees and empowers them to be better than they were yesterday. This happens when a person follows his or her own dreams without allowing society's paradigms to influence how one should act, achieve, or exist."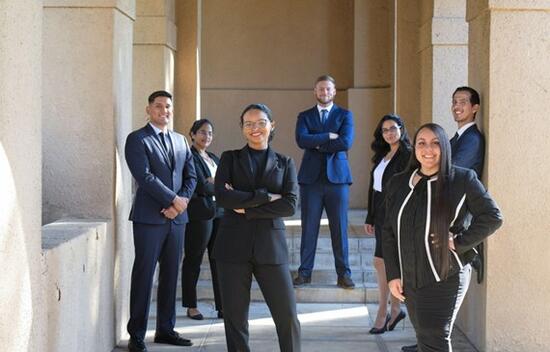 A Class Profile
By the numbers, the Class of 2024 represents improvements across the board from the previous year. The class size rose from 56 to 68 students, as did average GMAT score (632 to 646). By the same token, UCR AGSM achieved gender parity, with the percentage of women climbing from 45% to 54%. The majority of the class – 54% — are international students who hail from 9 countries. Overall, GMAT scores ranged from 600-710 in the 85% percentile, while Verbal and Quant GRE scores averaged 152 and 162 respectively.
Academically, 41% of the class majored in Business and Commerce as undergrads. 18% of the class hold degrees in Humanities-related fields, while 16% studied Engineering. The remainder of the class earned degrees in the Social Sciences, Computer Science, Economics, and Hard Sciences.
In terms of professional experience, the largest segment of the class – 19% – last worked in Financial and Insurance Services. 13% held sales-related positions, with eCommerce and Retail (10%) and High Tech (8%) professionals representing sizable shares. The remainder of class also boasts experience in consulting, consumer goods. Education, healthcare, hospitality and tourism, human resources, law, manufacturing, media and entertainment, real estate, and the military.