Anita Alamshaw '91 has always been decisive – that's an important quality as executive director and general manager of U.S. Value and Access at Amgen, one of the world's leading biotechnology companies.
But she recalls one instance when she changed her mind, and how that made all the difference.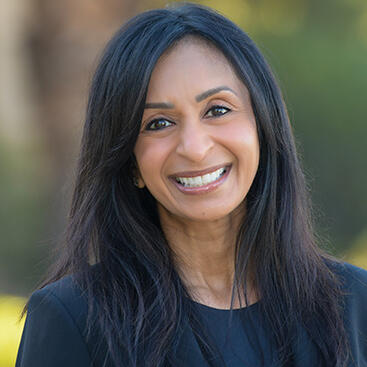 Growing up in Orange County, Alamshaw knew she wanted to stay in California for college. She was accepted at USC, enrolled and even had a roommate. But when she was accepted later for business programs at UC Berkeley and UC Riverside, she and her parents decided to tour both campuses – and the UCR visit proved decisive.
"I can't even think of too many situations where I've actually changed my mind – especially for something of this magnitude," she said. "But after being on the UCR campus, I had zero hesitation. I made that decision right then and there. And it was the best thing I ever did."
Alamshaw has kept close ties with the university ever since and will be expanding her connections as a School of Business Executive Fellow for 2022-23, sharing her perspective and business expertise with a new generation of students.
"UCR gave me what I needed to succeed in life," she said. "I would say every experience that I had on campus – one of the highlights was Greek life for me – has continued to shape who I am today, from confidence to leadership to communication. It's all thanks to UCR, and if there's anything I can do to give back and help students get to that next level, it's my privilege."
A business role in the medical field
Alamshaw comes from a family of physicians. Those medical connections include her husband, Freddy Alamshaw, DO, class of '91 – they met when they were undergrads. Today he is chief of family medicine for Kaiser Permanente. He's also on faculty for the UCR School of Medicine and provides opportunities for UCR students to connect with Kaiser.
Despite the medical ties, business became a focus early for Anita Alamshaw. While volunteering in her father's oncology practice, she got acquainted with the pharmaceutical industry, which led to another decision: pursuing a business degree with a focus on the pharmaceutical biotech industry.
"And I've followed that path the last 30-plus years," she said.
After making another decisive move – completing her administrative studies degree a year early to graduate with her medical-school-bound future husband – she earned a master's degree at Pepperdine University. Alamshaw went on to high-level positions at Biogen, UnitedHealth Group, and Johnson & Johnson.
Her connections to the medical field include serving on the UCR School of Medicine Board of Advisers. She also is on the board advisers for the Student Initiative Committee, and she is looking forward to reinforcing her connections to UC Riverside as an Executive Fellow.
Connections are critical
Alamshaw recognizes that students might have career uncertainty in the pandemic era – but she says they should be encouraged by the opportunities that await.
"They're coming out of a school with a phenomenal degree, a great alma mater," she said. "Use the networks, use the connections that are offered up, connect with other UCR grads. Be proud and go out there and get it."
Those human connections remain critical, even in an era of virtual meetings, Alamshaw said.
"This is something my husband and I both speak to our kids about," she said. "Yes, we're in that situation where we're behind a screen or a camera or a phone – but the face-to-face personal interactions, you still can't put a price tag on that connectivity and building those relationships."
As an Executive Fellow, she especially looks forward to helping those students who may not have been exposed to different careers and opportunities.
"I was fortunate to have the exposure to the pharmaceutical industry, because that helped shape my future," she said. "Not everyone has that opportunity. So, I think helping these students to identify potential opportunities would be the most rewarding outcome for me."
Alamshaw will be on campus Thursday, October 19, hosting office hours with Graduate Student Ambassadors, meeting with the Career Development Center team, speaking to students in Assistant Professor of Teaching Adrienne Reynolds class—Managing Workforce Diversity—and participating in a roundtable discussion about career advice and professional development in the Undergraduate Programs office in Olmsted Hall.