The annual benchmark revision released today by the California Employment Development Department (EDD) saw 2021's employment figures revised upwards significantly, according to an analysis released jointly by the UCR School of Business Center for Economic Forecasting & Development and Beacon Economics.
6.5% Employment Growth
Employment growth in California from December 2020 to 2021 was revised from 6.0% to 6.5%. This revision translates into 95,400 more jobs added in the state during the year than the EDD originally estimated.
"The state added jobs at a rate that was more than 50% greater than the national growth rate," said Taner Osman, Research Manager at the UCR Center for Economic Forecasting and Beacon Economics. "With abundant job openings and more room to grow, we expect to see California's labor market continue to outperform the national economy in 2022."
Typically, annual revisions show greater job gains than initially reported during periods of economic recovery and greater job losses than initially reported during recessionary periods, so this upward adjustment was somewhat expected.
 
95,400 Jobs Added
Still, California has some distance to go to recover all the job lost during the pandemic. There were 551,400 fewer jobs in the state's economy in December 2021 compared to February 2020. This is in contrast to the EDD's original estimate of 768,600 fewer jobs and translates into a payroll employment decline of -3.1% relative to pre-pandemic levels. The original estimate showed a loss of 4.4%. The state's unemployment rate was also revised down significantly, at 5.8% in December 2021 compared to the original estimate of 6.5%.
At the industry level, the benchmark revision was mixed, with growth rates in some sectors revised upwards, while others were revised downwards. The biggest upward revisions to year-over-year growth rates (December 2020 to December 2021) were in Education (from an estimate of 9.1% to a revised figure of 12.9%), Leisure and Hospitality (revised from 31.4% to 33.4%), Transportation, Warehousing, and Utilities (revised from 4.5% to 5.9%), Retail Trade (revised from 2.2% to 3.4%), and Government (revised from 2.1% to 3.2%).
5.8% Unemployment Rate
The biggest downward revisions in year-over-year growth rates were in Professional, Scientific, and Technical Services (revised from 7.3% to 6.1%), Wholesale Trade (revised from 2.4% to 1.2% revised), Management (revised from 0.6% to -0.5%), Manufacturing (revised from 2.2% to 1.8%), and Health Care (revised from 2.5% to 2.2%).
California's annual benchmark revision was also mixed at the regional level, with growth rates revised up in some areas and down in others. The largest upward revisions in year-over-year growth rates were in Napa (revised from 3.6% to 8.0%), San Diego (revised from 4.7% to 8.0%), Madera (revised from 2.6% to 5.4%), Fresno (revised from 3.3% to 5.8%), the East Bay (revised from 3.7% to 5,9%), and Merced (revised from 3.6% to 5.7%). The largest downward revisions came in the state's largest metro areas. Downward revisions occurred in San Rafael (MD) (revised from 7.8% to 2.7%), Chico (revised from 7.0% to 4.4%), Redding (revised from 4.6% to -2.4%), Santa Rosa (revised from 7.6% to 6.2%), Orange County (revised from 7.0% to 5.8%), and Hanford (revised from 4.2% to 3.1%).
VIEW SEASONALLY ADJUSTED UNEMPLOYMENT RATES FOR

VIEW SEASONALLY ADJUSTED INDUSTRY EMPLOYMENT DATA FOR CALIFORNIA'S 28 MSAS AND MDS: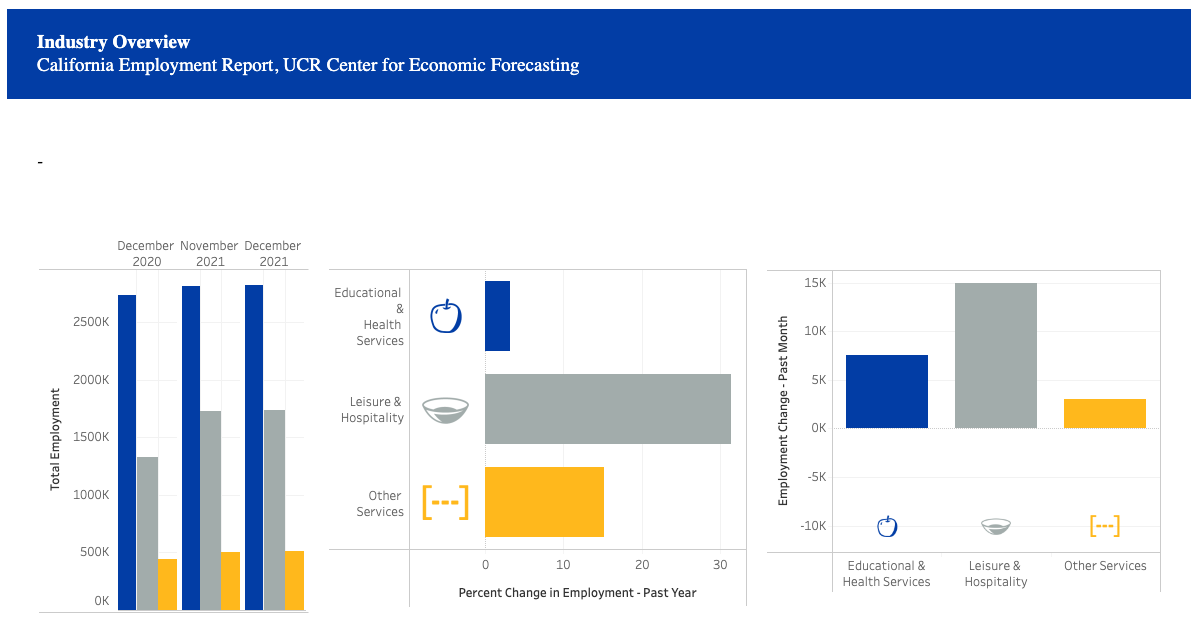 View Industry Overview      View SoCal Regional Overview
_________________________________________________
The Beacon Employment Report | California is a unique analysis of California's employment numbers and trends. Each month, they link their econometric predictions to data released by the U.S. Bureau of Labor Statistics and the California Employment Development Department to identify important changes in employment across industries and regions. The Beacon Employment Report is also one of the few analyses that uses seasonally adjusted numbers, which are critical to revealing accurate trends and insights within data.