It wasn't until years later that business trial lawyer David A. Robinson '79 realized the stature of the professor who taught the transformative honors seminar he attended while at UC Riverside. "At the time, I just knew him as the really cool guy who rode a motorcycle. His name was John C. Gabbert," says Robinson, who started his undergrad career as a biomed major. "He was nurturing and supportive. He convinced me to redirect my focus and seek a career in law."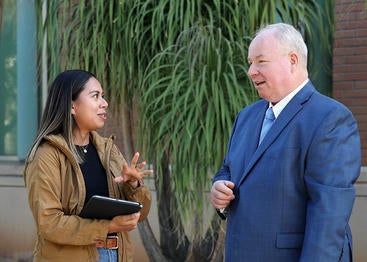 Robinson changed his major to political science, then earned a law degree at UC Hastings. One day as a practicing attorney, Robinson was in the historic Riverside Courthouse, and he saw a portrait of his former professor. "It turns out Justice Gabbert was a founding partner of one Riverside's most prestigious law firms, then known as Best, Best & Gabbert," says Robinson. Gabbert also served as an associate justice of the California Courts of Appeal and, before that, as a Superior Court judge and district attorney. In the early 1950s, Gabbert founded the Citizens University Committee, the group responsible for convincing the UC regents to locate the next UC campus in Riverside. Robinson hadn't previously realized how important his "cool" professor was in the county's legal, educational, and charitable communities.
"When I was a student, he told me: 'Don't disappoint. You are going to be paid a lot, so do your work, and actually read and understand your cases," adds Robinson, who reconnected and rekindled a valued friendship with Justice Gabbert, who passed away in 2013 at age 104. "In many respects, he was a seminal figure in my life. I'm eternally grateful for his guidance."
Today, Robinson pays Justice Gabbert's benevolence forward by serving on the UCR School of Business's Dean's Advisory Council (DAC), which includes leaders from the business, governmental, and nonprofit arenas who both champion and support the school's initiatives. A DAC member since 2013, Robinson is currently the council's chair.
"I wanted to give back to my undergrad university, and even though my educational background is not strictly in business, I have handled a broad spectrum of business disputes and represented businesses of all types for nearly four decades. So, I guess I got a degree in business from the school of hard knocks," says Robinson, whose wife, Lynn, earned a bachelor's in liberal arts from UCR in 1974, followed by her teaching credential for special needs children in 1975. Their eldest son, David, graduated from UCR's School of Business in 2013 and is now a commercial real estate banker.  
"The Dean's Advisory Council is beneficial to the business school because Dean Yunzeng Wang is creating stronger ties with the community in general and with businesses in particular. The council is essential to deploying that strategy."
 
A Business School's Role in the Health of Regional Business
Robinson is a business trial lawyer specializing in complex disputes. He is also the executive partner of a global law firm, Holland & Knight, in Orange County. He represents a spectrum of clients, including private and public companies, industry groups, and governmental agencies, dealing with an endless range of issues, he says. "I represent basically anyone who opens, runs, or operates a business, or is affected by government regulation."
With a long career in prestigious law firms and an expansive list of clients, including many in the Inland Empire, Robinson is clear about the role UCR's School of Business plays in the region.
"One of the great things about business in a capitalistic society is that it's constantly in a state of reinvention owing to disruptive technology and competition. The only way to succeed in that kind of environment is to have access to the latest and greatest ideas and best talent," says Robinson.
"So, it's common sense for businesses to want an extraordinarily high-quality incubator of that talent in its back yard. Business needs the product created at UCR's School of Business, and the business school needs access to the community's opportunities."
As Dean's Advisory Council chair, he adds, "My job is to be an ambassador to connect the two."
 
Making Education Possible for Others
It comes as no surprise that Robinson earned Eagle Scout honors—as have his three sons—and he has dedicated a great deal of time to both youth and education. A former chairman of the Irvine Valley College Foundation, he champions education for all, and both he and Lynn have been active in Boy Scouts of America. Robinson belongs to many civic and professional organizations and nonprofits, including most recently the UC Hastings Alumni Board of Governors and the Orange County Constitutional Rights Foundation.
"It is important for people to be empowered and a have a meaningful say in society," says Robinson of the value of education as he reflects on growing up near UCR in Rialto, being the first in his family to graduate from college, and the transformative guidance he received from Justice Gabbert. "I'm a product of the University of California, and if not for that, my life would be completely different. I was really fortunate—UCR was then as it is today the world-class educational institution right next door."