In 2012, the labor market was grim, says Diana Almendarez Colgrove '10, MBA '12. Toward the end of her last year of graduate school, she attended a campus career fair and stopped by the Esri technology company's booth and asked the recruiters to share her résumé with their marketing department, even though she knew they were looking for engineers and developers and not marketing professionals.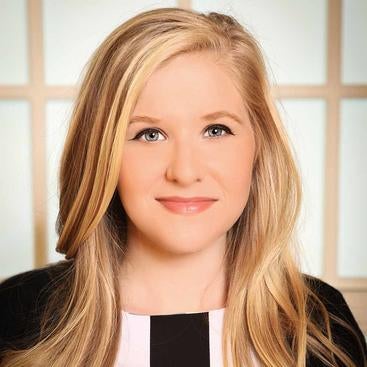 However, that leap of faith resulted in a 12-week internship for Colgrove with the marketing department at Esri, a Redlands-based geographic information systems (GIS) firm. "It was a tough choice to make—accepting an internship rather than a full-time position—but given the nature of the economy and the job market at the time, it was one of the better options." 
When the internship was done, Esri offered her a technical marketing coordinator position, which became an analyst position, focusing on market intelligence and competitive research, and her multi-year career with Esri began. "I eventually moved to the product marketing team, and my nine years with Esri were wonderful—I learned a lot about GIS, as well as business operations, marketing, and research," says Colgrove. Her job allowed her to travel around the U.S. and work on multiple teams, expanding her network. 
"I'm forever grateful for the internship opportunity because it helped me get my foot in the door, meet a lot of great people, and showcase my abilities, which would later be a benefit in applying for a full-time position." 
In October 2021, Colgrove took a new position as product marketing manager at Accela, a tech company servicing governmental entities. "This role consists of creating messaging for the products that Accela offers to local and state government agencies, doing competitive research, working on sales enablement and training, and helping to make product releases successful," she says. 
The Network Begins in School 
As a School of Business marketing major during her undergraduate years, Colgrove worked full time managing retail and commuted to Riverside from Tustin—requiring considerable time management and less opportunity for extracurriculars. However, she really enjoyed the academic program, the professors, and being on campus, and decided to earn an MBA at UCR as well: She stopped working full time, moved to Riverside, focused on her studies, and immersed herself in student activities. 
"The MBA program is built around teamwork, a trait that mimics the workplace, and most courses have some type of team or group project," she says. "Being close to campus allowed me to spend a lot of time with my classmates." 
Colgrove was a teaching assistant, which further cemented her relationships with undergraduate professors. "With the MBA Student Association, I also served as the vice president of ethics and was responsible for planning all the volunteer events that the MBA class participated in, including city cleanups, donations and collections for local businesses, and volunteering at youth group homes. This gave me the opportunity to build relationships in the community," she says. 
She's quick to underscore how much she still values her MBA classmates. "We all come from unique backgrounds—some were in the program straight from undergrad, and others had already been out in the workforce," she adds. "The opportunity to learn from others and collaborate was quite unique and valuable. 
"This contributed most to my career because I learned how to interact with colleagues from different cultures, at different levels, and with different viewpoints, and work successfully on teams of all types." 
Today, as Colgrove sails through the first months of her new job, she's implementing the teamwork and networking skills she learned at UCR and Esri, she says. "I am face-to-face with more people from other teams and departments, and I'm ready to take on new projects at Accela and continue to grow my career."