A few years after she founded Stronghold Engineering, Inc., Beverly Bailey was at a job site when an engineer made a remark she has not forgotten for 25 years.
"He told me that he believed that women belonged in kitchens," said Bailey, president and CEO of a company that has grown into one of the nation's top 10 minority- and women-owned construction companies. "Today, I'm building kitchens."
Sharing that story during a recent Executive Fellows Industry Discussion Series, Bailey went on to explain how she immersed herself in her male-dominated industry. Her determination equipped her with the knowledge, experience, and the ability to go "toe-to-toe with anyone I encountered."
Integrity and perseverance were common topics as five accomplished business executives kicked off the first in a series of virtual panel discussions. The panelists, who have served as UCR School of Business Executive Fellows, discussed how they define success personally and professionally, facing fears, the importance of hard work, and the obligations of leadership.
The panel was moderated by Darin Anderson '89, MBA '91, chairman and CEO of Salas O'Brien, Inc., a leading consulting engineering firm with over 1,300 team members across 51 North American offices.
In addition to Bailey, panelists included:
Susan Atherton '77, independent philanthropist, co-chair of the board of directors for Humane Society of the U.S. and chair of the board of directors for Humane Society International.
Timothy Greenleaf '78, an active venture capital investor and an advisor to three venture capital funds who served as managing director of Fairmont Capital (1999–2018) and was co-founder and board member of Green Dot (1999-2016).
Michael Zemetra '93, executive vice president, chief financial officer and treasurer of Veritone, Inc., a leading provider of artificial intelligence technology and creator of aiWARE, the world's first operating system for artificial intelligence.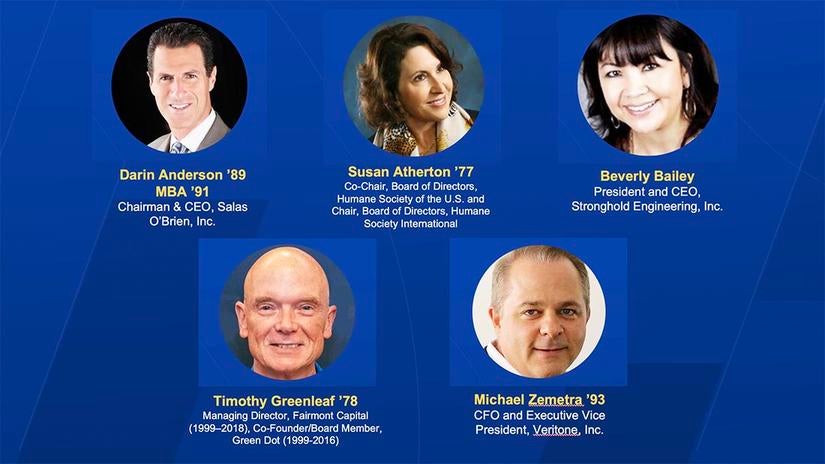 Anderson began by asking the group what attributes were most important to their success.
"One of the things that I see is so important is integrity," said Atherton, whose background includes executive management positions in the enterprise software and cloud computing industries. "I really also encourage younger students to follow their passion as much as possible. Instead of pursuing what you think is the greatest paying job and the fastest way to get there, pursue what you care about, what matters to you."
The other panelists agreed that integrity is an essential leadership quality. "You have to walk it, you have to show it, you have to demonstrate it," said Greenleaf, who also cited the need to be innovative, curious, and relentless.
Zemetra echoed those comments, adding additional key qualities: resilience, vision, passion, and finding balance in life.
"Balance is super important," he said. "Whether it's family or just understanding your employees and who they are as humans."
Bailey added perseverance and commitment to the list.
"In an age where everything is instant, everyone would like to have instant success immediately," she said. "And being a business person/entrepreneur, we know that nothing comes that easy. You have to work toward it."
One of the common themes that emerged frequently during the discussion was the responsibility of business leaders to share success and give back – to their communities as well as their employees.
"I'm going to put my CFO hat on and tell you success is about shareholder return … But doing that with honesty and integrity is key," Zemetra said. "It's important to be able to make meaningful contributions back to the community, whether it's hiring employees or doing philanthropic work. I always stress balanced lives for employees, our biggest assets."
That perspective was amplified when Anderson asked the panel to describe what they would like their legacy to be.
"I would say I want my legacy to be that I was a good person, that I was ethical and fair in my judgment, but also that I created a lot of businesses that created a lot of jobs to help a lot of other good people be good parents to create their own legacies," Greenleaf said.
You can view a recording of the full-length panel discussion here:
____________
Pictured are Darin Anderson '89, MBA '91 (left) and Susan Atherton '77 (right)