In recognition of Women's History Month, we take a look at some of the women who are making their own history with the UCR School of Business.
When Patricia Watters Ph.D. '95 thinks back to working on her doctorate in Financial Economics, she doesn't think of brilliant insights. Instead, she remembers the hard work and perseverance while wondering if it was enough.
Watters said she still experiences self-doubt – and she is grateful for it.
"I'm not sure I want to overcome it," she said. "If I want to feel confident about something, I am motivated to work really hard at it."
That motivation is key to building deeper understanding of topics, said Watters, who remains an energetic advocate for the opportunities that education provides. Her own experience offers an excellent example.
Watters' original intent behind pursuing her graduate education at UCR was to improve her standing as a college instructor. But her dissertation related to pricing water transfers earned an immediate job offer with a wholesale water distributor in Southern California.
A few years later, some of her colleagues from grad school approached her about joining a new investment management firm. The group of UCR alumni created funds of hedge funds for institutional investors, growing assets to $12 billion in just a few years. 
In 2009, Watters went on to co-found Catalina Consulting Partners to identify investment managers' operational risks that could adversely impact investors' capital. The firm also assisted private fund managers to strategically develop their operational infrastructures and enhance their responses for investor due diligence.
As she was building this successful business, Watters noticed how UCR was also expanding its own horizons, increasing its focus on students, particularly first-generation students. This, she said, was the start of the social mobility role that is the hallmark of the university today.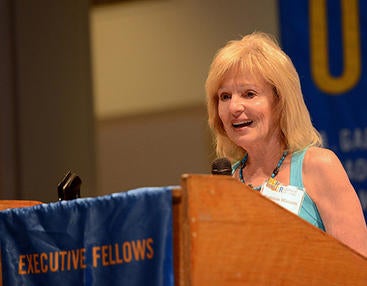 School of Business Dean Yunzeng Wang convinced her of changes at the school, where students and faculty alike collaborate to foster meaningful learning experiences. She was honored to serve as an Executive Fellow at UCR's School of Business, where she found new educational opportunities for students, such as the ambassador program and an investment club. 
"That's how I got re-engaged with UCR," she said.  "I was inspired by the students and their engagement. That gave me hope that there is a new generation coming up, eager to solve problems."
In addition to participating in several speaker series at the School of Business, she contributed  funds to complete the Amnon Rapport Endowed Research Award Fund, and established her own endowed scholarship, the Patricia A. Watters and Richard K. Lashbrook Endowed Student Award Fund.
"Education is so important to my husband and me," she said. "It has opened doors for both of us, and we want other people to have these opportunities."
The pandemic era has emphasized the importance of social mobility, Watters said, and she is proud of UC Riverside's role in promoting opportunities for diverse groups of students.
"This is work we can support – what they are doing, and how they are doing it. In this way we can give back but also give forward, to the next generation."