In recognition of Women's History Month, we take a look at some of the women who are making their own history with the UCR School of Business.
 
Ching Liu says her connection to the UCR School of Business was meant to be – and it all started with a phone call to the city of Riverside.
This was shortly after she co-founded a solar-panel company. When Liu learned Riverside was offering the nation's most generous rebates for solar energy manufacturers, she made an appointment to meet with city leadership. Liu, who had lived in Southern California since leaving Taiwan at age 14, had never been to Riverside – but she fell in love with the city at first sight.
She and her partners soon found the perfect location for the business. Next they had to find talent to hire for the company. Liu was introduced to School of Business Dean Yunzeng Wang – and the rest is entrepreneurial and academic history.
"We became good friends and have supported each other ever since," Liu said. "The whole transition to Riverside was meant to be. It happened so naturally. Every person I met at UCR was so friendly and helpful. We could meet and have a cup of coffee, just chat about ideas. It was very inspiring."
This connection came at a crucial phase in Liu's career. She had recently walked away from more than 20 years in the investment and banking industry to co-found and serve as executive vice president of SolarMax Technology Inc. And this happened to be during the difficult recovery from the Great Recession.
Liu and her partners persisted, and today SolarMax is a renewable energy leader specializing in residential solar, commercial LED lighting and energy storage solutions. It is the largest U.S.-headquartered solar developer operating in the People's Republic of China.
Expanding connections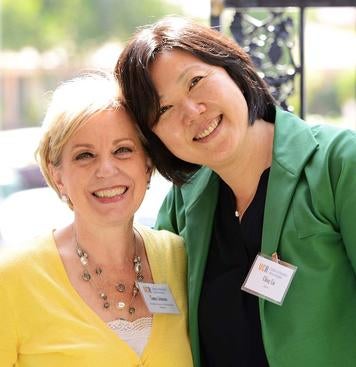 As the business grew, so did Liu's relationship with the UCR School of Business. Liu supports students through the SolarMax Endowed Graduate Fellowship Fund. She joined the Dean's Advisory Council and served as an Executive Fellow, a role that allowed her to draw on her own experience to encourage students.
"I got into the banking and brokerage business, a male-dominated Wall Street world, as a young, Asian-American woman, speaking English as a second language," she said. "I often say, 'If I could do it, so can you.'"
She used her time as an Executive Fellow to show students the real world of business – inviting classes to attend lectures at the company's Riverside manufacturing plant, a historic building that once housed a World War II tank factory.
These connections – between university, community and business – have been a constant for Liu, who has worked with the School of Business and Bourns College of Engineering to help the city of Riverside seek international investment.
She also serves as a member of the BCOE's Center for Environmental Research & Technology Board of Advisors and Dean's Council of Advisors. SolarMax is a major sponsor of the university's Economic Forecast Conference and, in 2018, was named the official corporate solar sponsor for the UCR Alumni Association.
That's not to say success came easy. Liu acknowledges it took courage to leave her banking career behind to launch a company. She and her partners took out home equity loans and borrowed from family to make payroll. Sometimes they had to avoid the landlord.
Even in the most difficult times, however, Liu said she has enjoyed every minute of being an entrepreneur. The reason was she never stopped believing in her dream – something she tells students, especially women, to remember.
"Education is the proven path for any young woman to be able to make it out there," she said. "When you are pursuing your career, in the beginning, it can be difficult. But believe in your work and stick around through the hard times. Success is the sweetness that comes after hardship."