James Merino Innovation Award
The James Merino Innovation Award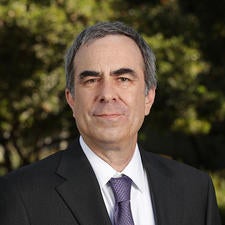 James Merino '98 embodies the spirit of innovation and leadership aspired of all School of Business graduates. Having achieved success as an expert in the field of data science, Merino has held senior positions at Roku, Facebook, LivePerson, AddThis and Yahoo!, and was a co-founder and head of Research and Development of XGraph, a company providing buyers and sellers of online advertising with Connected Audience™ solutions that improve ad targeting. More about James Merino. 
To inspire innovation in the classroom, James Merino created the endowed James Merino Innovation Award to recognize faculty for bringing new ideas, methods, tools, and technology into the classroom. Annually, $5,000 will be awarded to one faculty member, based on student voting.
For this award, students will be judging the effectiveness of innovative teaching, and are asked to consider a professor's ability to integrate teaching practices or strategies designed to improve student learning in online, blended, or face-face courses. Innovations may be any teaching strategy used in a course, class meeting, assignment, or other learning activity. Students are asked to also consider the originality of the teaching strategy or how it was implemented utilizing interactive web-based teaching tools and videos as well as a diverse array of communication tools – phone, email, text messaging, or other platforms or electronic mediums.
 
2022-2023 James Merino Innovation Award
The James Merino Innovation Award recognizes a faculty member for bringing innovative ways of teaching, or utilizing innovative tools and technologies in the classroom.
The 2022-2023 Merino Innovation Award recipient is Assistant Professor of Teaching in Management Kyle Ingram.
Award Eligibility, Criteria, and Information
Award Eligibility

Selection Process 

Any faculty member (ladder-rank and lecturer) who has taught at least one class in the undergraduate or the graduate program (or both) during the academic year is eligible for the award. After winning this award, the faculty member is not eligible to win the same award for the next 5 years.

Student Voting Eligibility and Process

The James Merino Innovation Award voting happens during the Spring term of each academic year. Business major and Pre-Business major undergraduate students and AGSM graduate students are eligible to vote. The winner is selected based on the most student votes.

Prior Award Winners

2021-2022

Rich Yueh, Assistant Professor of Teaching in Information Systems

 

________________
The inaugural award was presented in May 2022.