Analyzing technology and life science companies while gaining an understanding of the technology ecosystem are responsibilities that Don H. Tran '01 greatly enjoys, and it is part of his job as senior credit review lead at Silicon Valley Bank.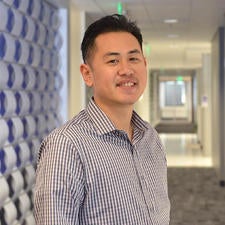 "It is fascinating to see innovation occur and to be involved with a bank that has relationships with companies and the venture community that will make an impact and improve lives all over the world," says Tran, who lives in Irvine, California. "I have always been fascinated by finance and technology as a native of the Bay Area and the Silicon Valley." 
That desire to make an impact is mirrored in Tran's involvement with the School of Business alumni mentor program. "Through networking, UCR helped me land my first job out of college, and I want to pay it forward," says Tran, who has interacted with students online and via telephone during the pandemic. "Students can learn from what I have experienced as a first-generation university graduate and then pass it forward—sort of like a revolving cycle of giving back." 
Tran's involvement with the business school is supported by Silicon Valley Bank, which provides employees with money to donate to different charitable causes. "If we do volunteer work, we obtain funds to donate as well," says Tran, who supports the university through the bank's program and attends homecoming and alumni events through the Orange County alumni chapter. 
"It is important to stay connected to a place that has provided me opportunities to better my circumstances. I will continue to support the school because I want to support its growth."