Among the life lessons Benjamin Gonzalez says he's learned is, "Personal and professional growth begin by not knowing something."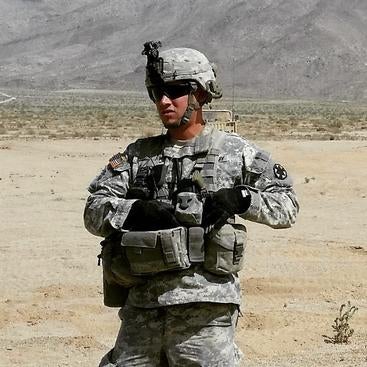 With a bachelor's degree in biology from Iowa State University, Gonzalez entered the U.S. Army and served in Iraq, Germany, and Afghanistan. He worked his way up in a variety of medical, transportation, and operations roles and finished his seven-year career as a medical platoon trainer at the Army's National Training Center, where units are prepared for future deployments. 
In 2015, Gonzalez re-entered the private sector with The Gill Corporation, an aerospace manufacturing company—which produces floor panels for airplanes, including the Boeing 787 and 777—in El Monte, California. 
Even with his considerable military experience, he realized a few years ago that a master's degree was an important next step in expanding his career. "In the Army, I learned a lot about leadership, but the move from the military to manufacturing was difficult for me," says Gonzalez, who is currently a planning manager with The Gill Corporation. "I wanted to improve my skill sets and increase my knowledge of business. I knew if I did that, it would put me in a better position for success within the operations and production-scheduling field." 
In 2018, he began his Professional MBA studies at the A. Gary Anderson Graduate School of Management (AGSM) with a concentration in operations and supply chain management, and he graduated in March 2021. 
"I have learned more in two-and-a-half years at AGSM than I would have on my own in five to seven years," says Gonzalez. "The school helped me grow professionally and as an individual. Prior to my MBA experience, I struggled a lot with personal confidence and a fear of failure—it's humbling to admit that, but I can now confidently say my graduate experience helped me grow out of that type of thinking. 
"I realized it is OK to not know something because, in the end, you can be vulnerable; you can ask; and you can learn." 
True to the maxim he keeps front and center, he says again, "Personal and professional growth begins by not knowing something. Knowledge is very empowering for me."