His fear of complacency surpasses his fear of sharks. 
Ruben Hernandez, a UCR Business alumnus, U.S. Marine, and founder of EGA Homes, enjoys skydiving, off-roading, and scuba adventures – sometimes with great whites.
He's no adrenaline junkie, though.  For the entrepreneur, it's more about leaving his comfort zone – ensuring that, at the end of his days, he won't look back and wince.
"I think that's my biggest fear," he says.  "Complacency. Regret that comes from not taking action."
Hernandez, deep in his core, has a drive to push limits – a drive shaped by family, youth sports, the Marine Corps, UC Riverside, and the A. Gary Anderson Graduate School of Management (AGSM). 
Thanks to that mix, Hernandez built a residential brokerage with a twist: assisting veterans.  EGA Homes, based in Riverside, serves a large swath of Southern California and, coupled with Coldwell Banker Blackstone, employs 200 agents – many of whom are fellow veterans hired through Boots to Suits, a program Hernandez founded in 2009 to help veterans become real estate professionals.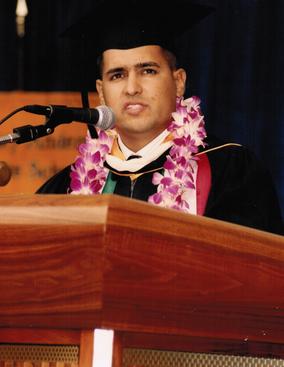 AGSM provided the theoretical framework to found EGA Homes in 2002, expand it in 2005, and incorporate it in 2009.  The "EGA" stands for Eagle, Globe, and Anchor, the Marines' symbol.
"Creating a real estate company focused on assisting fellow veterans has helped me connect the dots and carry out the Marine Corps motto, 'Semper Fidelis,' which stands for 'always faithful,' " he says. 
The dots start in Rubidoux, Calif., where Hernandez attended Jurupa Valley schools.  His parents, who divorced when he was two, instilled in him a fierce work ethic; Mom was a teacher, and dad, retired from the military, was in law enforcement.  When Mom enrolled him in sports, he loved the rhythm: Work, learn, help the team win.  
"Because my family and coaches embraced a 'no excuses' mentality, the military was not hard, except for war," says Hernandez, who enrolled at age 17.
Eight years as a Marine taught him, or reinforced, a range of life skills: problem-solving, leading in the trenches, sacrifice, courage and valor.  After deployments stateside and to Panama, Saudi Arabia, Kuwait, Spain, Belgium and Japan, Hernandez left the service with several medals, ribbons and awards of distinction. 
He then attended Riverside City College, UC Riverside and AGSM, receiving a bachelor's degree in political science (1996) and an MBA (1999).  

Today, Hernandez sponsors AGSM lunches, mixers, networking events and the school's annual Economic Forecast Conference.  He also assists UCR's Veterans Resource Center and helps seniors with mock job interviews. 
"I'm back there helping because of the people, because of everything the school has done for me," Hernandez says.  
More broadly, he works to reduce the rate of veteran suicides and joins burial details at Riverside National Cemetery, to ensure that Marines are properly interred.  Hernandez also founded the nonprofit Veterans Housing Alliance, which prepares veterans for homeownership, along with Boots to Suits.
At EGA Homes, about 20 percent of business entails work with veterans: assisting them with VA loans, real-estate education, financial literacy, and, if needed, credit repair.
For agents at EGA Homes, "I took the Marines' SOP manual and converted it to real estate," Hernandez says.  Twenty pages cover such topics as bonding with clients; achieving excellence through specialization; and working, learning, and helping the team win.  
The regimen, including a 12-week boot camp, is not for the complacent.  
A few insights and anecdotes further illustrate Hernandez's journey: 
On his UCR education: "I owe a lot to AGSM.  I'm drawing on all of it now on a daily basis."
On a model of leadership: While taking incoming fire during Operation Desert Storm in 1991, a master sergeant ushered 20 men into a bunker before climbing in himself.  "I had leaders who were always in the trenches with us," Hernandez says.  "So I live in the trenches."
On an early lesson: A friend came to the house selling strawberries picked by the friend's grandfather.  "What's up, mijo?" Mama Hernandez said. "Will you buy some strawberries?" the child asked.  "Yes – and take him with you" on your sales calls, Mrs. Hernandez said of her son, then 5.
On his first job: At age 11, Hernandez took a paper route with 120 homes.  To hasten the work, he enlisted two other kids while negotiating higher tips for papers placed on porches.  "I brokered out the paper route," he says.
On saving a life: In 1992, at an Okinawa water park, Hernandez saw a girl, age 5 or so, face down in the water.  He jumped in, pulled her out, turned her around, thought she was dead.  He soothed her and performed first aid as other Marines held back the crowd.  She came to, spitting water from her lungs, crying for her mother.  Saving the girl "was huge for military-civilian relations" in Okinawa and earned him a medal, Hernandez says.
Today, Hernandez – a high-school varsity boys basketball assistant coach eyeing a safari and wingsuit flying, though not at the same time – carries a sheet of paper, folded into the shape of a matchbox, creased and tattered and splotched with dried coffee.  
The page outlines Hernandez's creed (h/t John Wooden), his goals, and some rules for implementation.  An excerpt from the 22-point list: "Do you give every ounce of yourself on the court? In life?"