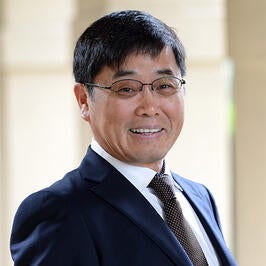 The UCR School of Business accreditation by the Association to Advance Collegiate Schools of Business (AACSB International) was extended for another five years.
The announcement comes after a rigorous review process in which the UCR School of Business demonstrated its focus on excellence in the areas of teaching, research, curricula development, and student learning.
The school has now maintained this prestigious accreditation for 20 years.
"We are very happy to have received confirmation of the extension of our AACSB accreditation," said Yunzeng Wang, dean of the UCR School of Business. "The School of Business and its faculty and staff have always strived to meet the highest standards as affirmed by this extension of the most prestigious accreditation for business programs. I congratulate everyone at the School of Business for this achievement and their commitment to excellence."
Achieving accreditation requires excellence in areas relating to strategic management and innovation; student, faculty, and staff as active participants; learning and teaching; and academic and professional engagement.
The UCR school was one of 65 business schools worldwide that have extended their global accreditation in business. The re-accreditation comes at an exciting time for the university. The School of Business recently broke ground for a new, 63,400-square-foot instructional and administrative building that will provide modern facilities to meet growing enrollment demands. The project is expected to be completed by fall 2024.