UC Riverside celebrated a new chapter for the School of Business with a groundbreaking ceremony for a new instructional and administrative building that will provide increased space and modern facilities to meet growing enrollment demands.
Campus and community leaders gathered Thursday, April 27 at former Parking Lot 8, where the four-story, 63,400-square-foot building is being built. The site is just south of Anderson Hall, where most of the school's program and administration are currently housed.
Preliminary grading work on the site began last fall. The project is expected to be completed by fall 2024.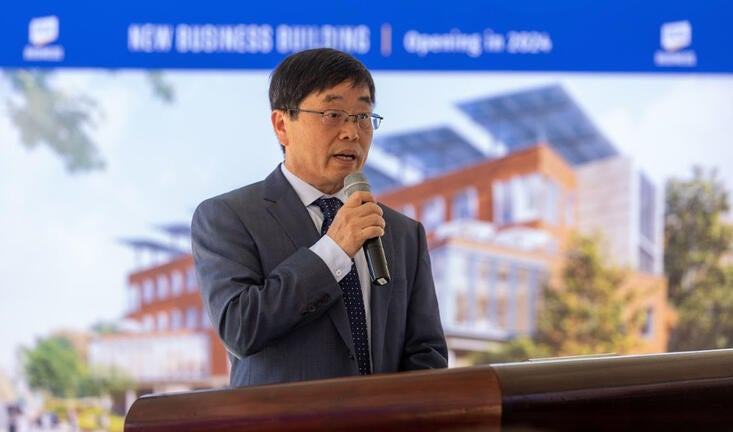 Yunzeng Wang, dean of the School of Business, said the project will help move forward the school's vision to create a world-class environment where students and faculty can engage with business leaders and deepen connections to the community.
"This beautiful new building, set to open in 2024, will provide much needed space for the growth of the school outlined in our strategic plan, including new programs, increased enrollment for both undergraduate and graduate programs, and additional faculty," he said.
The new building will have 38,500-square feet of assignable space with features including a large multipurpose room; two 80-seat classrooms; a 350-seat auditorium; a computer lab; a studio to record podcasts, lectures, videos, and other media; study areas; a student lounge; 20 faculty offices; 59 administrative offices including one for the dean; a faculty and staff lounge; an executive meeting room; and group meeting rooms.
The facility will include state-of-the-art technology for hybrid learning where lecturers can deliver multi-media lectures that can be recorded and streamed. 
Chancellor Kim A. Wilcox called the groundbreaking an opportunity to celebrate the transition from the school's past at Anderson, which helped shaped its accomplishments, to an exciting future at the new building.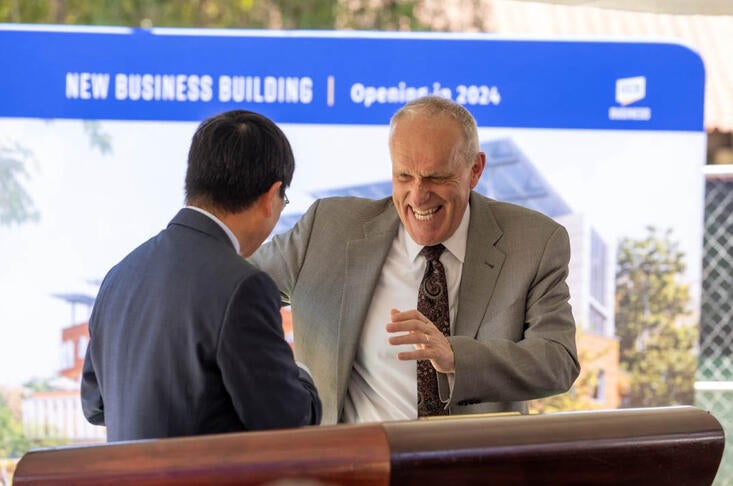 "We're in a blessed position to be able to think about what Anderson Hall has meant to us with the school's history and all of what the new School of Business building is going to mean for us," Wilcox said.
Since 2015, the school's enrollment has grown by 58% to 2,100 students in fall 2021 as both graduate and undergraduate programs have grown in popularity even as classroom and administrative space has remained limited.
Campus Architect and Associate Vice Chancellor Jacqueline Norman said the new project reflects the work of the school and UCR in building a program whose reputation has grown in the business world and attracted increased student demand.
"Today is the day where we get to see the physical manifestations of their work come to fruition," she said.
Norman said the building will be a transformative one with interior and exterior design features that make use of the hillside topography. It includes both symbolic and physical connections between the past and present linking Anderson Hall and the new building with benches, a walking path, and other elements, creating a centralized School of Business hub. It's also expected to set the tone for future growth in the south campus area.
Dave Robinson, chair of the School of Business Dean's Advisory Council, said UCR has shaped the lives of many people including his own family's—both Robinson, his wife and his son are UCR alumni. He said the new project will allow the School of Business to strengthen its mission of serving the region and building a bridge with the business community.
"Business needs the business school—the source of its future leaders, innovators, and, yes, disruptors, just as the business school needs the business community—the source of internships, jobs, and career paths for our outstanding students," he said.
Rami Zwick, associate dean of graduate programs and a professor of marketing, said the new building will create a sense of home for students. 
He noted that most of the school's students take their courses all over the campus, including until recently a movie theater at University Village, and usually only visit Anderson for office hours or Olmsted Hall to see their advisers.
"Think of the difference it's going to make to students who take undergraduate courses at the new building," Zwick said. "I am looking forward to providing our students, both graduate and undergraduate, with a sense of home, both spiritually and physically."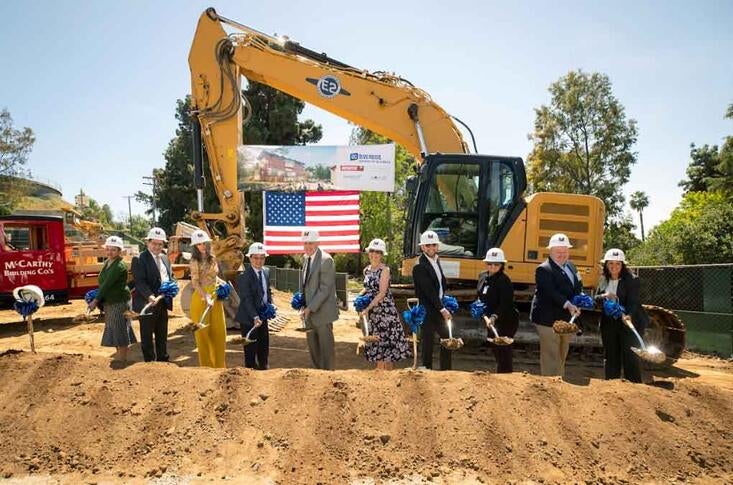 View our groundbreaking ceremony highlights from April 27:
View more groundbreaking ceremony photos on Flickr: