It is no surprise that Subramanian Balachander is a professor. "My story as a teacher begins at a young age," he says. When he was in eighth grade, his father transferred jobs, the family moved, and Balachander found himself at a new school with an advanced curriculum. "Previously, I had been excelling in my studies, but I found myself struggling in algebra and geometry classes," he says.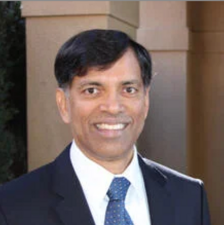 "That is when my mother rescued me. She sat with me and taught me and made it look easy. I learned the importance of teaching and the gift of knowledge from this experience." He went on to teach his younger siblings and tutored in high school. While working in the corporate world, "even some of my work colleagues thought I should be a professor based on how I approached things," says Balachander. "So, I guess, I have been a teacher most of my life."

A Constant Evolution into New Areas of Knowledge
Earnest. That is how Balachander, professor of marketing, describes his approach to teaching.
"I am earnest in the belief that critical thinking skills are crucial to good learning and to be successful in life and career," he says. "In today's dynamic and complex business environment, it is not possible to teach everything, and even if you teach a lot of things related to what is happening today, knowledge gets obsolete very quickly.
"However, critical thinking allows you to adapt to new situations and become a lifelong learner."
His courses cultivate critical thinking skills by employing active learning and decision-making through case analyses and discussion, experiential exercises, and simulations. "Students who have gone through my courses typically are ready to become valuable contributors to their organizations on day one," he says.
Balachander joined the UC Riverside School of Business and the A. Gary Anderson Graduate School of Management in 2016 as the Albert O. Steffey Chair, which was established to promote excellence in research and teaching. Balachander also serves as the academic director of the Master of Science in Business Analytics (MSBA) program, the area coordinator for the marketing department, and he is a member of the business school's Executive Committee and Strategic Planning Committee.
However, his true devotion lies within the classroom, where he teaches marketing strategy to undergraduate and master's students, digital marketing to master's students, and marketing models at the Ph.D. level. Balachander relishes the opportunity to teach students in a discipline defined by its constant evolution.
 
Education on the Very Forefront of Business and Data Analytics
"In today's gadget and internet-driven world, tremendous amounts of data—so-called big data—is being accumulated from ecommerce, online advertising, social media, wireless sensors, mobile devices, video feeds, and the like," says Balachander when asked about the importance of earning a master's in business analytics.
"Businesses and other organizations want to utilize this hitherto unused mountain of data to derive insights that will help improve their operations and gain a competitive advantage. Therefore, they are in a rush to hire employees who have the skills to analyze these huge quantities of data."
MSBA students have already proved a quantitative aptitude and interest in solving business problems and using data analytics through their admission to the program, adds Balachander, and UCR's MSBA curriculum is taught collaboratively by the School of Business and the College of Natural and Agricultural Sciences' Department of Statistics.
"The courses taught by statistics faculty typically provide the key concepts and skills required to extract and prepare data, make valid inferences about variables that affect outcomes of interest, and develop and test predictive models for these outcomes," says Balachander.
"The courses taught in the School of Business integrate these data analytic skills with the concepts necessary to understand what makes businesses successful, which enables students to understand what data may be relevant to address a business problem and to know how to translate the results for business data analytics into recommendations for the business."
 
Balachander's Research Examines the Effectiveness of Marketing Strategies
Balachander currently has several co-authored marketing research projects nearing completion. Two of these include:
 
Studying the optimal sales incentives—individual or group incentives—that brands which manage their own retail sales should offer their retail salespeople: "Examples of brand-managed retail include store-in-store formats, such as the cosmetic counters in major department stores or brand-managed stand-alone stores, such as Aveda or Gap," he says. "We first analyze a theoretical model in this research, which suggests that relatively weaker brands could benefit from using group incentives in comparison to stronger brands, which may be better off with individual incentives."
 
Examination of optimal promotions for brands that aim to be considered by consumers during the purchase process: "For example, in 2010, Suzuki announced a nationwide promotion, the Kizashi Test-Drive Challenge, offering prospective sedan buyers $250 for adding the Kizashi to their consideration lists," says Balachander. "Buyers in auto markets visit only 1.6 auto dealerships on average because of the high search costs in terms of time and money. In this research, we develop a model of consumer search behavior, and we then estimate the parameter of the model using survey data from U.S. car buyers reporting the set of car models they considered during their purchase process and the model they eventually chose. Using the estimated model, we are able to project the results of running alternative test-drive promotions."
 
Finding a Teaching Career
After earning an MBA in marketing, Balachander worked in management consulting in operations, marketing, and finance. He realized he was most "interested in marketing problems as strategic decisions, which were more important for the health and future of any organization and require integration of information about consumers, competitors, and market conditions—all of which were quite fluid and hard to predict," he says.
While working in a corporate marketing environment, he fine-tuned his interests and realized he wanted to spend less time on mundane tasks and more time "on issues involving critical thinking about marketing," he says, and he headed to Carnegie Mellon University to earn a Ph.D. in marketing. He was a professor at Purdue University, University of Maryland, and Clark University before arriving at UCR.
Looking back, he remembers his time studying for his doctoral degree, and says: "I found myself absorbing great ideas about marketing, economics, and business from great faculty minds." Today, Balachander is doing the same for his own university students.