Professor Ashish Sood hosts high-level marketing pros who share frontline experiences with master's students.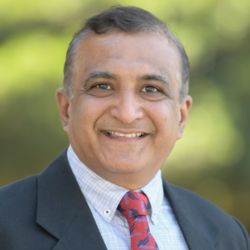 As recent guest speaker at the graduate-level Marketing Management course at UCR's School of Business, Rohan Raghunath's presentation was about the impact of disruptive technologies on marketing and branding.

"I particularly focused on the four most impactful disruptive technologies: cloud, artificial intelligence, Metaverse, and generative AI," says Raghunath of his lecture. He is the director of client services for Infosys, and he brought first-hand knowledge and expertise during his visit to the classroom during winter quarter this year.
"I wanted students to take away how technologies and their underlying capabilities are driving modern market strategies," he adds. "No matter in which industry they land, they will need to stay ahead of these technologies and be able to leverage their impact."
Student Iuliia Nemudrova '23 is studying for her Master of Science in Business Analytics with a concentration in marketing and appreciated Raghunath's insight and experience: "He is future-biased in a good way, and he strongly believes in technology. He emphasized how tech and data are changing the game.
"I agree with him 100%, and I enjoyed the discussion about new technological trends and how people are adopting them."
 
Bringing Execs to Class
Raghunath is just one of the many business leaders invited to speak to students throughout the year by Associate Professor of Marketing Ashish Sood, who is also the academic director of MBA programs at UCR's A. Gary Anderson Graduate School of Management.
"Having business leaders speak to master's students provides insight and perspective from experienced professionals with a wealth of knowledge and experience in the business world," says Sood, of the two courses, Marketing Management and Marketing Research, which feature the guests. "It allows students to learn from the successes and failures of these leaders and gain better understanding of the challenges and opportunities they may encounter in their own careers."
Experiential learning is important, according to Sood. "The speakers bring real-world business problems and issues to the classroom and challenge the students to think outside the box and come up with innovative solutions," he says. "The idea is to expand on the theories and lectures covered in the week with relevant examples from the industry."

In addition to Raghunath, the expert guests and topics recently included:
- Agil John, principal customer solutions manager at Amazon Web Services, spoke about breaking free from traditional marketing strategies and embracing a multifaceted approach, including storytelling, sustainability, and shaping

- Malvika Gaur, a seasoned product manager with extensive experience in building large-scale consumer products at Meta and Google, explored marketing in tech companies with a deep dive into the Metaverse along with specific examples of branded partnerships

- UCR School of Business Executive Fellow Kenneth Leung '87, '89, marketing director for Oracle, underscored the importance of balancing exponential growth with financial expectations and analytics-driven insights

- Rajiv Ramanan, co-founder and CRO of Spendflo, shared insights on nonlinear growth channels and B2B marketing

- Samarth Setia, president of Southeast Asia for Ever.Ag and former CEO and co-founder of Mr. Milkman by Ever.Ag, explained the startup journey, from inception to exit

- Rohit Valia, senior vice president of technology and product management at Point Predictive, examined the use of artificial intelligence and machine-learning methodologies for creating client solutions in the B2B space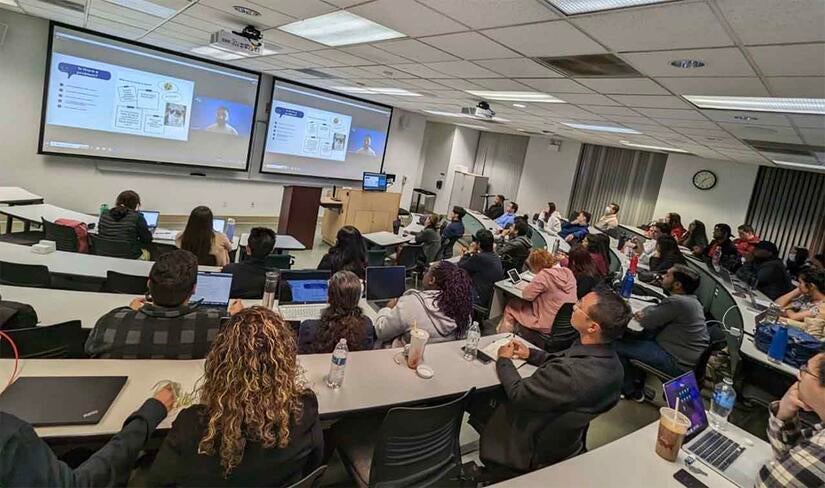 In-person Interaction and Inspiration
"Samarth Setia stood out for me tremendously," says Nandini Swarup '24 MBA, when asked about her favorites among the speakers throughout the quarter.

Setia, a 2020 Forbes Asia 30 Under 30 honoree, focused on the business of startups, and "talked about how he saw a problem and had a solution for it but no experience building a business or monetizing the idea," says Swarup. "I learned how he and his team used marketing as an important tool to grow their business. They constantly updated their marketing techniques to make it more customer focused and innovative to reach their target audience."
Interacting so closely with executives on the front lines, adds Nemudrova, is instructive: "Having moments of connection is the biggest value along with the opportunity to ask questions—any questions—about their work and industry."
Guest speaker Raghunath can relate: "When I was in business school, listening to executives was a whole new experience, and I felt so enriched. I see this as a great opportunity to give back to the students and play a small part in their journeys toward finding their dream careers."
Both Nemudrova and Swarup also appreciate the professor's considerable effort in bringing prestigious speakers to his courses. "Dr. Sood provides all the tools that create a friendly environment for learning," says Nemudrova. "He gives us the opportunity to expand our networks and interact with influential, experienced people."