Professor Kyle Ingram was recently honored with the 2022 Innovative Teaching Award from UC Riverside and the Shulman Endowed Excellence in Teaching Award from the UCR School of Business. 
"Professor Ingram is one of the best, if not the best professor, I have ever had. His enthusiasm combined with his great teaching style makes the class very enjoyable," said one of Ingram's students in a review of the professor's interaction in the classroom. "He is easy to connect with and brings out the best in every student. He combines theory from well-research journals but lets students speak about their own experiences." 
The award reflects Ingram's passion for his craft. "I firmly believe the efforts we make through investing in our students will be rewarded 10 times over," says Ingram, who is a professor of teaching in management. "My motivation is deeply rooted in recognizing the responsibility we have as professors to create experiences for our students that they will carry with them long into the future."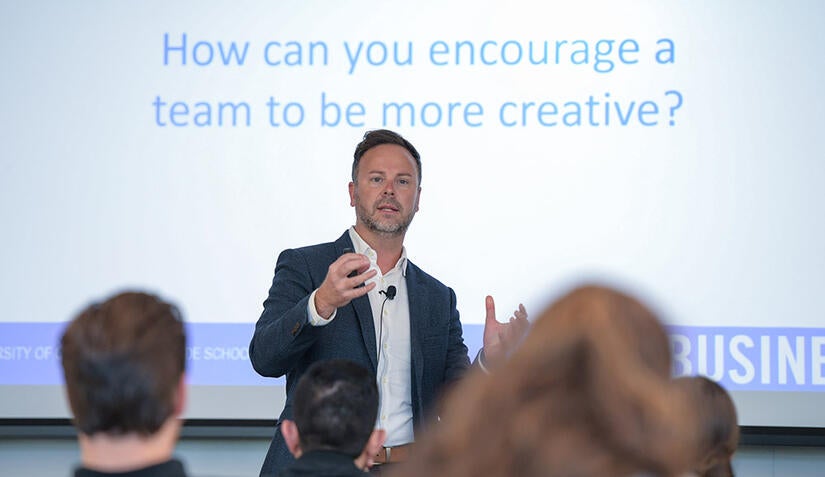 Ingram was also recognized with the School of Business Golden Apple Award—students vote to honor professors providing the best overall classroom experience—in 2018 for elective courses and 2019 for preparation for business administration and upper-division major core requirement courses. 
His care and attention ensuring an immersive classroom experience is reflected in another student's review: "Professor Ingram is extremely attentive to all of the students in the class and manages to interact with all of us—even during the pandemic. 
"The amount of participation every individual has in class amazes me, … and I look forward attending his lecture every time." 
The business school's Shulman Endowed Excellence in Teaching Award rewards exemplary business professors who embody the fulfillment of learning through excellence and achievements in teaching, as demonstrated by Professor David Shulman, former associate professor of management and economics. 
The university's Innovative Teaching Award recognizes professors for their creative and innovative high-impact teaching methods and exceptional passion for finding new and effective ways to help students learn. 
"The experience and knowledge from this class will be very beneficial for me when I enter the workforce," says one of his students. "I learned a lot in the course, but I've also learned even more about myself as a leader and team member."


View photos of the 2022 Faculty Awards at the UCR Business AGSM Spring Banquet:
Watch the video clip produced for the UCR Spring 2022 Celebration of Teaching: