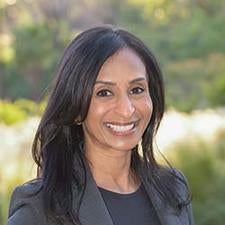 For Anita Alamshaw '91, there is extraordinary value with in-person contact among professional peers. "Yes, we're in a situation where we're behind a screen or a camera or a phone," she says of most day-to-day conversations, "but, the face-to-face personal interactions, you still can't put a price tag on that connectivity and building those relationships."
Alamshaw is the executive director and general manager of U.S. value and access at Amgen, one of the world's leading biotechnology companies. She recently joined an impressive roster of business leaders who have served as Executive Fellows mentoring students at the UC Riverside School of Business. She was officially welcomed into the role at the Executive Fellows Installation Dinner on April 12 along with Armen Karamardian '93, chief executive officer of Zov's Restaurant Group in Tustin, California, and Kenneth Leung '89, director of marketing, database and infrastructure at Oracle.
The interaction between Fellows and students within the program over the years has been transformative on both sides.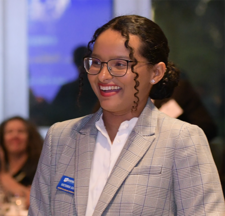 "Thank you, Executive Fellows, and the UCR School of Business for being instrumental in spreading this world's most scarce resource … hope," says Victoria Guidry '23, who is earning an MBA in marketing and benefited from her time talking with Executive Fellows—the program at UCR is unique among top business schools because of the scope of the Fellows' involvement at the school.
With more than two years of pandemic precautions keeping folks apart, Alamshaw is looking forward to working with students on campus in the coming year. Each Executive fellow is selected for his or her leadership, professional experience, and business expertise. The program was founded in 1992 to connect distinguished business leaders with faculty and students at the UCR School of Business. Executive Fellows mentor students in their careers, business ventures, and professional challenges—a generous service that greatly expands students' ability to navigate opportunities.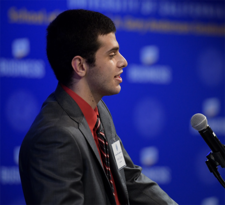 "All of you have accomplished the task of inspiring the next generation of leaders through this program," says student Hisham Qotami '23, who is studying operations and supply chain management. "Your generosity in sharing your experience and time has lifted my fears of an unknown future. You have ignited my passion for what lies ahead in my career, and for that, I am eternally grateful."
As he looks to the year ahead mentoring students, Leung also underscores the need for genuine interaction: "Don't let technology replace your interpersonal skills," he says. "I know there are people who say, 'I'll never leave my house again. … You're missing out on a lot of experiences when you decide that. The people you work with, socializing with them, that is part of life."
The Executive Fellows Installation Dinner also included thanks and recognition of recent Executive Fellows who served over the last two years: Executive Vice President at Sony Pictures Entertainment Maria Angelova '03, LS Capital Managing Partner Tim Siegel '91, and Seacliff Beauty Packaging & Laboratories CEO and Founder Vonda Simon '82, who all served in 2021-2022, and Veritone Chief Financial Officer Michael Zemetra '93, who served 2020-2021.
"I'm of the belief that I'd like to leave this place a little better than when I found it," says Karamardian. "I feel that's important. It's a lesson that I want for my kids to see because you can't just take in this life—you have to give. That's how I was raised. Community is everything."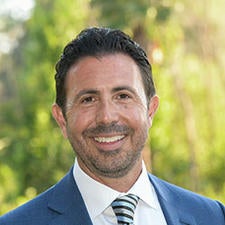 View more photos of the 2022 Executive Fellows Installation Dinner on Flickr:
__________________
Header image (from left to right):  incoming Executive Fellow Armen Karamardian, UCR School of Business Dean Yunzeng Wang, undergraduate student speaker Hisham Qotami, incoming Executive Fellow Anita Alamshaw, outgoing Executive Fellow Tim Siegel, graduate student speaker Victoria Guidry, UCR Chancellor Kim Wilcox, UCR Provost Elizabeth Watkins, and outgoing Executive Fellow Michael Zemetra