More than 50 college students from U.S. colleges and universities attended the May 2021 University of California Summer Institute for Emerging Managers and Leaders (SIEML), an initiative to increase diversity in graduate business programs within the six University of California business schools. 
The 11-day, all-expenses-paid virtual event hosted by UC Riverside's A. Gary Anderson Graduate School of Management (AGSM) was an immersive career-building experience for students from Historically Black Colleges and Universities (HBCUs) and Hispanic-serving Institutions (HSIs). 
"I admire the SIEML's initiative to increase diversity in graduate business schools," says 2021 participant and Spelman College undergraduate Taylor Moorer. "It is essential to have different races and ethnicities represented in all spaces, and this program prioritizes just that." 
Annually, one of the UC business schools hosts the institute for undergraduate students, and this year, the online presentations, panels, and workshops provided an education in entrepreneurship; analytical, technical, and management skills; leadership strategies; networking opportunities; and insights for pursuing a graduate degree in business. SIEML students apply and are selected for the program, and SIEML alumni are eligible for a minimum one-year full fee and tuition fellowship at any of the UC graduate business schools.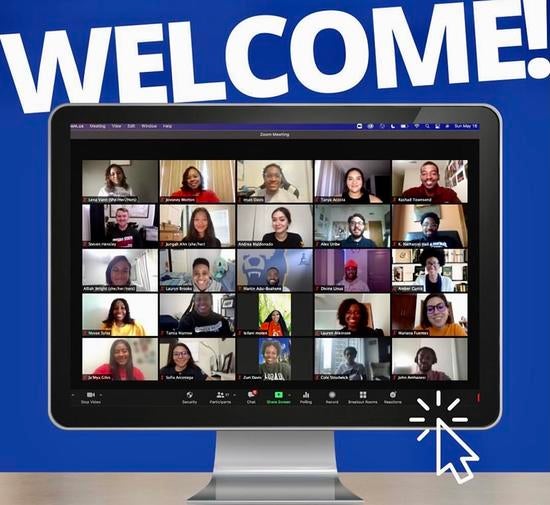 "One of my favorite parts of the SIEML program is when the students introduce themselves as 'rising seniors' from their home universities," says UCR School of Business Professor of Practice Sean Jasso. "SIEML students evoke confidence and commitment to the learning community during their rigorous two-week exposure to the portfolio of business schools of the University of California." 
During the program, business and community leaders from across the state provided presentations, including California State Sen. Anthony Portantino and industry professionals from test-preparation and study-abroad counseling company Magoosh, Wells Fargo Bank, talent-assessment company CliftonStrengths, and professional services company Accenture. 
Preparation for graduate school is chief among the institute's goals. Deans, faculty, staff, and alumni provided extensive, in-depth guidance in all aspects of pursuing a master's degree, as well as career-development strategies: Each of the universities presented workshops and lectures on different days, including "Developing Higher Quality Teams: Leader-Member Relationships," "Entertainment and Non-traditional Career Paths," "First-generation Leadership," "The Customer Journey and New Product Design," and "Storytelling for Leadership," among many other topics. These activities aim to increase the excitement around the UC system and highlight the considerable benefits of a UC education that some students throughout the nation may not be aware of. 
"In essence, these are really amazing students who already have their sights set on applying to top institutions in the U.S.," says Keith Flowers Jr., AGSM associate director of graduate admissions. "This program showcases the potential of a UC graduate degree." 
SIEML alumni have earned master's degrees and established fruitful careers: Kevin Lee, a 2016 attendee during the institute's first year, is currently studying at Southern Methodist University's Dedman School of Law, and was featured in a June 2021 issue of People magazine for his triumph over homelessness and excellence in academics. 
"A hallmark of the SIEML program is the case competition when teams produce client-based solutions to real-world problems to opportunities," says Jasso. This year, the competition's industry partner was Accenture, and the case challenge was combating homelessness in the greater Los Angeles area, presenting competitors with the question: "How might the client break the cycle for youth experiencing homelessness following their departure from transitional housing?" Accenture judges selected the winning team, which included participants Iman Davis, an accounting major from Howard University; Olivia Fenwick, a sociology major from Hampton University; Alexis Hobbs, a political science major from Spelman College; Kevin Mwangi, a business administration major from Cheyney University; and Jacquelyn Rivas, a business administration major from San Diego State University. Each of the members within the top-three teams received monetary prizes awarded by AGSM. 
"Although the SIEML students could not meet in person this year, our students from the AGSM Ambassador program did an amazing job speaking with participants and working personally with them on their case studies," says Flowers. 
"To top things off," adds Flowers, "we hosted a dance party, sent out care packages, and provided self-care and reflection workshops to enhance the participants' experience." 
"We were honored to host these scholars and had the pleasure of introducing the amazing benefits and resources available within the UC system to the attendees," says AGSM Associate Dean for the Graduate Programs and Marketing Professor Rami Zwick, who was impressed with the participants' growth, demonstrated leadership, teamwork, and networking during the nearly two-week program. "We know you will use the skills you learned from this experience to do great things in your life," said Zwick during his remarks at the close of the institute. "We are happy to be an academic resource and advise you as you navigate your path through higher education." 
SIEML 2021 Quick Facts
 
Read about Spelman College student Taylor Moorer's personal SIEML experience:
We would like to thank all participating UC business schools that helped plan, organize, and execute the 2021 UC Summer Institute for Emerging Managers and Leaders: 
 
A. Gary Anderson Graduate School of Management, UC Riverside, SIEML 2021 host school 
Anderson School of Management, UC Los Angeles 
Graduate School of Management, UC Davis 
Haas School of Business, UC Berkeley 
Paul Merage School of Business, UC Irvine 
Rady School of Management, UC San Diego