Due to COVID-19 precautions, Professional MBA student Benjamin Gonzalez '21 participated remotely in the Project Management course taught by Supply Chain and Operations Management Lecturer Suri Gurumurthi. As the lectures unfolded, Gonzalez realized the course's immediate applicability. "I have used what I learned in my current position," he says. "The pandemic has forced companies to re-evaluate how they source their materials and how we prepare for catastrophic events, whether they are regional or international."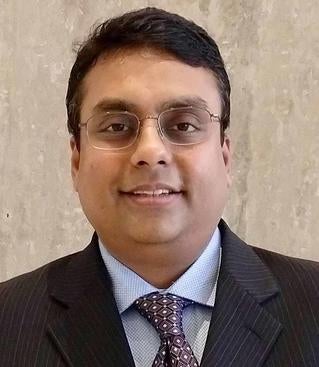 Gurumurthi incorporates the pandemic's influence on global commerce in his courses, and despite the tragedy of the virus, Gonzalez appreciated the chance to learn and observe the implications in real time. This class was one of four courses he took that were taught by Gurumurthi, and Gonzalez, who is currently planning manager at The Gill Corporation, is quick to underscore how much he appreciates the lecturer's instruction. "He has a lot of career experience with all things related to supply chain management and provides relatable case studies and expert analysis," says Gonzalez, who graduates this year with a master's degree concentration in operations and supply chain management. "I am also impressed by how much he enjoys teaching his craft to us." 
Gurumurthi specializes in operations and supply chain management as well as project and strategic management—areas of business that are presently in the spotlight as a result of pandemic-related issues affecting the general public, such as the shortage of products on grocery-store shelves last year and the roll-out of COVID-19 vaccinations this year. "The pandemic has taken business leaders to an important crossroads, and supply chain globalization trends of the past 40 years or so will be re-examined with a view to building greater resilience and to meeting business and environmental sustainability goals," says Gurumurthi.
"In my view, operations and supply chain management education can help train a new generation of leaders who are unafraid to tackle complexity and harness the latest technologies to solve problems. This will support a global agenda driven by climate concerns coupled with an agenda incorporating safety and security in interdependent economies."
One of the areas Gurumurthi has studied in recent years is supply chains rooted in China and the ways they have adapted to global corporate initiatives and sustainability concerns. "For example, I spent several months studying how one of the world's largest shirt-makers in Hong Kong has tried to take the lead in transforming their supply chain for greater sustainability and corporate social responsibility," he says.
Gurumurthi began his career in the automotive industry, followed by work in the semiconductor and aerospace sectors. He says the aftermath of Sept. 11, 2001, spawned his interest in the impacts of gradual market trends as well as major crises on global supply chains and the criticality of effective management: "My work experiences have helped shape my pedagogy," he says, and he tries to bring all his cross-domain experiences, reflections, and analyses of current events into the classroom.
"Connecting frameworks from different fields and topics creates a bridge for highly effective leaders who are not just generalists, but also effective managers of complexity, making critical decisions based on cross-functional analytics."
Gonzalez is doing just that. "I am able to look at supply chain issues differently in light of COVID-19. The supply chain world has relied heavily on minimizing costs, which often means relying on single sources of supply, and with that comes risk," says Gonzalez. "The course's lessons were especially powerful as the pandemic has changed the way we work."
Thinking of himself as "facilitator of student learning," says Gurumurthi, he "connects the dots for motivated students," and he pours all that he knows into his lessons. "I like the 'cross-pollination' of concepts and applications from across the spectrum of business topics that I teach.
"The world is full of problems that can be alternately daunting and exciting. Chipping away at these problems—what we call 'continuous improvement'—can lead to long-term success."
________________________
Header image by Tumisu on Pixabay