TCL President & Senior VP Kick off Business Speakers Series Week.
The UCR School of Business are hosting a line-up of top business executives, professional coaches and celebrated athletes to speak on a variety of business and professional topics.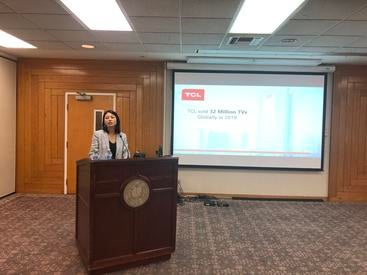 The first to kick off the week's speaker series were TCL President for North America, Michelle Mao, and Senior Vice President Chris Larson.
Michelle Mao is the President for TCL North America, headquartered in Corona, California. Michelle led the transformation of the TCL brand to become "America's Fastest-Growing TV brand" and in 2016, she was recognized as one of "The Most Powerful Women in Consumer Technology".  
Chris Larson is senior vice president of TCL North America, where he leads the company's brand and marketing efforts. As a 25-year veteran of the consumer electronics business, Larson shared how he has led the team responsible for creating the fastest growing TV brand in North America for the last three years.
TCL has become a household brand and one of America's preferred consumer electronics brand in North America. The speakers explained how TCL has achieved this by leveraging its unique operational capabilities, while building brand affinity and awareness with consumers who have come to associate the brand with high quality, memorable experiences.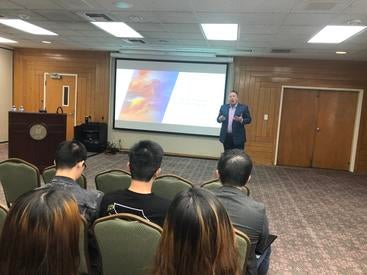 "You only buy a TV every 6 to 10 years. So what we're building is brand consideration," says Larson. To do that they are creating experiences connected to the brand by partnering with the Ducks, the Honda Center, Rose Bowl Stadium, NBA athletes, surfers, golfers, and celebrity talk show host Ellen DeGeneres.

In addition to television where TCL is one of the top three brands today, TCL has large ambitions to leverage that success in adjacent businesses, such as home audio, portable audio, mobile handsets, home appliances, and other related goods, bringing them to the North America market.