Partnerships between the University of California, Riverside and India's top business school are being fostered through faculty research, student exchange programs, new school-wide initiatives.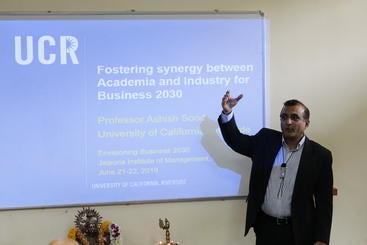 For the past year, the International Relations Department at the School of Business and  the A. Gary Anderson Graduate School of Management Admissions Department worked together to forge stronger relationships with renowned business institutions in India. 
The International Relations team has been working closely with the U.S. Commercial Services unit of the U.S. Consulate in India to attract top students from India to the UCR School of Business MBA, Masters of Finance, and Master of Professional Accountancy programs. 
New bridge programs offered by the UCR School of Business, such as the Master in Business Preparation Program and the Accelerated Business Leaders Education Program, will also make it easier for prospective students from India to transition into a graduate degree in the United States. 
Over the last year, the International Relations team has worked closely with Jaipuria Institute of Management (JIMC) and Narsee Monjee Institute of Management Studies (NMIMS), one of India's premier business schools.
Recently, JIMC organized an international conference on "Envisioning Business - 2030" to create a common platform for industry and academic experts to discuss innovative and creative ideas on fostering stronger relationships between academics and practitioners. The day-long conference invited top business leaders from diverse industries and leading academics from other top schools in India who presented empirical papers, conceptual research papers and case studies in relation to the theme of the conference.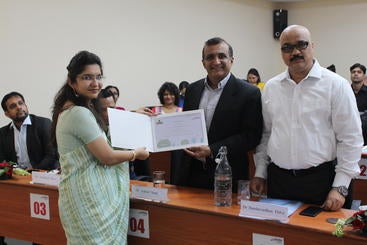 Dr. Harshvardhan Halve, Director JIMC Indore and Dr. Megha Jain, Convener JIMC Conference 2019 invited Dr. Ashish Sood as a Keynote Speaker for the event. In his presentation, "Fostering Synergy between Academic and Industry for Business 2030". Dr. Sood presented ideas on the key drivers of collaborative links between industry and business schools that will enhance the relevance of the business curriculum. 
 
The new partnerships have already yielded results. This year, our graduate program will be welcoming 12 students from India's top universities. The School of Business congratulates the new students for their admission into its graduate programs and looks forward to seeing their contributions as future ambassadors for the UCR School of Business in India.