A student in a course taught by Management Lecturer Alexandru Roman wrote a review of the class: "Professor Roman encourages us to start thinking like CEOs. His class requires discussion and the ability to speak publicly, which really helps us."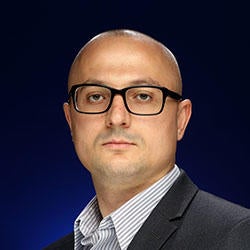 This student and many others voted for Alexandru Roman to receive the 2021-2022 Golden Apple Award for Teaching Excellence for graduate core courses. Roman was among five professors honored in various categories this year with the Golden Apple Award and a $2,500 prize.

"I absolutely love my Brand Management course with Dr. Roman," wrote another student. "He does a great job making the material relevant to what is currently going on in the world of business."
Tailoring coursework for optimal relevancy is by design, Roman says, and he starts with four questions when preparing to teach a course:
 
What skills and abilities are necessary for students to succeed as professionals?
What body of knowledge will help students on their personal developmental path toward becoming engaged and responsible contributors to the social and economic fabric of society?
What experiences can lead to increased levels of motivation, confidence, and resilience?
How can these goals be achieved in the most inclusive, interesting, and engaging way possible?

"Considering these questions typically leads to courses that effectively combine theory, practice, and hands-on learning, which generates high levels of student engagement and academic and personal growth," says Roman.

"If I had to pick just one thing that is satisfying about teaching college students, it is seeing them succeed as a direct result of a specific skill, ability, knowledge, habit or mindset developed during class," he says of internships, job offers, or promotions his students have acquired.

"It is just as satisfying to learn that following a course, students have grown in confidence and motivation, and they have become more optimistic about their personal and professional futures."