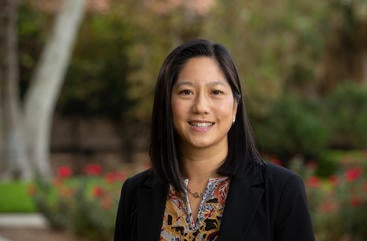 Erick Campos '18 says his ability to understand and evaluate varying personality types has played a crucial role in the development of his career, a skill he credits to coursework he completed when he took Associate Professor of Management Elaine Wong's popular class on organizational behavior.
"The Management 200 course introduced me to the six leadership styles," said Campos, who began his career with the Walt Disney Co. as an intern and is now a strategic sourcing analyst for the company. "It's important to know your own leadership style and how that varies for others. If you're butting heads with a member on your project team, you'll need to adjust your leadership style right then and for future projects with them."
Campos refers to psychologist Daniel Goleman's theory on six leadership styles: Emotional intelligence establishes a set of varying approaches to social interactions and business settings. In some situations, business leaders might emphasize delegating tasks in what he calls a coaching style. However, some business settings may require a commanding style in which directions and orders demand immediate compliance with little room for input from team members.
To better express phenomena like this to her students enrolled in the fall quarter, Professor Wong introduced a panel of current PMBA and former MBA students ready to share what they have each learned about emotional intelligence in the workplace since embarking on their respective careers.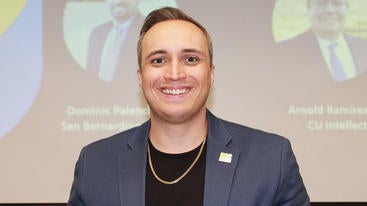 Among the panelists was Jordan Cullen '17, a U.S. military veteran and project marketing lead for Esri, an international supplier of geographic information software; his team brainstorms ideas for desktop and mobile innovations. "I've reflected back on my time in this course over and over again post-graduation [and realize] it's helped me a lot," he said. "More than half of the meetings I've done are walking meetings, like the ones I remember doing in this course."
"I really liked this class because I learned how to give and take feedback," says first-year PMBA marketing student Chiree Rice-Coplin '23, who attended the discussion. "Volunteering for the Women's Journey Foundation is where I learned how important it is to take feedback positively. It's necessary to grow."
Organizational behavior and business work hand-in-hand according to the MBA alumni panelists, which also included Dominic Palencia '18, an internal auditor with San Bernardino County; Xiao Lu '22, who will graduate with her UCR MBA in June and is currently chief operating officer for Aukey in the financial services industry; and Danielle Wright '21, a client and financial analyst for Goldman Sachs.
When asked how the Organizational Behavior course set him up for success in his career, panelist Arnold Ramirez '20, president of consulting management company CU Intellect, said: "I'm able to step back from personal beliefs in business situations and focus on organizational business tactics. It's important to understand personalities. People are more dynamic than they may seem on the surface.