Firsthand experience helping her mother run a business laid the foundation of Angelina Chavez's passion and drive in business. Raised by her mothers who immigrated from Apatzingán Michoacán in Mexico, she learned to appreciate the ethics of working hard to help others.
"My mom offered income tax services in the front portion of our home. I used to answer the phone and help out any way I could," she says. "Even though I didn't have many resources growing up, that didn't stop me from pursuing leadership positions."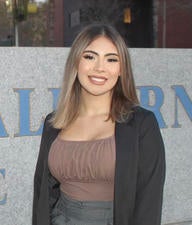 Chavez founded the Gay-Straight Alliance club in high school and has served as an example for her community for as long as she can remember. She was also the lead captain for her high school's soccer and track teams, and by her senior year, was elected Associated Student Body President. Pursuing a college education was the next step in her plan.
"Starting at UC Riverside, I had to adjust to a completely new environment. I didn't know anybody," she says. "I joined Latino Union and earned my first leadership position at UCR when I was elected Vice President of Marketing. I created graphics for events and met with organizations outside of UCR for community service. It was that experience that helped me decide on my concentration in marketing."
As she began to discover how her passions could aid in her professional development, Chavez landed an internship with UCR's Associated Students peer mentor program. She was paired with a student government senator to learn about creating legislation and serving students across campus.
That experience led her to campaign for ASUCR the following year. Chavez beams as she describes having earned the most poll votes during the senator elections: "I put myself out there, which is not an easy thing to do. A lot of fear came up when it came to developing my public platform until I realized the student body believed in me."
"I went from being a pre-business, senate-mentee to becoming a senator and a student at the School of Business all at once," she says. "I was an active advocate for students in need, those who may have felt like they didn't have a voice." However, in the following academic quarter, Chavez stepped down from ASUCR for personal reasons. "It was really hard to make that choice, but I've learned not to let obstacles define who I am as a leader or as a person," she says. "I decided to prioritize my health."
Chavez shares that mental wellness is one of the areas she has worked to destigmatize within the communities she serves. It took applying these same principles to her own life for her to find strength within vulnerability. She continues to serve and inspire young women as director of leadership for the Pi Beta Phi fraternity for women.
"I started as a scared first-year who used to tell myself I couldn't do things other people could because I came from an impoverished, non-traditional family," she says. "I followed my desire for sisterhood and am amazed at the person I am becoming."
From applying for an overseas business marketing internship in Spain to developing a model for her nonprofit organization that addresses food and housing insecurity, Chavez only has room to look to the future. "My experiences as a leader continue to humble me and boost my confidence."
"It takes resiliency built over time. Powerful women have mentored and believed in me," she says. "You can do anything you set your mind to. You're going to make mistakes, but you can become the person you want to be, you just have to reach out."