During the winter quarter of 2021, Brittney Agoncillo '21 found herself in Lago Vista, Texas, doing all she could to help her sister, brother-in-law, 4-year-old nephew, and newborn nephew survive COVID-19. Her beloved Auntie Margie died from COVID-19 at the end of February. 
"It came as a shock to all of us, and I still can't believe it," says Agoncillo of the family's matriarch. "She was a wonderful person with the biggest heart." 
And in the midst of that grief her sister's family was very ill.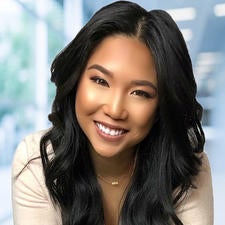 "At the time, every three days someone in my family was contracting COVID," she says, as she recalls simultaneously completing her coursework and planning to travel to Texas. "I had to stay on top of my schooling and get ahead in case other emergencies came up. And other emergencies came up every single day." 
Agoncillo arrived at a vacation rental at The Island on Lake Travis, where her sister and family were in quarantine. "Then winter storm Uri hit, and we were without heat, warm water, electricity, clothes, blankets, and everything you need to survive cold weather," says Agoncillo. "It was like that for two weeks. We were running out of supplies, and no one could get in or out of the island." Provisions arrived just as the family was down to one diaper and one bottle of water. 
While an extraordinarily emotional and physically taxing period, Agoncillo's family made it through. During those weeks, Agoncillo had to weigh the commitments in her life: "My number-one priority has and always will be my family, but my goal was also to graduate summa cum laude." 
Immersion In All that UCR Offers 
This week, Agoncillo, one of the star students within the School of Business's information systems area, attained that goal as she graduates with a bachelor's degree and an extraordinary list of college accomplishments. 
Most recently, Agoncillo and her team received a $3,000 UCR Entrepreneurial Proof of Concept and Innovation Center (EPIC) grant to validate and commercialize an on-demand service e-commerce business as part of the 2021 spring Innova'R Entrepreneurship course. The next step for the team's project is consideration for the National Science Foundation's $100,000 I-Corps grant, which will be awarded this summer. 
"I am a huge fan of the progression of technology and see the value of on-demand business e-commerce platforms," she says. "I plan to grow the business concept and to work on another software application that connects the world through one kind act a day." 
Describing herself as UCR's biggest fan, she says, "I probably bleed blue and gold." Not only has she excelled in academics, she is also immersed in extracurricular activities and leadership. She's currently co-president of the Management Information Systems (MIS) Society and created the first virtual Information Systems Tech Forum. "With the help of my MIS team, we put on the event with industry leaders in different phases of tech, and we had more than 2,000 views within 24 hours," says Agoncillo. The event garnered interest in the society, which grew from eight board members to a robust 30 board members. 
Diagnosed with anxiety and attention deficit hyperactivity disorder, she was recently recognized by the Student Disability Resource Center for her achievements, and she was also honored by the lesbian, gay, bisexual, transgender, and allies campus community for her academics and service. She's also a member of the Beta Gamma Sigma international business honor society and vice president of the Cannabinoid Industry Association (CBDIA) Society, which was created in the winter quarter. 
Making the Most of an Academic Journey 
"Academics provided a safe space for me to grow into the person I am now," says Agoncillo, who has earned a 4.0 grade point average. "You have to have endurance and critical analysis skills," she says of her GPA. "These skills were challenged, tested, and sharpened in each course I've taken at UCR. … Every time I walked into a class and sat in the front, it felt like the professor was talking directly to me. 
"I felt honored to have the opportunity to listen to someone who has dedicated their life to what they are teaching. … The way I see it, they helped me create a strong platform I could stand on." 
Looking to the future, Agoncillo, the first in her immediate family to graduate from college, plans to continue her education. "I absolutely love learning. I never thought I could make it this far because college was never a priority in my family, but I always wondered what would happen if I did finish," she says. She recently accepted the head of operation strategy position for Some Neat Place, a software company in Los Angeles, and plans to earn either an MBA or a Ph.D. in industrial organizational psychology. 
'My Vision is Big' 
A combination of the knowledge she gained in information systems, her leadership activities, and a strong work ethic got her through a very tough winter—the toughest of her life, she says. "Challenges are a sign of life. They come with living. At the end of the day, you either accomplish your dreams or have a list of reasons why you couldn't do it. 
"My vision is big, and it requires me to think big even in the most challenging times."