Imagine waking up, but instead of awakening to an obnoxious alarm clock, your house wakes you up. A voice-controlled audio system is speaking to you and her voice emerges from inconspicuous speakers in your walls. You tell her, "Good morning," head to the kitchen, and a cup of coffee is already ready for you. As you enjoy your morning coffee, your home gives you a briefing of the current news and once you're ready to head out, there is an Uber waiting outside for you. This is where the future of smart homes is heading.
We live in a world of increasing connectivity with giants such as Amazon, Google, and Apple. However, these platforms work within their own ecosystem, locking consumers into a set of products and devices. For convenience, consumers have no other choice but to choose one ecosystem and buy only those devices that are connected to make one cohesive system.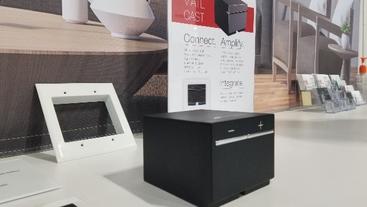 Vanguard Dynamics' goal is to introduce a product that interacts with all the major platforms to create convenience for the consumer. VAIL Cast is a stereo amplifier that amplifies the sound of a smart assistant throughout your home. It connects with all of today's most popular smart home digital assistants such as Amazon Alexa, Google Assistant, Apple Airplay 2. It would be the only amplifier that interacts with all 3 platforms simultaneously.  
The issue with many of the voice-controlled speakers on the market is that the speakers and microphones are in the same unit, so the latter can't hear you over the sound it is producing. The VAIL Cast separates the speakers and microphone resulting in higher performing voice-controlled audio system. 
You can use it with any pair of speakers to enhance the sound of your favorite movies, shows, or video games. It also acts as a WiFi booster, so your signal throughout your home will be improved. By using it with the platform of your choice, it gives you a smart home experience catered to your liking and you can still utilize all the capabilities of your smart assistant. With VAIL Cast, you can create your smart home with whichever platform you prefer. 
 
Alex Chiou '02, UCR Alumni, is on a mission to make the smart home a new standard. Chiou founded Vanguard Dynamics in 2011 and has made a profound impact on the audio industry with award-winning and innovative smart home audio products. 
His current project, VAIL Cast, is the only stereo amplifier that works with all the 3 major platforms simultaneously. "A challenge all businesses face is how to let the world know about new products or services."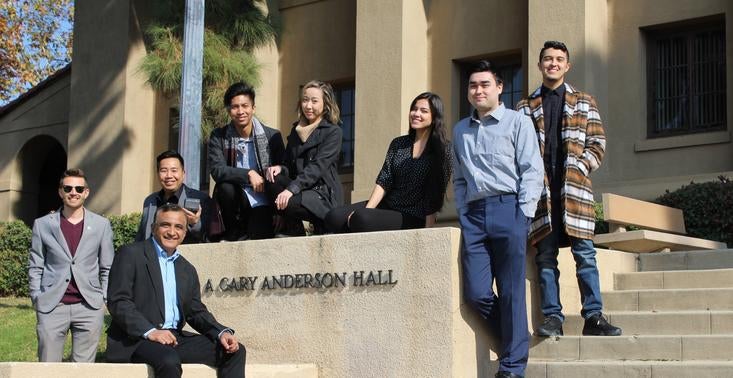 Instead of hiring a marketing firm to launch a Kickstarter campaign, Chiou reached out to resources that the city of Riverside and UCR had to offer to help form a marketing team of talented UCR MBA students and utilize the marketing strategies taught at UCR today. 
Chiou thought this would be a great opportunity to reconnect with the community and has been utilizing resources available in the city of Riverside such as the Economic Development Department, EPIC, Riverside ExCITE, and the UCR A. Gary Anderson Graduate School of Management to help his company raise awareness for VAIL Cast. 
He reached out to Dr. Ashish Sood, Associate Professor of Marketing and the Career Development Center, who helped put together a team of bright and driven UCR MBA students to assist in commercializing the new product. 
Vanguard Dynamics is now working with a team of five UCR MBA students - Alex Waskul, Eduardo Tellez, Jamie Linares, Lily Luu, and Randy Pimentel. The team meets regularly to strategize and bring cutting edge ideas they have learned in various classes on marketing, entrepreneurship, and management to the industry. Each member of the team also contributes to the company through their unique skill sets. 
Lily and Randy help with the creative side of marketing the product, utilizing their copywriting and videography skills to create content that communicates the vision of VAIL Cast. Eddie, an audio enthusiast with experience in the industry, utilizes his customer experience and public relations skills to increase awareness and facilitate interactions with their brand. Alex W. and Jamie combine their brand and product management experience to ensure the team properly implements strategies and efficiently meets goals.
To ensure that the team has all the insight and expertise needed to become successful, they have received support from Dr. Ashish Sood, Associate Professor of Marketing, Mai Temraz, Blackstone LaunchPad Entrepreneur-in-Residence, Steve Massa, City of Riverside Economic Development, and the Career Development Center. 
They are now in the early stages of creating a Kickstarter campaign by generating content, designing reward-tiers for backers, and gaining support from their fellow UCR family in order to spread the word of this new innovative amplifier that may, one day, become the new standard. 
Here's how you can help:
●    Like and share our Facebook Page: www.facebook.com/vailaudio/
●    Follow us and share our Instagram: @vailaudio
●    Follow and retweet our Twitter:  @VAIL_Audio
●    Support us and subscribe: www.vailaudio.com/kickstarter