Mexico City Global Program
This program presents an ideal opportunity for students to explore some of the most consequential policy issues facing Mexico and the US today. Travel to Mexico City offers a rich global experience, regardless of specific areas of interest and expertise.
Why Mexico?
The relationship between the United States and Mexico is exceedingly important to both countries, however, our mutual interests can vary significantly as they relate to economic, immigration and security goals. These may be aligned in some ways and misaligned in others, both between countries and within them. It is not just public sector interests in play, but private sector interests as well.
We will get a first-hand look at these issues and discuss the feasibility of policy alignment, with key sectors from government, academia and a unique perspective from private corporations. Topics may range from drug cartels to immigration to economic growth and trade relations and their impact on both sides of the border.

What is Behind the Economic Miracle South of the Border?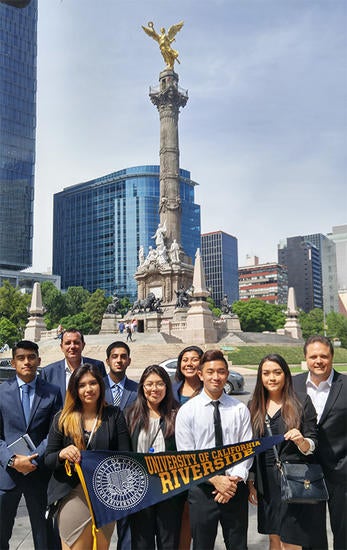 Trade makes up one-third of Mexico's GDP, and the country is a manufacturing powerhouse in the region.
Mexico relies on exports to help power its economy. More than 90% of Mexican trade is under free trade agreements (FTAs) with more than 40 countries, the most significant of which is the 1994 NAFTA agreement.
The OECD and WTO both rank Mexican workers as the hardest-working in the world in terms of the amount of hours worked yearly. They are also ranked among the most important industrial manufacturers in Mexico's automotive industry.
Despite the influence of manufacturing, services make up the largest proportion of GDP, with manufacturing second and agriculture third.
The Aims of the UCR Mexico Residency Include:
Analyze the structural reforms which allowed Mexico to become a Latin American powerhouse.
Discover the liberalization of the Mexican economy as part of the move to engage with Free Trade Agreements.
Explore the shift in production from the US to Mexico, and also learn why Mexico has become such an important destination for investment from around the globe.
Engage with a dynamic and magnificent culture.
Improve your career prospects by learning about this exciting and dynamic market close to the U.S.
Customized Lectures:
"Mexico in the Global Economy"
"Doing Business in Mexico"
"Mexican Financial Reform"
"Cartels and the Drug War - Impact on the Economy and Foreign Relations"
"Mexico's New Energy Reforms"
"What NAFTA Means Today"
"Mexico's Economic Development Strategies"
Site Visits:
Teotihuacan Pyramids
Plaza del las Tres Culturas
US Mexico Chamber of Commerce
US Embassy
Import Export Bank
Manufacturing plant
Entrepreneurial Incubator/Start-up
What's Next?
Email Dr. Jasso immediately to learn about fees and enrollment
A team meeting will be scheduled once the Mexico City cohort is confirmed
Get your passport updated if necessary
Start getting ready to get on board to Mexico City!
Stay strong!
For more information contact Dr. Sean Jasso
Important Dates:
Summer
Departure pending 
Return pending