The Graduate Career Development Center hosted their first Graduate Business Job Fair on October 14, 2022. The purpose of the fair was to provide an exclusive opportunity for graduate students to meet and learn more about potential employers. Rachel Murray, a representative for Hub International Insurance, was enthused with the fair, stating that there were several students interested in the company's programs, including their Early Career Programs, which is seeking motivated students and college graduates to join in their mission. They offer several internship programs across America focusing on different aspects of their business. HUB employs over fifteen thousand individuals across North America, and is ranked fifth in the world among the largest insurance brokers.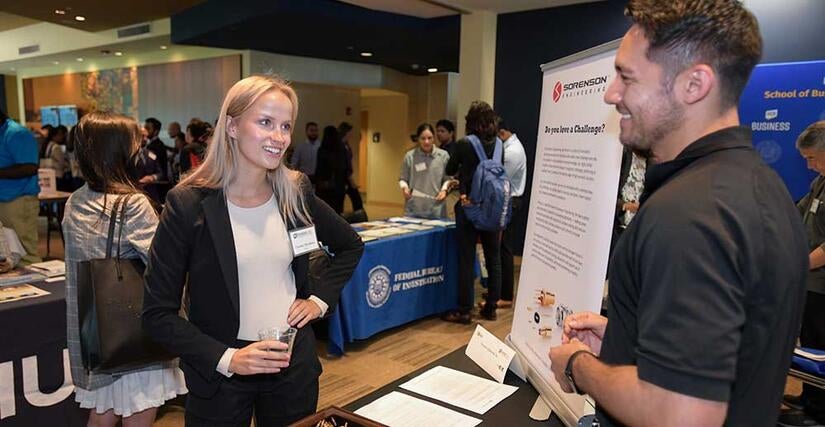 The event featured over a dozen companies and government representatives, including:
Advanced Building Technologies, Inc.
Aragon Construction
Basic Products
Best Babie Distribution
Caltrans HQ
Consolidated Electrical Distributors
Continent Solution System, Inc
County of Riverside
DVBE Insurance & Financial Services LLC
Eadie + Payne, LLP
Federal Bureau of Investigation
HUB International
MPK Advisors & CPAs
Mutual of Omaha
New York Life Insurance Company
ProAction Insurance Services
Riverside County Office of Education
San Bernardino County Assessor
Sorenson Engineering
Sun Yin USA
Thrivent
U.S. Department of Health and Human Services
Volcus LLC
Students in attendance were glad to see a graduate-student-focused job fair. Sanjeev Prakash Rao, a finance MBA student, spoke with New York Life Insurance Company representatives and plans to follow up regarding future opportunities.