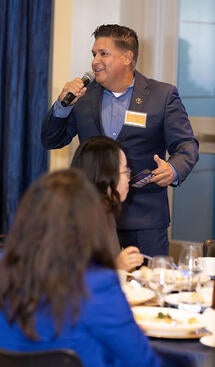 Many career success stories have been made possible by learning to thoughtfully engage with fellow business professionals. One recurring piece of advice offered to entrepreneurs is "expand your network." For the AGSM Career Development Center (CDC), networking does not have to be complex or fear-inducing.
"As the marketing assistant for the Career Development Center, I was excited to put together a big networking event that included our alumni, area employers, and graduate students," says Gregory Romero '22. CDC coordinators provided a unique variety of tools for students to use during the networking dinner, including tabletop conversational prompts. Those in attendance had the chance to speak with a number of business executives, and build those important connections.
"About one-third of the executives in attendance were UCR alumni," says Assistant Director of Career Services Analy Garcia. One such alumnus, Ruben Hernandez '99, was the evening's featured speaker. After serving in the U.S. Marine Corps, he went on to develop a strong foundation of mentors during his time as an AGSM student, and continues to work closely with UCR Veterans Services, paying it forward. Hernandez discussed the perseverance it takes to overcome the nerves that networking can trigger.
"We have such a reliance on technology. It's a great tool to utilize but a downside can be that we don't meet personally with as many people," says Hernandez. "You have to be willing to insert yourself into uncomfortable situations to understand what outcomes you want to achieve. Get specific."
"Prior to attending UCR, I had never attended to a formal networking event. Most of my experience was fairly informal," says Franchesca Jefferson '23. "It was a great experience, and I plan to go to similar events hosted by the CDC in the future."
___________
Banner image: Jordan Cullen at the 2022 CDC Networking Dinner