Aimed at engaging young scholars in the possibilities of higher education, the Latino Business Student Association (LBSA) led several high school outreach initiatives in the Riverside area. Ernesto Sanchez '22, the organization's community service director, initiated this opportunity for LBSA members.
"Community service means much more than a simple beach cleanup day. That's not what is most impactful," he says. "I organized these events to spread our knowledge to high school students open to our guidance."
Throughout the spring quarter, LBSA members dedicated time to visit AVID classes at Ramona High School. They approached the seminars with an emphasis on sharing personal stories and varying college experiences.
"I was born in Peru and immigrated with my family to Riverside in 2007 when I was seven," says Maricielo Lozada Maguina '22. "I transferred to UCR from Riverside Community College in 2020. What stood out to me about the School of Business is that we all come from different backgrounds, yet each of us have arrived here."
Acting as the Finance Director for LBSA, Lozada played a crucial role in gathering the funds necessary to make their project possible. Directors from the business school, UCR's LGBT Resource Center, and Chicano Student Programs donated items that were raffled-off during the LBSA college presentations.
"We had School of Business branded pins, pens, and shirts to distribute to students who participated," Lozada says. "They had so many questions and encouraged their classmates to express their concerns [about college] as well."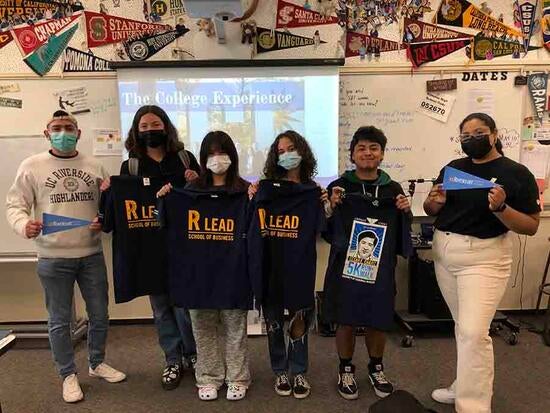 Through their own fundraising efforts, the Latino Business Student Association awarded scholarships to two graduating seniors from Ramona High School.
"We dedicated a Tuesday office hour to sit one-on-one with prospective scholarship recipients and discuss their college plans," Sanchez says. "Most of them anticipate being first-generation college students. It was important to go out and show the youth in our community that they can do it."
For more information on Latino Business Student Association membership, visit @lbsariverside on Instagram or email executivead.lbsa.ucr@gmail.com.