As they excitedly waited in line to board world-famous attractions like Ghost Rider and Silver Bullet at Knott's Berry Farm, first and second-year graduate business students shared common ground and began the process of building powerful, lasting relationships. The twists and turns of the ride ahead of them stood as a metaphor for the opportunities to come over the course of their program and career, with one of the students noting, "life can be a roller coaster, but you don't have to ride alone." 
From holiday potlucks to virtual Halloween costume contests and especially the year-end A. Gary Anderson School of Management (AGSM) banquet, traditions leave a lasting impression on UCR business students. 
"The advising office, along with the Student Association, plan a lot of the events," says Assistant Director for Academic Advising and Student Services Erika Santoyo. "Word of mouth is important. Traditions continue to exist through the transition of power from one Student Association president to the next." 
Student Association presidents are responsible for leading the five committees responsible for planning annual events that have become AGSM traditions. They serve as the point of contact between the business school dean, staff, and students. MBA student Ramie Mousa '22, who serves as the current Student Association president, shares why these traditions have become the hallmark of the School of Business at UCR. 
"When it comes to upholding traditions, the goal is to enhance student life on and off campus," Mousa says. "I've been a resident of Riverside County my whole life, but now I'm able to interact with students from places like China, India, Turkey, and major cities across the U.S. Creating opportunities for our business students to connect beyond the classroom makes for a richer graduate experience."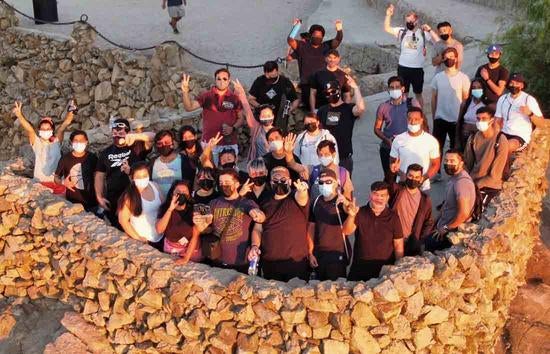 September's UCR Welcome Week is a time designated to get acclimated on campus before coursework begins. The Student Association hosted a trip to Knott's Berry Farm, the annual hike to Mount Rubidoux, a virtual meet and greet for students unable to attend previous in-person events, and a favorite tradition in Newport Coast, a beach bonfire. 
"Even students who attend just one of these events have a boost of confidence in reaching out to other students for business-related questions," Graduate Academic Advisor Kyle Pham says. 
Another long-standing tradition is weekly gatherings at Getaway Café on campus. Each Thursday, students meet at the sports bar to hang out, eat, and de-stress from the daily responsibilities of academic life. 
"It is a more sociable, outdoor setting. We often stay all the way until closing," says marketing and information systems student Mitchell Banh '23. "We talk about the history of UCR, the superstitions about Getaway Café, the paths we're on, and what success and failure looks like to us. It is a mixture of both a social event and a networking event." 
The Student Association also partners with Getaway Café, among other local businesses, to host fundraising opportunities that support the association's activities, including paying for shuttles which transport students to and from events. 
"Given the circumstances of the pandemic, most of these activities didn't take place last year," Mousa says. "The AGSM Student Association has organized these events for years and years, long before I came. We market it, we finance it, but it's the students who keep these traditions alive." 
The fall quarter ended with the Student Association's Winter Wonderland dinner dance for more than 350 attendees. It was a time to celebrate friendships and accomplishments before parting for the holiday break. Events planned for the coming months include weekly R'Day gatherings for coffee and donuts on the Anderson Hall lawn, a business etiquette dinner, various cultural celebrations, and of course, the end-of-the-year AGSM banquet—a time of joy, relief, and often a few tears.